Billie Jean King doesn't go to a lot of film festivals, but she was among the most celebrated attendees at this year's Telluride Film Festival where "Battle of the Sexes" had its world premiere.
The movie, directed by Valerie Faris and Jonathan Dayton ("Little Miss Sunshine"), is based on King's life and, in particular, the circumstances leading up to and surrounding her 1973 tennis match against Bobby Riggs.
In Telluride, King told The Frame's John Horn: "I knew this match was about social change. It wasn't about tennis." 
INTERVIEW HIGHLIGHTS
What did she want to get right in the film, "Battle of the Sexes":
All I wanted was to get the essence of the fight for equality and what we were going through on all fronts and because of our gender — even though I don't like to bring the gender card out very often … Also, I wanted them to understand the challenges that I had off the court in trying to figure out my sexuality. I thought that was really important. And I thought that if this can help one person be more comfortable in their skin, if it can help empower people — both men and women — I'm very big about having all genders involved, not just women.
On how the movie reflected the bigger things at stake:
It's about being your authentic self ... I didn't get comfortable in my own skin until I was 51. So this was just the beginning of a long, long journey.

Title IX was passed in June, '72. This is '73 when we played. That was very important to me. And I knew this match was about social change. It wasn't about tennis.
On John McEnroe's recent comments to NPR about Serena Williams:
First of all, John wants a match with Serena. He's been wanting it for 15 years. So I don't know about that. The point is the 700 isn't right. [McEnroe said Williams would be ranked about 700th on the men's tour.] But what gets me irritated — and, of course, I love John, we live two blocks away from each other so we know each other well — is that the men keep bringing this up. We have never said we're better than the men. We're not better. They're better because of their androgens. They have bigger hearts. They're stronger. Especially their upper bodies — not so much the legs. It's pretty equal, actually, with leg [strength]. But the men are just stronger. So we, as women tennis players, never [said] we're better than them. And in the movie, actually, Emma addresses it pretty well.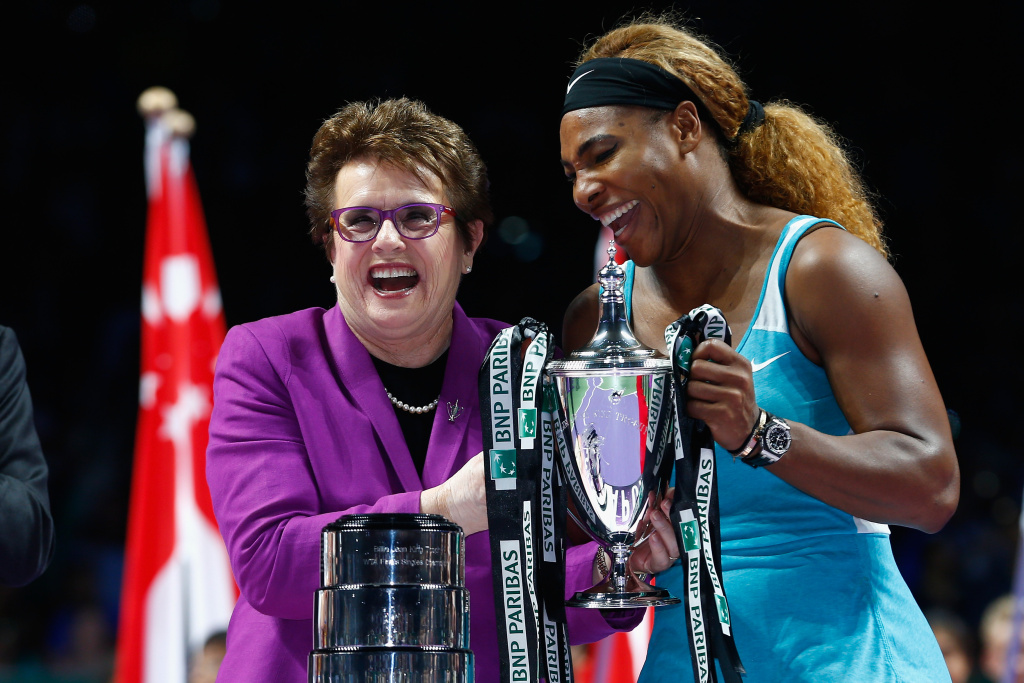 On the fight for equal pay for equal work:
I think it's changed some. ... When we played that match [in 1973], white women were getting 59 cents [of every dollar made by men], and women of color were in the 40s and Latinas were making less. It's interesting, even today, Asian women make 90%. But white women are around 80 ... But we need equal pay for equal work ... It's the men who have the power to do this ... Marc Benioff owns Salesforce, it's a cloud company, and he's done that ... And he has an equality officer that reports directly to him. I've started a Billie Jean King Leadership Initiative and that's what were trying to do is get the CEOs of companies [to commit to equal pay] — and they can do this overnight if they want.
On how the film reminds her of that 1973 match:
"Battle of the Sexes" takes me right back to those moments in '73 and the pressure I was feeling. I think they portrayed it really well in the movie. All the challenges and people running around and just — how do you stay focused through all that chaos? But my bottom line was I had to win. And I wanted to keep Title IX strong. I wanted people to think differently about us.

I really had a lot on the agenda, and what happened is tennis overnight exploded in this country. And the next year the men and the women for the first time got network contracts, and they never had that.
To hear John Horn's full interview, click on the player above. Also, subscribe to The Frame podcast on iTunes