Women make up the majority of animation students at some of the top universities, including USC, UCLA, and CalArts. But when it comes to jobs, women make up 21 percent of the artists, writers and technicians employed under an Animation Guild contract this year.
Erica Larsen-Dockray is highlighting the growing number of women animators at CalArts by teaching a class called, "The Animated Woman." She also is putting on an event titled "Animated Woman Symposium on Gender Bias in Animation" on Dec. 9. 
The Symposium is in its second year of existence, and it highlights the depiction of female animated characters, and how the students at CalArts can provide their voices to more accurate portrayal of women in that medium.
The Frame's John Horn spoke with Erica Larsen-Dockray and CalArts alumna Kirsten Lepore, who is a stop-motion animator and currently nominated for an Annie Award for her work on Cartoon Network's "Adventure Time." Lepore directed and wrote the show's first stop-motion episode, "Bad Jubies." The two also graduated the same year in 2012.
INTERVIEW HIGHLIGHTS
On the CalArts Symposium and what it consists of this year
Erica Larsen-Dockray: I think this year in particular, one thing that's happening that's really great is my students are talking about the characters that influence them. There's this ongoing theme of reality connection with this media and how some characters help [my students] be themselves better. But also, how few options of certain [animated female] characters, where I have students talking about the [physical representation] of tomboys.

[My students] were tomboys as young people, and these animated characters helped them be who they were, because they weren't the princesses. But they also are deconstructing those character and I think that's cool this year. 

Last year we did a lot of data-based presentations where we talked about ratios and the history of animation. And the learning tools and the implications of how you learn how to animate a woman and what does she look like? And how do you design her body and how does she walk? Just these implications of who's watching her? And we're making her for a specific audience that's watching these characters. 
On the lack of women in the animation industry
Kirsten Lepore: Our graduating class was 20 women and one man at CalArts. It's tough and it's hard to figure out where that break down happens. For me, I had a unique experience where I've always been my own boss and I'll get [animation] jobs, but I pushed to corner a niche that no one else — regardless of gender — has cornered. Through that, people will come to me for work. But I know that, especially in the studio system, it can be a lot harder because who knows who those executives are that are hiring. 

Luckily, I do see [the industry] changing slowly and the few companies that I've actually worked with outside of my indie-animator garage life, Cartoon Network for example, has a lot of female creators and a lot of new shows with female creators. They have a lot of women directors there as well and women in all positions. Also, a company I worked with recently called Bix Pix—they're a stop-motion studio—and they're owned by a woman, run by women. There's a pretty even breakdown in all roles across the studios. So luckily things are looking up in certain areas. I just hope that trend continues.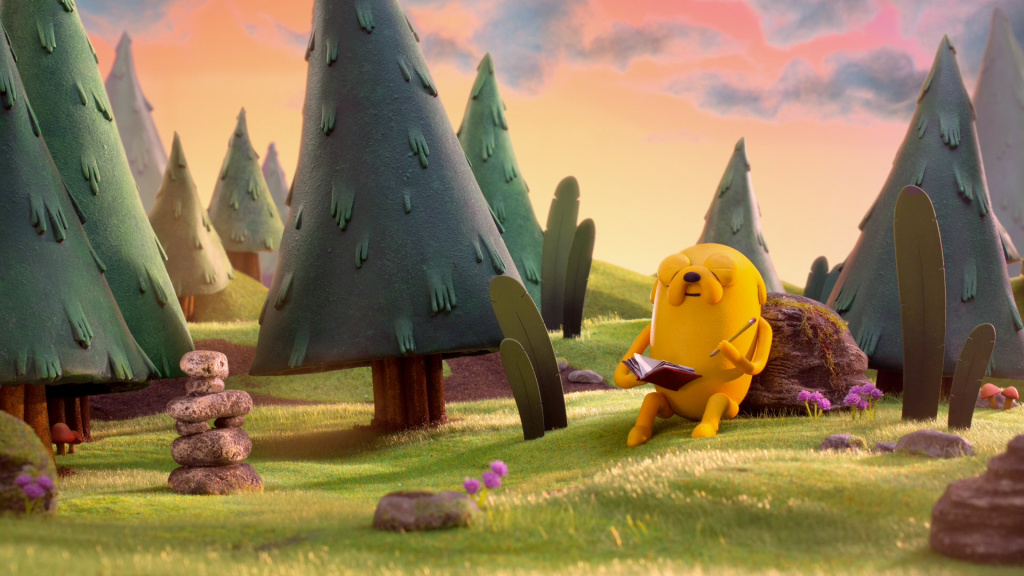 On why there are so many women studying animation
Lepore: I would say that it's that idea that you can create anything in animation. You can make your own world. That's one thing that's appealing to me. In my studio I'm the most powerful person, and I'm just making whatever the heck I want to make regardless of any boundaries anyone is putting on me. It really is boundless. 

Even though certain percentages in a lot of the big studios aren't where they need to be, I think animation—at least smaller communities of animation like we have at CalArts and even in the stop-motion community which is even smaller—people are pretty inclusive. 

Larsen-Dockray: I think animation is a gateway art because you really can do anything with it. It can be painting. It can be sculpture-less stop-motion. It can be computer-generated. It can be any of that stuff. So I feel like animation is that place where you can combine a tone of different art forms. 

I also want to point out that in our graduating year, the women that came out of that class, some of them went into the industry. But some of them are doing concert visuals for Bruno Mars, and started their own companies, and are teaching at Caltech, and they're doing Buzzfeed and Cartoon Network. They're all over the place. 

So even though we're really focused on the [animation] industry, but they're so much more out there than industry. Not that I'm saying we don't need to look at the industry, but those women are going out into the world and they are working. 
"Animated Woman Symposium on Gender Bias in Animation" takes place at CalArts on Dec. 9.