Los Angeles made some progress last year reducing traffic deaths.
The L.A. Department of Transportation reported Wednesday that overall road fatalities were down 6 percent in 2017 compared with a year earlier, but pedestrian deaths continue to trend upward. They increased 17 percent in 2017 and are up 82 percent since 2015.
Seleta Reynolds is general manager of the L.A. Department of Transportation. She joined Take Two to explain the city's progress toward meeting its goal of eliminating traffic deaths by 2025 under its Vision Zero Action Plan.
Why pedestrian fatalities continue to climb
Distraction and speed are two factors. There's tremendous distraction for drivers inside the vehicles; [one] study showed that 80 percent of drivers are taking their eyes off the road for more than three seconds, and almost all crashes happen when drivers take their eyes off the road for three seconds. 

Another theory about the overall increase in severe and fatal crashes for people walking is that people are speeding, so speed is the No. 1 predictor for whether or not a crash will be severe or fatal for somebody walking. Anytime your'e driving faster than 30 mph, if you hit somebody on foot, the chances of them surviving that crash are extremely low.
The most effective strategies for reducing traffic deaths
We've seen some really great early returns on streets where we've done things like put in dedicated left turn arrows. We have something called a leading pedestrian interval — that's a pedestrian head start, so if you're standing on the corner, you'll get the white walker to step into the crosswalk before the drivers get a green light. That's been powerful in New York and San Francisco and we think that's going to work well in L.A.

The best story we have is a scramble crosswalk that  allows you to cross in any direction on foot when it's your turn. We put one in at Hollywood and Highland in 2016, and since it's been there, we've only had one severe injury, and before that we had at least one a month.
Why L.A. is increasing speed limits in some areas
We're raising the speed limit so police can enforce the speed. Before we finished the speed surveys, you could drive 100 mph on some of those streets and LAPD couldn't write you a speeding ticket. We want LAPD to have a presence on these streets to be able to slow people down, so that's the way to think about it. We changed the speed limits in order to be able to enforce them and we have to change the law to make streets more safe.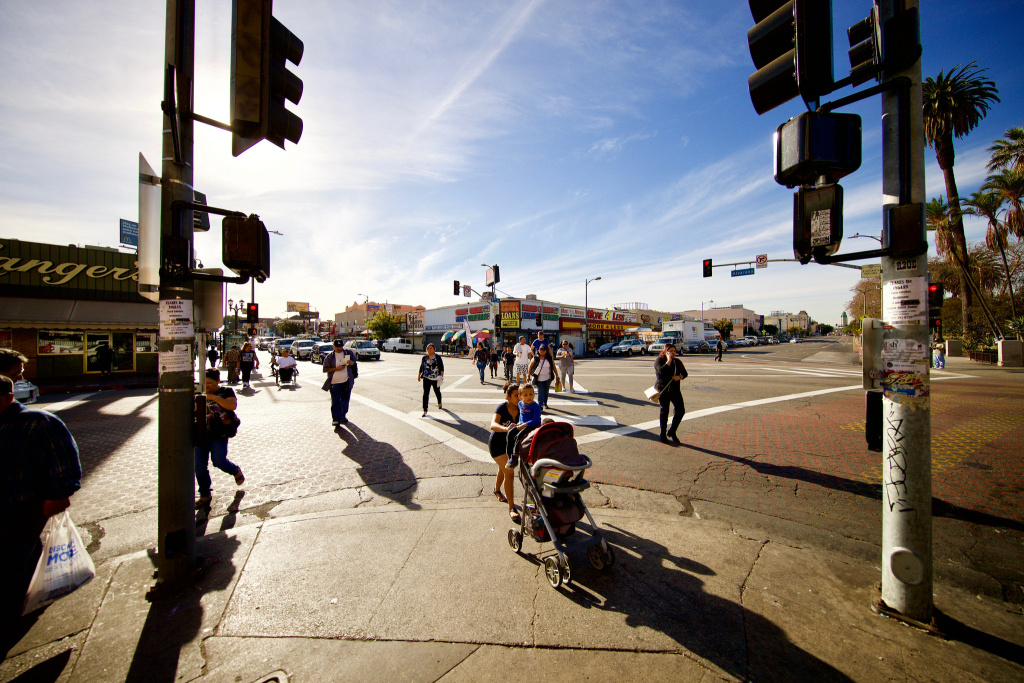 L.A. will continue to use road diets
We have dozens of tools in our toolbox to help us address safety. Sometimes there are streets when we look at the data, there are no strong trends that point us to any one  solution in particular. Instead, what we see is a sustained pattern all along a corridor of people getting injured and killed. When we see that kind of a pattern, we know we have a problem with speed and we need a corridor strategy to address speed. We won't be able to put a traffic signal at every intersection or just treat an intersection here or there. We try not to turn to that tool first because we understand how big the tradeoffs are for local neighborhoods, but it is one of the most powerful sustainable tools we have, so I don't think it's going to go away. 
Is it possible to eliminate L.A.'s traffic deaths by 2025 with Vision Zero
We definitely have a long way to go. It's absolutely still the right goal. We can all agree that the ideal would be that nobody gets killed on the streets, and we have to keep striving toward that goal. At the end of this year and by end of 2019, I would expect we would see the kinds of results that San Francisco and New York have seen, which is the lowest numbers of people dying on the streets in the last 50 years in New York. We're following a similar playbook, using data to inform the interventions we make.