Just down the road from the Hollywood Bowl sits a valuable piece of Southern California's veteran history: American Legion Post 43.
The post has been a sanctuary for service members returning home from combat since it opened in the late 1920s. It's a place to share stories, have a drink and connect.
But visits by veterans from World War II, Korea and Vietnam have dropped off.
Now, a new generation of vets has taken the helm with a multi-million dollar modernization to the meeting hall.
But inside the Art Deco bar, little has changed in the past nine decades. 
"The corner down there is referred to as Bogie's corner," explains Post Vice Commander Michael Hjelmstad, pointing to the far edge of the old bar. "Humphrey Bogart used to sit there after watching boxing."
Star sightings were not uncommon in the early days of the post.
The bar itself, with its checkered linoleum floor, has an underground feel.
"Probably the coolest stuff is the 'buy war bonds' posters in the back," says Hjelmstad. "[They're] actually from all the way back in 1928 when they built the building. Those are original posters."
Much like those posters, very little has changed here – except for the regulars. 
When the doors first opened in the 1920s, the post was a site for World War I veterans. They slowly gave way to veterans of World War II. Then Vietnam. 
Several generations have now passed through its doors. The way Hjelmstad tells it,  some never left.
"You see a picture of a guy up there named Marshall Wyatt. That's important to this building because Marshall Wyatt is kind of known to be the resident ghost around here," says Hjelmstad.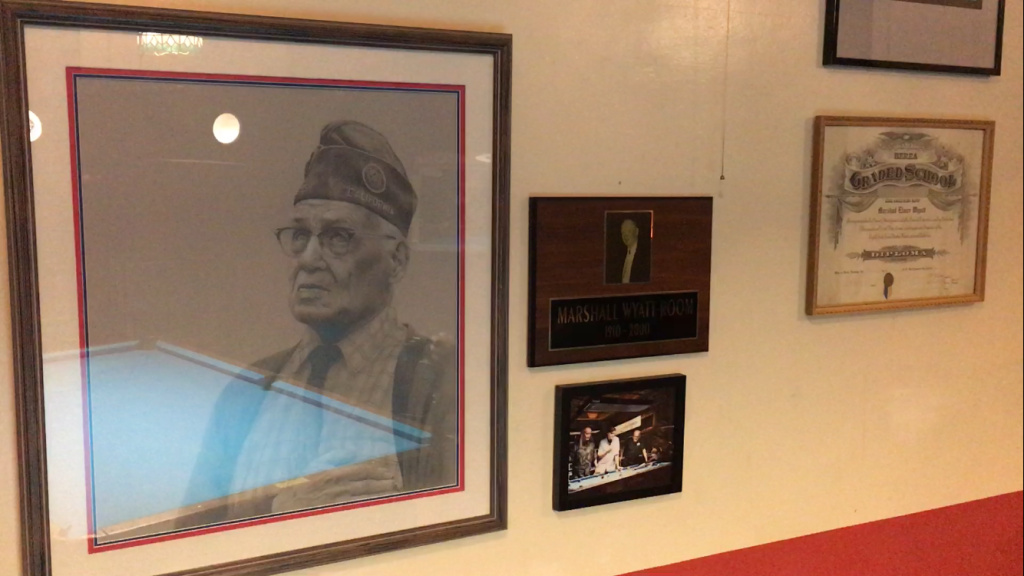 But more and more of those who haunt Post 43 now served after 9/11, brought in by the new leadership. 
"I came back from Afghanistan in 2011 and found it was a little bit isolating of an experience to reintegrate," Post Commander Fernando Rivero explains. "I went back to work, and people look at you like you had chemo, like, 'Oh, how was it? Are you OK?'"
Rivero says that reaction didn't help with the reintegration process. But then, Hjelmstad brought him to Hollywood Post 43. 
"I walked in and not only was I was taken aback by the whole building and how beautiful it was and the history here," says  Rivero, "but just the instant recognition of that camaraderie and that fellowship from other veterans."
He realized that he wasn't the only returning veteran who could benefit from a place like Post 43.
But at the time Rivero first showed up, the post wasn't as open to new members. The executive committee was made up of older veterans. The main office didn't even get emails. 
Rivero wasn't the only new member frustrated by the old system.
"I started asking questions: 'Do we do this? Do we do this? I think this would be cool," says Second Vice Commander Jennifer Campbell. "People said, 'well, no' or 'well, maybe in a couple years.' I said 'I don't really like that answer,' so I just kind of took charge."
In fact, all three took charge. 
In 2014, Rivero, Hjelmstad, and Campbell all ran for leadership positions at the post and won. Since then, membership has been up dramatically. The bar is open more, and the post offers more programs and activities for young veterans. 
There have been many changes, but for longtime members like Vietnam veteran Luis Soto, Post 43 is still the place to come and share stories few others might understand.
"Going into my fifth month in a firefight, I got shot up," Soto recalls. "From there, I got a medical retirement."
He says his new friendships might not have been possible before.
"There's just a good energy between the younger vets and us the older vets. It's truly become a clubhouse anew," he says.
Maintaining a connection between the generations is central to the mission here now.
A quick stop by on-site museum serves as a reminder of just how much members of the past valued the connections they formed at Post 43. 
Priceless war mementos line the shelves, some reflecting the carnage of war, others the people.
Relics like these compel Post 43's relatively new leaders to do more to ensure the site continues.
And they have one more plan to do that: a $2 million improvement to turn the Post's old meeting hall into a state-of-the-art theatre, with seats for just under 500 people.
When construction wraps up in March, Rivero hopes to feature films for veterans and even by veterans. 
It's all part of a bigger dream to meet the needs of the servicemembers returning home while continuing to honor those gone before. 
"We understand that it's our turn," says Rivero, "so we're trying to do the best we can to preserve that legacy to make sure this place is around another 100 years."
Press the blue play button above to hear the audio tour.