Joseph Bultman drove 40 minutes from Santa Clarita to East Hollywood,  just to visit Cuties Coffee Bar. 
"I just tried the cold brew for the first time," he said.  "And you know, I think that might be my new favorite drink."
But it wasn't the coffee that brought him to the blue-and-pink cafe. His friends had been talking about Cuties on Facebook for a while, and Bultman had heard it was LGBTQ inclusive. As a gay man, he wanted to check out the space.
Bultman, and many of his friends, came to visit Cuties during an event called Queers, Coffee, and Donuts. The shop was packed. In the grand scheme of LGBTQ venues, Bultman insisted that a place like Cuties is important.
"There are not enough queer-friendly spaces that are also, like, alcohol-free," he said. "It's mostly  just bars and there are a lot of people in recovery. There are a lot of people that are under age that want to have their own space."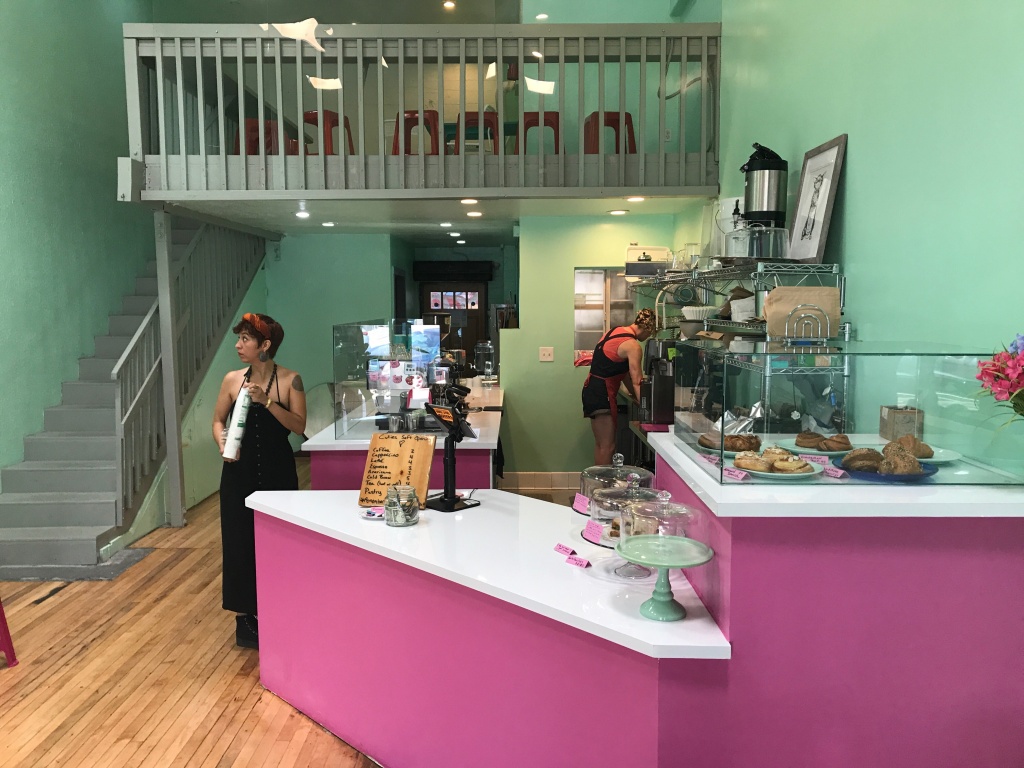 There are bars, resource centers, and there are places like coffee shops
The co-owners of Cuties, Virginia Bauman and Iris Bainum-Houle, don't believe cafes are replacing bars. They believe the community needs all of these places to be healthy. Coffee shops just fill a different role than clubs do.
"Coffee shops are accessible in a different way than bars and clubs," Bauman said. "So coffee is something that a lot of sober people can enjoy. Bars and clubs can be hard spaces for that.
"It's also cheaper to come to a coffee shop than it is to go to a bar or club. There's no cover. The drinks start at $3, not $6."
For many, the LGBTQ community needs every space it can get
Having an inclusive coffee shop is more than just serving coffee. Jodi Pacheco-Davis, who teaches at Cal State University in Fullerton, has studied the effects of coffee shops on the LGBTQ community in Long Beach. For Pacheco-Davis, what starts as a place where people get coffee can become so much more.
"[You] have a space where you can go and drink coffee together," Pacheco-Davis said. "Or, you know, play a game. Or just talk about politics, or organize a rally or a protest."
For Virginia Bauman and Iris Bainum-Houles, the co-owners of Cuties, their shop already started out that way. It's part of a movement where LGBTQ people are being more visible as entrepreneurs, as business owners. And, by doing so, making inclusivity the norm instead of the exception.
"I want entire businesses owned by trans people," Bauman said. "I want entire businesses owned by queer people. I want our space to be as great and as big and as powerful as possible."
To hear the full feature, use the blue media player above.