The men crowded in the dark hallway of the migrant shelter, perched on a steep hill overlooking the Tijuana River and the winding, dense streets below. It was dinner time. And more than a 100 men, most recent arrivals from the U.S., were gathering.
For most of its 30-year-history, Casa del Migrante in Tijuana was a place to rest and find refuge for those heading north. But in recent years, it's become a first stop for a different group: those deported from Southern California.
"We've had people deported who speak no Spanish," said Father Patrick Murphy, the director of the Casa del Migrante, which was founded by the Scalabrini order of Catholics in 1987. "They went to the U.S. as babies, they grew up in an all-Anglo environment, so they come here speaking more English than Spanish. They're more fans of the Dallas Cowboys than the Xolos of Tijuana, so that's always the test. Sometimes you ask them where they are from and they say, 'Los Angeles,' and you say 'No, what part of Mexico?' and they say, 'No, I'm from Los Angeles,' because that's what they know."
Take Two's A. Martínez speaks with Dorian Merina about his recent visit to the shelter.
Give us a quick snapshot of the shelter. Who was there when you visited, where were they from?
The shelter has 140 beds, though during an especially busy time it can house up to 150. The migrants are all men. (There's a separate shelter nearby, called the Instituto Madre Assunta, that houses women and children.) The night I was there (May 6, 2017), there were 120 men. Fifteen were Central American, five were from African countries and the rest were Mexicans. Remember hearing about the arrival of Haitians last summer? That was something new for the shelters in Tijuana. The last Haitian left Casa del Migrante the day before I arrived. Recently, just two weeks ago, West Africans have started showing up. Men from countries like the Congo, Cameroon and Sierra Leone. They say that they plan to apply for political asylum and that more are on the way to Tijuana. Still, Murphy says that in recent years, deportees from the U.S. make up a bigger and bigger share, until now, 9 in 10 of the migrants at the shelter are deportees.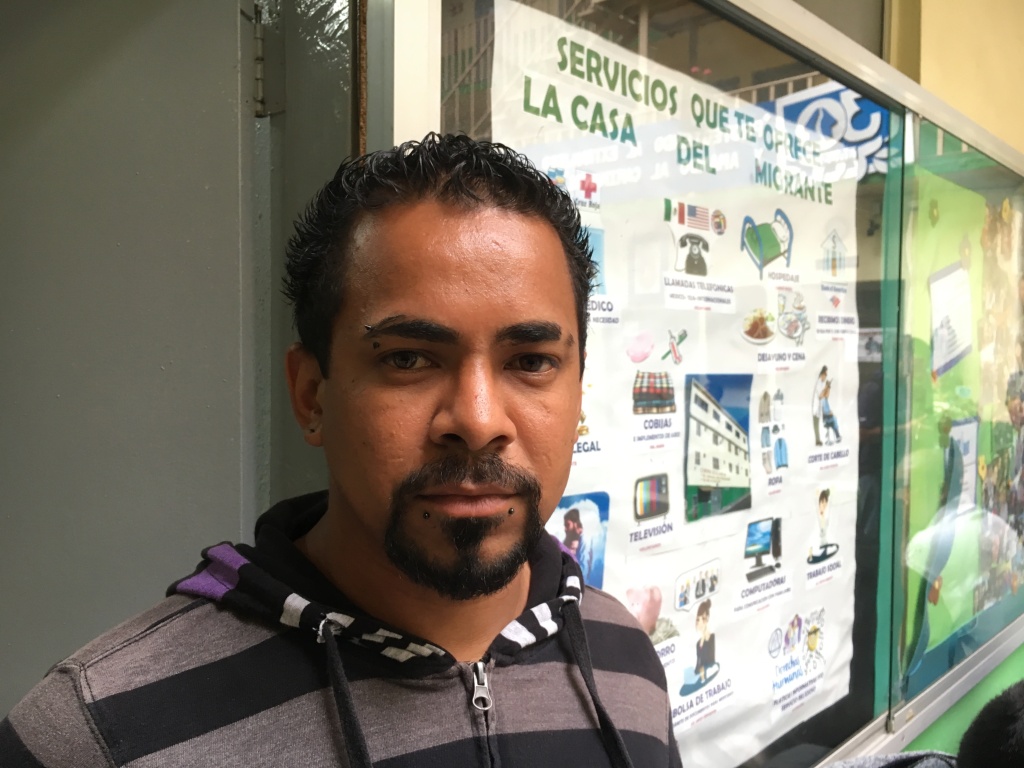 How does the rise of deportees change the mission of the shelter? And what kinds of services are available to a deportee coming from Los Angeles?
The staff at Casa del Migrante say there's a different emphasis now. It's more about reintegrating the deportees into Mexican society. That means helping them find jobs, a place to live. They now have a psychologist and a lawyer on staff. Many deportees want to return to the U.S. right away, but the emphasis in the house is getting them on what they call a "life project." That is, a way that they can find meaning in this new phase of their life.
Since Donald Trump has been president, there are reports that immigration officials are taking more action. Is this evident at Casa del Migrante?
It's true that nationwide, ICE arrests are up this year. (According to ICE's Enforcement and Removal Operations, there have been 41,898 total arrests during the first four months of 2017, compared to 31,128 during that same period last year.) However, the levels of arrests are still lower than in some recent years in the past, such as 2014, which hit nearly 55,000 arrests. At the local level, arrests are pretty steady from January to April this year, compared to last year, though non-criminal arrests have more than doubled, according to data from ICE's Los Angeles field office. How that all translates to the picture in Tijuana is different, though. Interestingly, the Casa del Migrante has actually seen a drop in deportees, about 30 percent through March this year. But the Casa and other shelters in Tijuana, say they are trying to get ready for an anticipated rise in deportees once the Trump Administration is able to get organized and follow through with its pledge to step up deportations.
Did you speak to migrants from Southern California? And how do they describe the circumstances along the border?
Yes, and though at least at the Casa del Migrante, the numbers are down, it's clear deportees from our area are continuing to show up. I met one 37-year-old man who was raised in the San Fernando Valley. He went to high school in Sun Valley, was deported three weeks ago and he's just starting to get his primary documents, like a driver's license. I met him at a different shelter in Tijuana. I also met Melvin Santiago, he's 30 years old, has three children and a wife in San Diego. He says he was deported after being caught for drug possession and put on probation. I asked him if he had plans to try to cross back into the U.S. He said it was too dangerous and expensive at this point:
"It's very expensive, $10,000 right now is what the smugglers are charging. Plus, there are the mafias, the cartels, they can kidnap you in Tijuana and it's very difficult because they can hold you and then demand from your family, if you have family in the U.S., money to release you. Also, in Arizona there are the cartels, so it's very tough to try to enter the U.S. right now."
Instead, Santiago has found a job at a light factory. He says he's making about 250 pesos a day (or about $13). He's also found an apartment to move into. And he's trying to stay in touch with his wife and children by phone.
Considering the violence along the border and the step up in immigration action, what are the shelters like Casa del Migrante expecting in the coming months?
Father Murphy says Mexican authorities are coordinating with the shelter in Tijuana to prepare, but they have a limited capacity. He's in touch with four other main shelters in the area, with a maximum bed space of about 250 or so. He's also concerned about deportees who may be elderly or have special physical or mental needs, since his shelter is not well-equipped to deal with them. And, as we've noted, Tijuana can be a dangerous place now. Violence has risen in the past year, year and a half, so people could be very vulnerable, especially if you're not familiar with the area, haven't been there before, or haven't been there for a long time.
The interview has been edited and condensed for clarity.