On Tuesday, Nov. 8, Californians voted in favor of Proposition 64, legalizing recreational marijuana in the golden state. 
The first state to legalize medical marijuana in 1996, California is the sixth jurisdiction to do so recreationally, after Alaska, Oregon, Washington, Colorado and Washington D.C., making the entire West Coast of the U.S. a legal marijuana haven.
What does the new law mean for Californians?
1. You can't buy recreational pot in California...yet
If you're 21 or older, you can buy and carry 28.5 grams (about one ounce) of marijuana flower, but if you're carrying marijuana extract the limit is 8 grams. And if you decide to grow your own marijuana you'll be able to cultivate up to six plants. 

However, only specially licensed stores will be able to sell marijuana and those stores don't exist yet.
2. Recreational pot shops won't open until 2018
The regulatory system itself could take more than a year to get going, said Lynne Lyman, the director for California's Drug Policy Alliance and one of the people who helped write the initiative. However, regulatory agencies must start issuing licenses no later than January 2018.

There is going to be licensing for everything from growing to selling marijuana to making marijuana related products. There are various government agencies that'll be in charge of licensing systems, including the Bureau of Marijuana Control, which is part of the Department of Consumer Affairs and the Department of Food and agriculture. 

In order to get state licenses, businesses will have to get local licenses first. Whether localities will approve local licenses is yet to be seen.
3. There are two ways to get ahold of legal marijuana
Since adults over 21 can grow up to six plants on a premises, harvesting your own is a possibility.  Previously it was a felony to grow plants without a medical marijuana card; now it's legal.

The other option is to purchase cannabis through the current medical marijuana system. If you have a medical marijuana card you can still purchase and use marijuana. However, there are limits to where and when you can use it.
4. You can't smoke marijuana in public
Smoking in public is still illegal. That means that you can't walk down the street and smoke a joint, smoke in public parks or in any bars or restaurants.

If you smoke somewhere you're not allowed to, you can be be subject to a fine. If you rack up multiple offenses, in addition to an increased fine, you could possibly serve jail time.

Driving while high and smoking on school grounds are also illegal, and can resort in severe punishment.
5. People can appeal their marijuana-related convictions
The number of misdemeanor and felony crimes relating to marijuana use and distribution has already fallen significantly, since a 2010 state bill reduced possession of a small amount of pot from a misdemeanor to an infraction.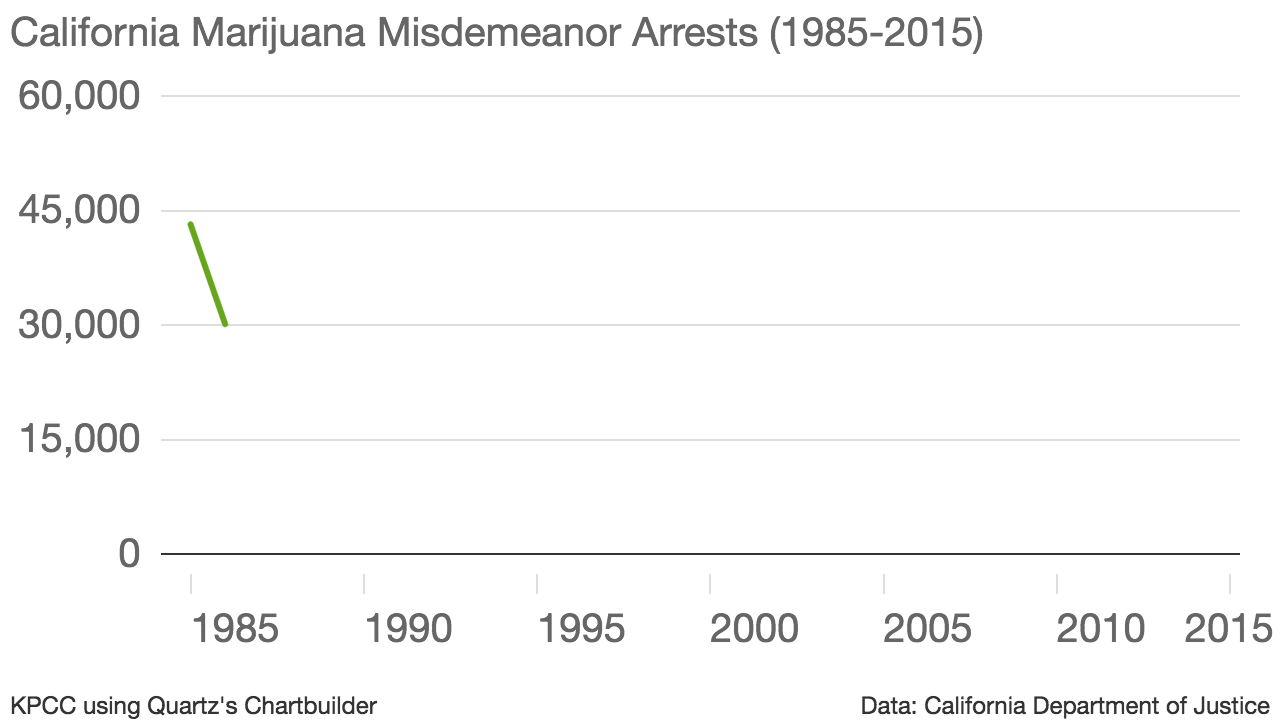 But the new law essentially eliminates criminal penalties for adult personal use of marijuana. Those changes went into effect last night.

"Anybody who's currently in jail or prison or on parole or probation for a marijuana related offense will be able to petition to have their sentence reduced," said Lyman. "And so that process might take a few months."

Some felonies can be turned into misdemeanors. And some misdemeanors can be expunged from your record. It depends on what they are for and what the new law says about the crime that you committed. But if you think that this applies to you, advocates say to call your local public defenders office. There'll be a special process to appeal previous convictions.

You can still be charged with marijuana-related crimes. For instance: if you're carrying more than the allowed amounts of marijuana or marijuana extract you can still be fined. And those who are growing or selling without proper licensing can be fined and jailed.

It will still be a felony to sell to minors, as well as to attempt the dangerous process of home butane extraction. 
6. Marijuana's still illegal at the federal level
It's considered a Schedule I drug, listed alongside the likes of heroin and LSD.

You can't travel with it across state lines and you can get in trouble if you are in possession of marijuana on federal land, in a federal building or at, say, an airport.

If you're busted with pot at any of those places it could result in a fine or prison time.
7. Where's the money? 
As California's pot market comes into its own, building on top of an already established medical system, it's possible that it could bring in more than $1 billion in tax revenue for the state.

That's according to California's Department of Finance, which took a look at Proposition 64 before it was officially on the ballot. The report also says that the state could save about $100 million in criminal justice costs.

Consumers should be expected to pay at least 24 percent of the base price. There will be a 15 percent excise tax on top of California's 9 percent sales tax, as well as any additional tax that's levied by cities and counties.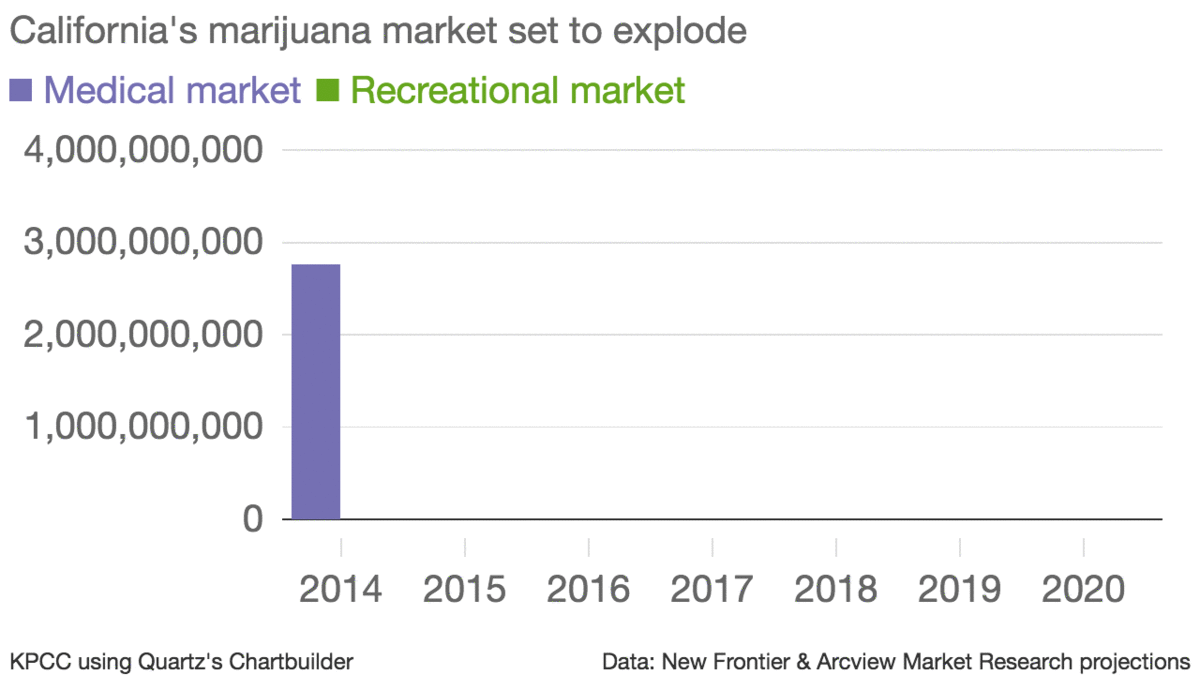 New Frontier & ArcView Market Research, a pro-marijuana research and investment firm, estimates that California's recreational market could total $1.3 billion in 2018, the year California will likely start to see legal shops open up. By 2020 they estimate that it could be worth nearly $4 billion.
Got questions about marijuana in California? Let us know in the comments or tweet us @TakeTwo or @JacobMargolis. We'll be answering your questions going forward.
Series: High-Q: Your California pot questions answered
This story is part of Take Two's look at the burgeoning, multi-billion dollar marijuana industry in California, with audience Q&As, explorations of personal narratives and an examination of how the industry is changing the world around our audience.
Read more in this series and call or text us your questions at (929) 344-1948 or tweet reporter Jacob Margolis.