Jamba Juice habitué of Old Town Pasadena rejoice; your nectar nook has returned, and it's likely the most aesthetically pleasing juice joint for miles around.
The newly expanded Jamba Juice has been dubbed the "Innovation Bar" by its operators. The purveyors hope that the traditional smoothies, cold-pressed juices, and nut milk will bring people in, but the unique design will entice them to stick around.
The chic space is the brainchild of architect Barbara Bestor, whose previous work includes Intelligentsia Coffee in Silver Lake and the Beats Electronics Headquarters in Culver City.
Bestor opened her firm more than 20 years ago. Their operating principle? "Everyone should experience strange beauty every day."
Take Two's Alex Cohen recently caught up with Bestor to talk about Jamba Juice and her other projects across LA.
We're sitting right now in one of your latest projects... It is a rebooted Jamba Juice... an "Innovation Bar" is what they're calling it. Can you give us visually the before and after here?
Well, before this was two stores. It was a Jamba Juice and a Baskin Robins and the idea was to really try out some new ideas for the future for this company, which had actually started as a small surfer's juice bar in Santa Cruz way back. The idea was to try out a way of using that product, creating more of a community space in this city.
Usually, you go to these fast casual things and you're in and out in a minute... In this place, the idea was to create a bunch of seating, WiFi, a tasting bar, also to kind of reacquaint the customers with the roots of the company in real juice... so it's this kind of experiment...
You've done the Intelligencia Coffee in Silverlake, the Beats factory in Culver City... What are some of the key [factors] that you keep in mind when your client is a business, and you need a comfortable space like a home, but there also needs to be a business in operation?
In all of the commercial projects that we do, the reason that we do them and the reason that we probably get hired to do them is that we are interested in this idea of making a joyous space for everyday activities...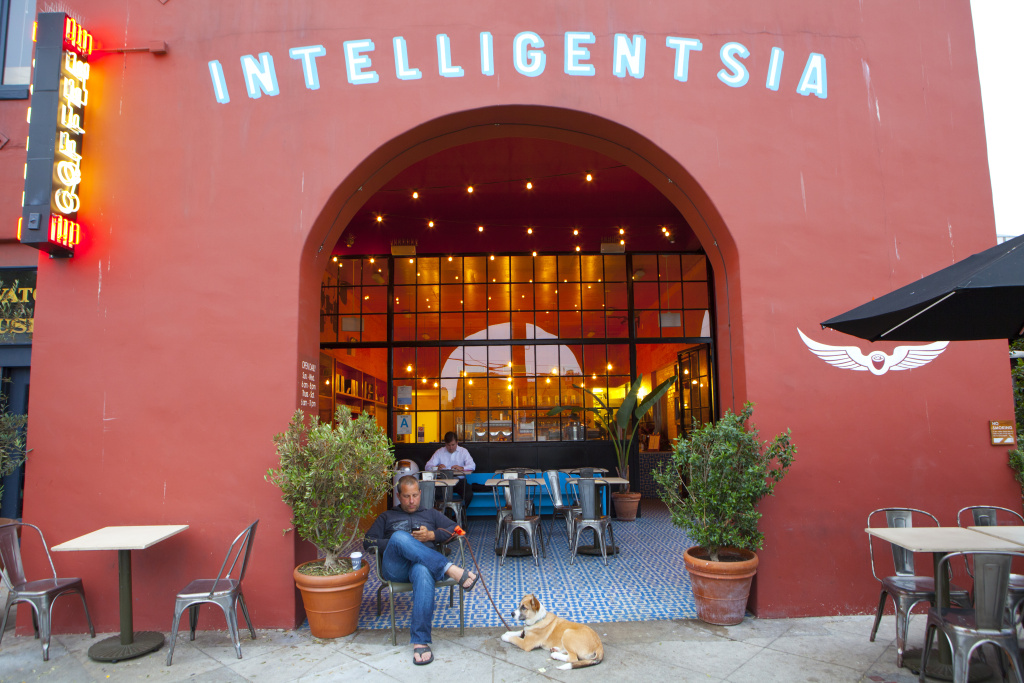 It's not so much about the brand name being reinforced everywhere as much as it is to provide this urban amenity living room... At Beats, we had five or six-hundred people. It's like a city. So what are the spaces that you provide where you aren't actually working? Where do you go hang out? Where do you talk to your friends? Where do you have meetings? All those kind of spaces we work on twice — almost — twice as hard, because those are the spaces that create a sense of joy in your daily activity...
Press the blue play button above to hear the full interview.