Metro's latest Expo extensions make their debut today. The additional 6.6 miles of track took about four years and $1.5 billion dollars to lay.
There are seven new stops, allowing riders to — for the first time since over six decades — ride rails from Downtown LA to Downtown Santa Monica. The new track could mean less time on the road for commuters. 
It could also bring some relief to the city's daters. 
That's right, daters.
As part of a special look at the new Expo extension, and the places to see and do, along the way, we consider how one's love life might be affected. 
In a meme, dating when you live on the Eastside might best be summed up by this: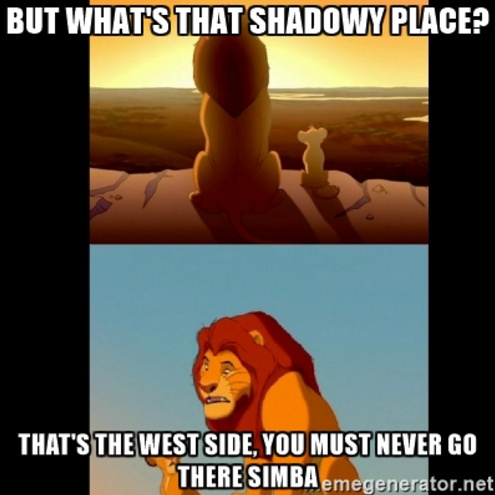 And for good purpose. The last time a light rail ran from Downtown LA to Downtown Santa Monica, this song was headed to the charts:
https://www.youtube.com/watch?v=Mrd14PxaUco
LYRICS: "I got a woman way over town, she's good to me."
This is somewhat ironic because after the Pacific Electric's Red Car ceased operation in 1953 if one did have a significant-other "way over town," it probably became a lot harder to see them on a regular basis. 
Fast forward about six decades.
"I think when I first signed up for an online dating app, I first set my distance to like, 10 miles? Ten miles from Downtown LA." -Dora Quach, former LA single lady
When Dora Quach was on the market, distance mattered a lot.
"I judged it based off of whether I was willing to make the commute after work to have dinner with someone." 
But there's a reason why Dora was hesitant to date someone on the other side of town: she tried it once before about five years ago. Dora was working downtown; her then-partner lived on the westside. They kept things going for almost a year, but it wasn't meant to be. 
"Not to be mean, but I don't think I liked him well enough to deal with the traffic."
Dora says other factors contributed to the decision to break it off too, but the distance was an important factor. Sometimes it took up to an hour to drive to see her partner after work. They even tried to use public transit, but:
"It was a heavier burden on me and at the end of it, it just wasn't worth it."
LA-based dating coach Damona Hoffman says she hears that a lot from her clients. 
"When you're facing a 45-minute coffee date, and it will take more than an hour to drive there, suddenly that person and that date doesn't seem as attractive anymore." -Damona Hoffman, dating coach
She says that's because LA daters think about travel as time instead of distance. And that can make people pickier — maybe even a little shallow. 
"Different daters have different criteria that they use to determine if someone is worth the distance and sometimes it's just as simple as the physical attractiveness of the date. Especially when we're talking about dating apps and really all you have to go on in that initial phase is how attracted you are to their picture and the couple of things they said about themselves."
So will Expo be a boon or bust for LA daters? Well, it depends.
Just three of the seven new stations have parking spots, so if you're not walking distance from a stop, you might wind up shelling out to park in a nearby lot.
In addition, what previously took Dora more than an hour in the car will still take riders between 46 and 50 minutes.
It's hard to say.
Incidentally, Dora does believe in life after love. She just moved in with her boyfriend, who she met through a dating app. He was in her 10-mile radius. And Dora's not jaded about her attempt at distance dating in LA. 
"With public transit expanding, I hope it gets easier [...] Ultimately you have to keep an open mind because you never know who you're gonna meet and who's willing to make the drive for you." - Dora Quach