Seattle pot enthusiasts were greeted with an unusual gift at the city's Hempfest this past weekend: police officers handing out bags of Doritos.
It sounds like something from an alternate universe, but it was very much real. Of course, it wasn't done out of concern for revelers' hunger. Each bag came with a note explaining the new state laws legalizing recreational pot use, which were passed in November 2012.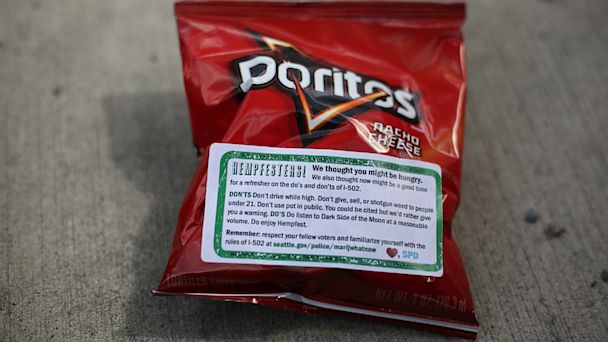 "It's a pretty big deal for police," said  Sergeant Sean Whitcomb of the Seattle Police Department. "We wanted to make sure that people are absolutely clear about our department's expectations regarding marijuana and what kind of enforcement they can expect, because the headline is that it's legal, but it's a little bit more nuanced than that."
Some of the misconceptions people have about the new laws include where and when it is legal to smoke pot, as well as who can buy, possess and sell the drug. For example, Whitcomb says an adult can purchase an ounce from a dealer on the street and they've done nothing wrong, but the person who sold it could be arrested for a felony.
Also, it's legal to smoke pot in your home, but not in a public place. In addition, pot use is treated like alcohol, so those under 21 are not permitted from possessing the drug and driving under the influence is against the law. 
"This is kind of a transitional year in Washington State while things are being worked out," said Whitcomb. "We'll have a lot more clarity in 2014, but in the meantime we wanted to reach out to folks."
Police officers involved volunteered their time to pass out the Doritos, so no one could complain that taxpayer dollars were being used for the controversial outreach effort. Whitcomb says he expected their plan to get a lot of attention locally, but he never expected it to reach international media outlets. 
"As a police organization, our goal is just the public education piece. It's just not good enough these days to pass out flyers at a festival, that's just not going to work, we knew that would turn out to be litter," said Whitcomb. "The biggest criticism was we didn't have enough. We wanted to make sure that we were trying to eliminate as much controversy as possible."