What was the lowest profession in America 60 years ago? Bartender, drug-dealer, whore ...  newspaper reporter?
It was comic book artist.
Ever since Superman's 1938 debut, the comic book flooded the basements of American literature. Superman, Captain Marvel, and Captain America won World War 2 a thousand times over and followed US soldiers all over Europe. But by the mid-50s, comics were seen as a lurid threat to youth: A prominent shrink condemned them as the "Seduction of the Innocent." Comic books disgusted decent Americans.
And then along came Roy Lichtenstein, who died in 1997 and is the focus of a new exhibit at the Skirball Center. He turned the very spirit of comic books into the cutting edge of the avant garde.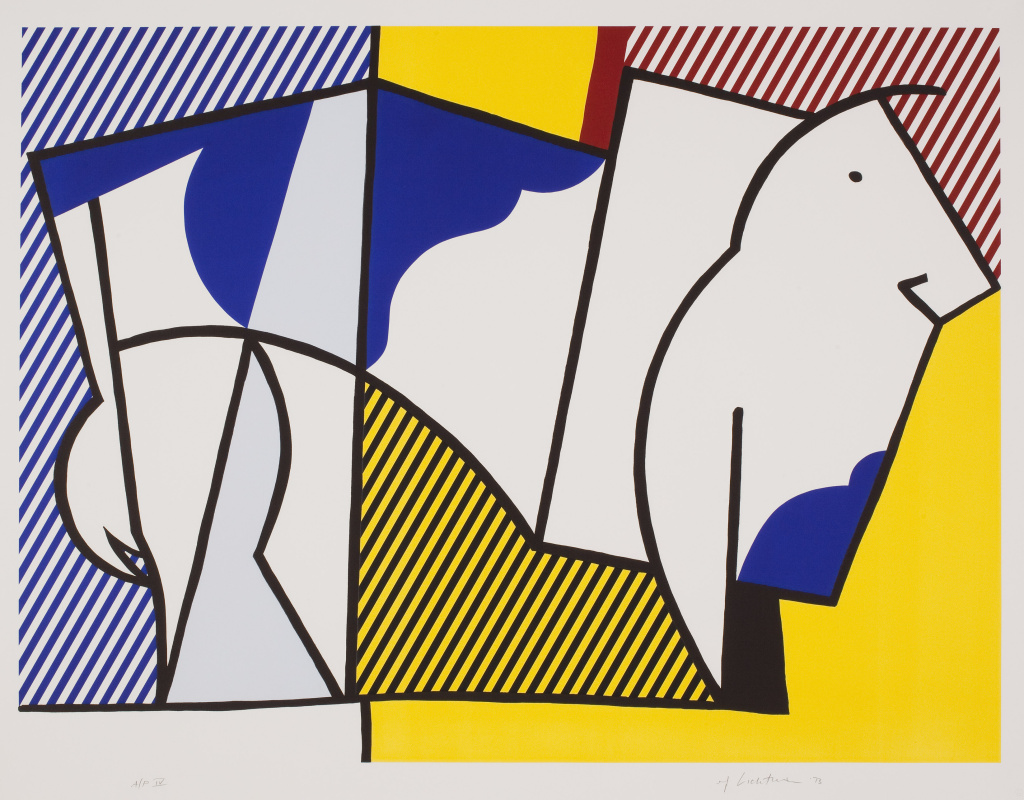 An art-loving public frustrated by a decade of abstract impressionism and one-color canvases eagerly lapped up Pop – especially Lichtenstein's version -- with its commercial dot shadings and dialogue balloons, agreeably evoking the comics of people's childhoods. The style was both adventuresome and nostalgic … adventuresome in that it was fraught with comic-book sobbing girls and exploding airplanes, nostalgic despite the way it framed the over-familiar with satire. 
The Skirball's new show, "Pop for the People," has a lot of virtues, but to me, the prime one is how it opens the connection between Lichtenstein and the comics illustrations that made his work possible. The source-material comics that Lichtenstein exaggerated into his most successful early work are also on display here, where they belong.
This includes the work of people like Irv Novick, whom Lichtenstein encountered as a soldier in Europe, and whose later "All American Men at War" comics were among those Lichtenstein riffed on to produce such early, influential works as "Whaam," a lithograph of a fatal fighter-plane duel  with a four-color hard-edged explosion.
Jazz was just as important an influence. Lichtenstein, who seriously studied sax in his later years, often said so. One need no more critique Roy's version of "Whaam" in favor of the original than put down Coltrane's version of "My Favorite Things" in favor of Rogers & Hammerstein's.  Of plagiarism charges, Lichtenstein said, "My art always reflects the art of others.'' The comic artists he riffed on — many of them never originally identified by their publishers — did not complain. "These are riffs on a theme," his wife Dorothy said. Later he would even riff on great artists.
Lichtenstein himself said, "The purpose of my art is to show you there might be value in certain things that might be considered valueless." Instead of digging further into the metaphysics of the human subconscious like the abstract impressionists, he dug into the subsoil of American culture, where he struck the vein of comics, advertising, magazine illustration and exalted them all into art.
He invites us to live in this art. There is a lithographed living room complete to the finest detail; and an Oval Office. They are giant comic panels we could exist in. The most effective of these is an actualization by Skirball  artisans of Lichtenstein's version of Van Gogh's picture of his "Bedroom at Arles." It's reproduced in all its bright yellows and blues in three dimensions, so you can walk into it and even stretch out on Van Gogh's bed.
Not all of his riffs on great painters work as well.  "Nude on the Beach" seems simply a parody of a parody; the Picasso-inspired bulls imbibe of Picasso's force without yielding Lichtenstein's own. On the other hand, the successive magazine covers of a campaigning Bobby Kennedy and a hand holding the smoking gun that killed him have not lost an iota of their power over the past 48 years. The punch of the assorted Lichtenstein dry goods—frocks, shirts, dishes, shopping bags et al, has faded badly, though. These objects have a yard sale look about them.
Most of Lichtenstein's work originates as reproductions - prints, lithographs and silk screens - and are, in effect, a collaboration with another half-dozen skilled artisans, which is why the role of Los Angeles' Gemini workshop is so properly stressed in this show. They were a partnership, they enabled him, and he pushed them to expand their technology past it limitations. For the giant Living Room interior, Gemini had to totally revamp its presses to accommodate this interior blue fantasy very much the size of a large wall. All things considered, it's surprising that the working partnership is recorded as so amiable—even joyous.
But this also makes Lichtenstein, as critic Robert Hughes once put it, "The paragon of the commercial artist," to the extent that his art can be said to be manufactured, rather than created. 
As far as I know, Lichtenstein did not object to this characterization. He very well might have seen himself as a great artist who was also commercial. Just like his key inspiration, the humble, stirring comics of his youth.
"Pop for the People: Roy Lichtenstein in L.A." is at the Skirball Cultural Center through  March 12.