Off-Ramp contributor Marc Haefele reviews "Greece's Enchanting Landscape: Watercolors by Edward Dodwell and Simone Pomardi," at the Getty Villa through February 15, 2016.
"Almost every rock, every promontory, every river, is haunted by the shadows of the mighty dead." — Edward Dodwell
It's like something on a cover of an old sci-fi magazine: an ancient, empty, alien landscape of a long lost civilization, fallen into a ruin of broken columns and shattered pediments.
But that was the real world of ancient Greece in early modern times — the 1800s of the Emperor Napoleon and President Jefferson, when Greece was a distant, dangerous province of the Turkish Empire, visited by few western Europeans.
What's amazing about this is that for over half a century, Europe and even America had been worshiping the culture of old Hellas in art, music, drama and literature. Imitation Greek buildings were the rage from Saint Petersburg to Washington DC.  "The only way for us to become great, yes, inimitable, if it is possible, is the imitation of the Greeks," scholar Johann Winkelman said in the 1760s.
But the classic revival architecture of the 18th and early 19th centuries was largely inspired by Roman imitations of the originals. The great Acropolis originals — like Athens' Parthenon and  Erechtheion — were almost unknown. At least until Edward Dodwell and Simone Pomardi arrived in 1801 and 1805.
Dodwell, a learned English classicist, was first. The Neopolitan painter Pomardi joined him four years later. Their purpose was a scientific, visual record of all that remained of the glory that was Greece. The result, now at the Getty Villa, can also be seen as great art — and as an intricately detailed peek into an almost unimaginable lost world.
Dodwell said he "intended to leave nothing unnoticed." Which is why the pictures are so rich in details, like shepherds and their flocks, roving bands of Albanian bandits, soaring mountain backdrops. And precise images of ancient buildings exactly as they stood over 200 years ago.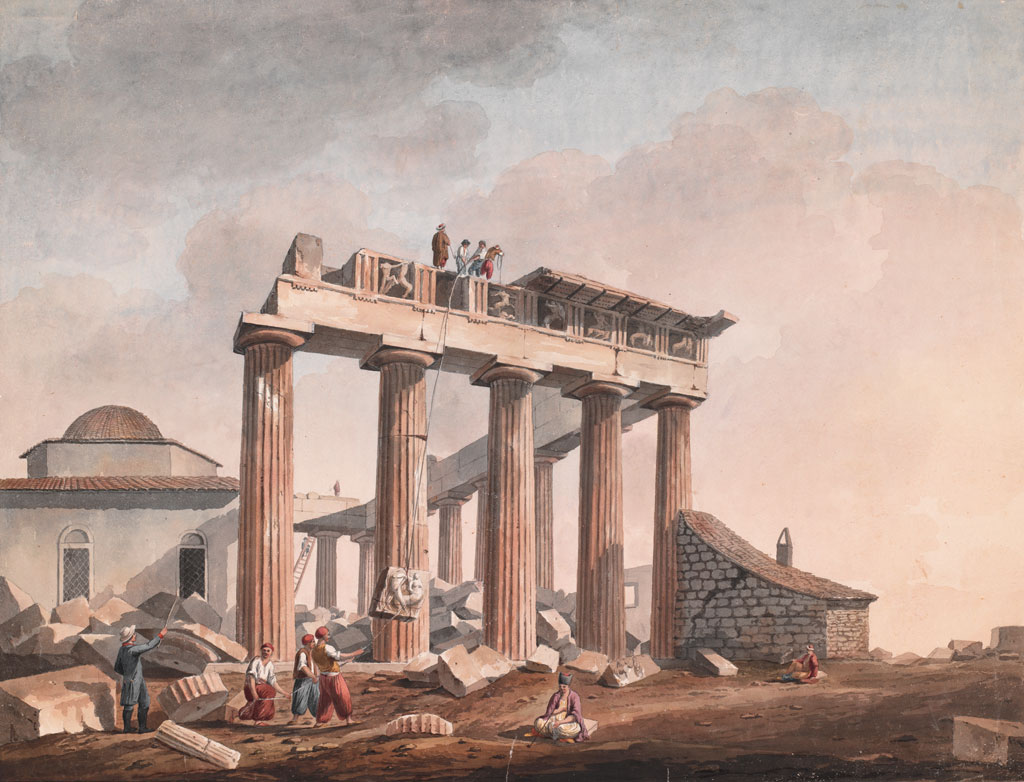 (The Parthenon, Athens, after 1805, Edward Dodwell; watercolor. The Packard Humanities Institute)
After a millennium of wars, invasion and repression, Greece then was wild, forsaken and largely underpopulated. Even Athens was just a dim little town of 10,000, with a scruffy Ottoman garrison and a few monasteries, a hardscrabble village that just happened to include the remains of some of the greatest buildings in history.
One of Dodwell and Pomardi's key historic triumphs was to show the ancient village precisely as it was then — with a tiny mosque smack in the middle of the Parthenon, which is in turn surrounded by humble Turkish shacks and shanties — a rare record of the site before the new free nation of Greece eradicated the intrusions in the 1830s.
Dodwell and Pomardi's  purpose was to give modern Europe its first solid look at the shattered, original grandeur of ancient Hellas. Of a thousand drawings and water colors the pair completed, the Getty has compiled 44 choice pictures of the greatest of the classic remains, plus historic landscapes like the Pass of Thermopylae, along with some intriguing studies of how the ancient and the merely old became intertwined with age — a prime example of which is a Roman Catholic Capuchin monastery which cuddles a small, intact Hellenistic temple. The same monastery provided Dodwell and Pomardi with the only comfortable accommodations they found in Greece.
Concluding the exhibit are two 13-foot-long panorama drawings of Athens and its c. 1805 surroundings. They both offer an unparalleled sense of place and time — the age-battered, crumbling Greek city isolated in a landscape almost bereft of human habitation, yet so real that the viewer feels almost there.
"For Dodwell and Pomardi, such juxtapositions only magnified the lost splendor of Greek antiquity," says David Saunders, an associate Getty curator, who compiled the show.
But Pomardi and Dodwell also witnessed one of history's great acts of vandalism — and recorded that too. This was Thomas Bruce, Lord Elgin's pilfering of nearly half of the statuary off Athens' Parthenon, the Propylea and the Erechtheion. One of Pomardi's pictures traps the Englishman's crew in the very act of tearing friezes off the Parthenon and lowering them to a crew below.
Elgin, then the English ambassador to Constantinople, made a deal with the ruling Turks for the ancient art. Elgin spent a huge amount of his young wife's fortune on the project: he eventually sold the collection to the British Museum where it now sits, although Greece has demanded it back.
Dodwell himself wrote a fiery denunciation of this robbery, but the most famous attack was by Lord Byron:
Dull is the eye that will not weep to see
Thy walls defaced, thy mouldering shrines removed
By British hands, which it had best behoved
To guard those relics ne'er to be restored.
Curst be the hour when from their isle they roved,
And once again thy hapless bosom gored,
And snatch'd thy shrinking gods to northern climes abhorred!
— Lord Byron, "Childe Harold"