"To Live and Dine in L.A." is a Los Angeles Public Library exhibit and book from Angel City Press that tells the story of L.A. through selections from the library's huge collection of restaurant menus.
The book was written and edited by USC Annenberg Professor Josh Kun and includes a foreword by Roy Choi, the chef and restaurateur who, through the kogi taco, is essentially responsible for the food truck boom.
KPCC's Patt Morrison met Choi at the restaurant of the Line Hotel in Koreatown to talk about what menus tell us about the growth of L.A. into the most diverse and interesting metropolis on the face of the Earth. Click the audio button above to listen to the long version of their conversation, or read excerpts below.
The library has more than 9,000 menus in its collection. Themes emerge: highbrow, lowbrow, classes and fusions of food before we even used the word "fusion."
The book travels from the late 1800s all the way until the '80s. So you saw a city almost transform through these menus. You saw two war times. You saw a city that was basically dirt and dust into opulence. You saw Hollywood emerge. You saw racism, mainly during World War 2, saying ... "A portion of your meal will be donated back to keeping the Japs out of the city." And then also through indirect racism... The early Chinese menus using stereotypical  figures and Charlie Chan-type figures, broadcast as "These are kind of subhuman people, we can kind of go look at them like at a zoo, and experience their life and be exotic for a day."
(KPCC's Patt Morrison at Roy Choi's Commissary. Credit: Robert Garrova)
How important are these pieces of paper?
It's really like a novella on one piece of paper, because if you really study everything from the way it's laid out to the choices in which the food is being cooked, to the pictures, the graphic design and the fonts, it really tells you a lot about what these people were trying to say. Some were creating distant lands, and in some you could feel the energy of them being in a new land, enjoying the freedom of Los Angeles. There was this really innocent, kind of naive freedom to say, "You know what, I could put teriyaki on this burger, and it's OK. There's nobody I need to ask."
But L.A. had a reputation as a food desert!
You saw how much food that L.A. kind of invented. The first hamburger, the French dip, Cobb salad, tiki drinks. In many cases L.A. gets the short end of the stick, where people think we didn't create anything or we didn't have any influence on art or culture.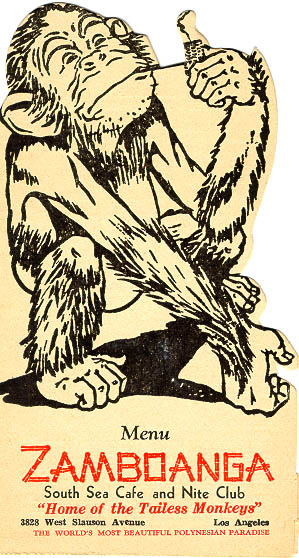 What now-closed restaurants in this book would you like to be able to eat at?
I would have loved to eat at some of these restaurants where they had a certain sense of humor to make their menu look like what they're serving. I'm looking at the Buffalo Steak menu, the whole menu is shaped like a buffalo. Zamboanga, which is a menu that's cut out as the shape of a chimpanzee, smoking a corncob pipe... The salad menu of The Old Drug Company, which is cut out as a bowl of salad.
"To Live and Dine in L.A." is at the Central Library's Getty Gallery until Friday, Nov. 13, 2015. All menu images come from the L.A. Public Library.