If you've ever seen a late-night infomercial for some new fitness program, or a product that'll give you six-pack abs in six weeks, or even driven past a parking lot where people are pulling tires and heaving weighted balls at each other, you may have asked yourself: who the heck comes up with this stuff? There's a convention for that — it was last week in Los Angeles. I went to look for the next big thing in the world of sweating on purpose.
(Did this ad start the abs thing?)
It's been a rough couple of hours for team Athos, the people marketing a new line of fitness gear at the Idea World Fitness and Nutrition Expo. The PA system for their presentation on the mainstage isn't working right, and over at their table, the only thing announcing their presence is a very small black-and-white sign. Athos's Luis Nordmann says there was a shipping issue.
"We were at the NSCA conference last week," says Nordmann. "And we're still waiting on our booth. There's supposed to be more here."
Athos was just one of several hundred exhibitors on the Convention Center floor, pushing products and fighting for attention. In the meeting rooms upstairs, instructors from around the world were teaching other instructors new ways to keep the rest of us fit. 
Kathie Davis, who's been running this show since the '80s, says, "That first convention, we had high-impact aerobics, and that was all 33 years ago. Well now, the variety and number of fitness classes is just… staggering."
Coming up with the new hot fitness thing can mean big money. A woman who was using a milk crate to rehab her knee came up with what would become known as the Reebok Step.
A Navy Seal invented TRX straps, and CrossFit went from members puking on Youtube videos to its own Olympic-style games on ESPN. But walking the floor at this year's convention, you get the impression that there's nothing really all that new in the fitness-verse. But there are new ways to do old things.
Like putting an elliptical trainer on a bike you can ride outside. Or adding a video game component to an indoor cycling class so you can race your pals. Or adding weights to a hula-hoop. Or mixing Pilates with boxing to form something called "piloxing." Or modifying those long heavy ropes people wave in the gym. And, of course, yoga shoes.
"I've taught freestyle, water aerobics, spin, double step, boxing, Viper…" says Amy Dixon, who was named fitness instructor of the year at this year's convention, as she tries to remember all the different classes she's ever taught. Dixon says fitness trends come in cycles. And come to think of it, when was the last the last time you saw a Jazzercise studio, a Thighmaster, or a "Buns of Steel" DVD?
But with all this variety, I had to ask, is any one fitness program — pros call them modalities — really better than the rest?
"I don't think that any of these modalities are bad if people love doing them," says Dixon.  "We know that people need to move and eat less — the reality is people don't want to hear that that's why we have trends that make no sense."
Back at the stage, Athos finally has their presentation up and running.  And as my goal was to find the next big fitness thing, I think this might be it. Athos workout gear has built-in Bluetooth sensors that let you know, on your smartphone, how hard and evenly you're working each muscle group. Seriously, it lights up on a little diagram, turning your body into a video game.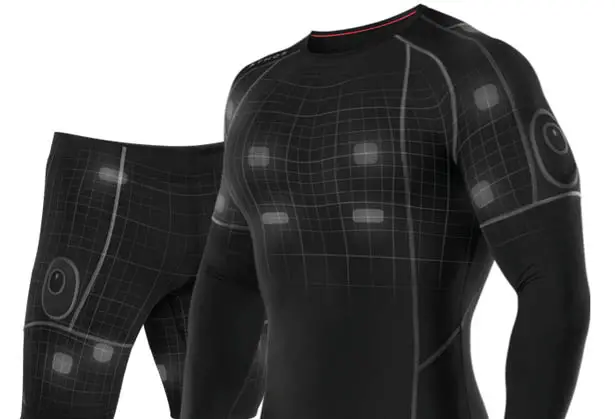 (Athos' fitness clothing)
Now, will the general public spend a couple hundred dollars for these robot underpants? (Which would have been a way better name by the way.) It's a little early to tell. But if my time here has taught me anything, it's this — if robot underpants do take off, so to speak, you can bet a few years down the road someone'll be out here with a new and slightly improved version.
Like maybe they'll find a way to put sand  in them. We'll call them sandies. Or maybe sundies.