"Clueless" was more than the source for "as if" and "whatever." It was more than a movie about L.A. — "Everywhere in L.A takes 20 minutes." It was more than the precursor to "Legally Blonde," with its pretty, somewhat ditzy, but highly intelligent blonde heroine.
It was, in fact, a rare accurate movie about teenagers and their world. On the whole, they're good kids who try to get along with each other, and the adults in their lives try to do the same. For my money, that's why we're still watching it, and quoting it, 20 years later.
"Clueless" was released July 19, 1995. It starred Alicia Silverstone, the late Brittany Murphy and Stacey Dash — along with Jeremy Sisto, Wallace Shawn and the star of this weekend's "Ant-Man," Paul Rudd.
"Clueless" was written and directed by Amy Heckerling, who had previously directed "Fast Times at Ridgemont High" and the first two "Look Who's Talking" movies. She based it on Jane Austen's "Emma," which coincidentally marks its 200th anniversary this year. I reached her in New York for an in-depth conversation.
How she got involved in making "Clueless":
I was involved because I thought of it. So, I liked me for it, so I said, "How 'bout you do it?" I wanted to do a project with a character that would be incredibly happy. That always kind of confused me that people were very positive and happy. I don't know how people could be positive. For the most part, I don't know what it is that makes people think that everything will go their way, or that things will work out right.
"Emma," the movie's template, and Jane Austen:
She's obviously got an incredibly huge heart, but there's also like a wicked little funny way of mocking people that's just great. I just gave ["Emma"] to my mother, and she read just a few pages and was hooked. There's absolutely nothing that's dated about it.
The roots of her dialogue in "Clueless:"
Your handicaps in life are what you work out in what you're doing. I'm not a great speaker. I'm very insecure about even doing something like this, and from the time I was a kid, girls and boys would be in groups and they'd be talking to each other, and I just was going, "How the hell do they know what to say to each other? What are they talking about? And how do they know which words to be using?" But I've been scribbling down slang since I could write, taking down little snippets of what people are saying.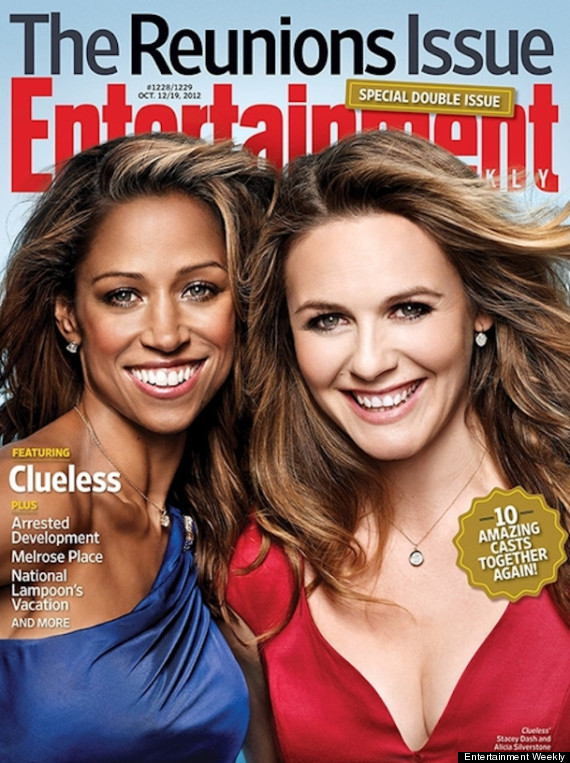 (Dash and Silverstone in 2012)
Unlike a lot of teen movies, these kids aren't jerks:
They're not jerks, and a lot of times in youth-oriented movies, grown-ups are all caricatures. That's not the world I want to live in. I like the idea that there's a very intelligent teacher like Wally Shawn, and he does care about them. I created a happy world that I'd like to live in.
Good news for fans: a jukebox musical version of "Clueless" is in the works. Heckerling wrote the book, Kristin Hanggi ("Rock of Ages") is directing and the Dodgers group ("Urinetown," "Tommy") is producing. Also, Laemmle's Music Hall 3 is showing the original "Clueless" Thursday night at 7:30 p.m.