On a typical weekend at L.A. Live's Regal Multiplex, you get typical Hollywood. Digital dinosaurs. Dwayne "The Rock" Johnson. Minions. That's Hollywood. But it's not Los Angeles. When the Los Angeles Film Festival takes over L.A. Live, you'll get 10 tales from Venice Beach, Little Armenia, East L.A. and every other point of the L.A. compass.
"Last year, there were so many films that were uniquely Los Angeles," says LAFF director Stephanie Allain. "We wanted to create a showcase for them. " They called this city showcase LA MUSE, "because we felt it was about how the city inspires so many people around the world — to come here, to make movies, to be part of the magic, to re-invent themselves."
LA MUSE comes with its real-life muse: a self-described potty mouth named Zoe Cassevetes, who is John's daughter, Gena Rowland's kid. Indie royalty in every way. "If I'm going to be a filmmaker with this crazy job, then I want people to feel things," Zoe says. "When something hits you hard or personally, it changes your life. That's what art is about — I mean, that's what some art is about. And for me, that's what's kind of important and what I like about making things."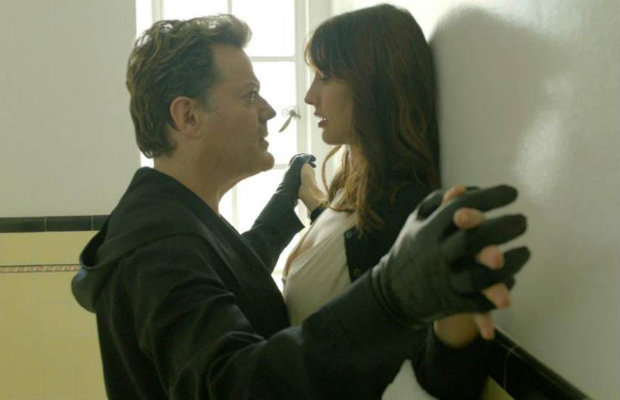 ("Day out of Days")
At LAFF 2015, Zoe will be following up her 2007 Sundance breakout "Broken English" with a new drama. "Day Out of Days" is about an actress hitting 40 and the Hollywood meat market. ("Day Out of Days" is a chart filmmakers use to count cast members' paid days.) There are surface parallels to "Opening Night," one of her parents' late masterpieces. Zoe hadn't realized this, but she sees there's a link right away.
"In a way, yeah. I mean, 'Opening Night' is my favorite of his films at the moment. I didn't think of it like that. I just thought, maybe like he did, that it's horrible to see all this talent and beauty and everything just cut off. Like, 'Oh, you're forty? Bye!'"
Like Hollywood, South L.A. has been on screen a lot — or a sensationalistic version of it used to be, back when it was called "South Central." Documentarian Delila Vallot grew up with one foot in Hollywood and one in South L.A. When she returned to her father's neighborhood after years away, it was to tell a story of hope.
"I kind of wanted to go back and see if something as simple as planting a seed could really change lives," Vallot says.
Ron Finlay is the accidental activist who ran afoul of a city ordinance when he grew vegetables on the median in front of his South L.A. home. Finlay's a TED Talk superstar now, with millions of followers. In Vallot's "Can You Dig This," he's part of an ensemble. Ex-gang bangers garden with skills learned by raising marijuana. A loving dad's poor food choices nearly kill him, and his mantra becomes, "I got to see my ladies grown." Paroled murderers sit in halfway houses, raising vegetables  as atonement.
"We used to have a quote in the movie that we've since taken out," Vallot says. "'The very act of planting a seed requires hope.' I don't think it's a solution for everything, but I would like for people to embrace (gardening) as a particular healing mechanism."
If resurrection is the heart of "Can You Dig This," sterility is the curse chronicled in "No Más Bebés," a shattering new documentary from director Rene Tajima-Pena that unfolds like a science fiction nightmare.
It's the early 1970s. Poor women all over America check into charity hospitals to give birth.  They return to their families sterilized and baffled. In L.A., County-USC Medical Center is the epicenter. There are suggestions of racism in the court case that follows: Latinas accusing white male doctors of sterilizing them against their will.
But "No Más Bebés" resists using its real doctors as stock movie villains. The medical men are allowed their point of view. But it's also quite clear where "No Más Bebés" stands: with the women the filmmaker sees as real-world heroes.
"I always say that I like to make movies when something pisses me off, Tajimka-Pena says, "and this really pissed me off. Although it pisses you off, you make the movie, and then you start getting deeper into the story. And things are different shades of grey."
These are the stories your neighbors are telling about themselves and the city you share with them. And that just scratches the surface of LA MUSE's 10 films. In a summer where our screens are predictably crowded with explosions, disasters and cartoon supermen, empathy is still what the movies do best.
Off-Ramp contributor R.H. Greene directed and co-produced the documentary "The Wedge: Dynasty, Tragedy, Legacy," which was just nominated for an Emmy.