Last week on Off-Ramp, we made the case that "P-22" is a lousy name for a mountain lion, and announced a contest to rename the most famous feline in California since Leo, the MGM lion.
(Recording "Leo" for the MGM logo in 1928. Pacific and Atlantic Photos/Wikipedia Commons)
We put out the call to KPCC listeners, and received dozens of responses.
Many said we should just keep the name "P-22," like Beth Pratt, who said, "He's got a name! Let's keep P-22. He's already known for this across the world. Plus, I don't want to have to change my tattoo."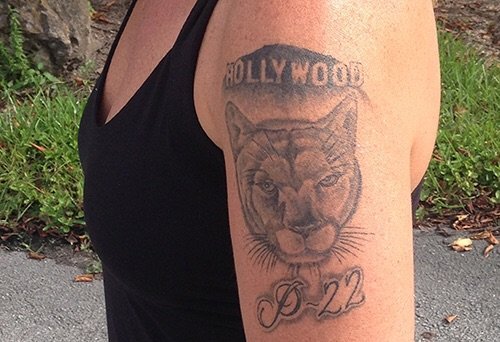 And Kat (!) Talley-Jones wrote on Facebook, "P-22 is an awesome, science-y name."
Brad Williams was one of several who nominated "'Felix' — like the original Hollywood cat, he's clever, he's a "cat about town," and he hangs in Los Feliz."
This is Alan Arkin playing Captain John Yossarian in the Paramount movie "Catch-22," based on Joseph Heller's novel, and "Yossarian" got a number of nominations. Get it, "Cat 22"?
We also like "Pounce de Leon," "Huell" (he is an amazing cat), and "Puma Thurman".
"Poodles Tartare," from Steve, is funny, but doesn't make the cut.
Cybele wrote, "Tukuurot — the native Tongva word for mountain lion." Tukuurot is pronounced about how it's spelled: too-KOO-rot.
The late satirist Stan Freberg gets a nod from a few fans in their nomination "Pete Puma," for the "Loony Toons" character he voiced, who takes his lumps from Bugs Bunny.
Pete Puma in "Rabbit's Kin" -- "A whole lotta lumps!"
So, thanks to everyone who suggested names. Please vote for your favorite below.