A few years ago, on a wall along West Venice Boulevard, someone painted a simple inscription: "Kasper David Friedrich, 1774-1840.''  Millions must have seen this great German romantic painter's name as they drove to work. I never knew who painted the name, but whoever you are, the Getty has a new exhibition just for you. It's "Zeitgeist: Art in the Germanic World 1800–1900," at the Getty Center through May 17.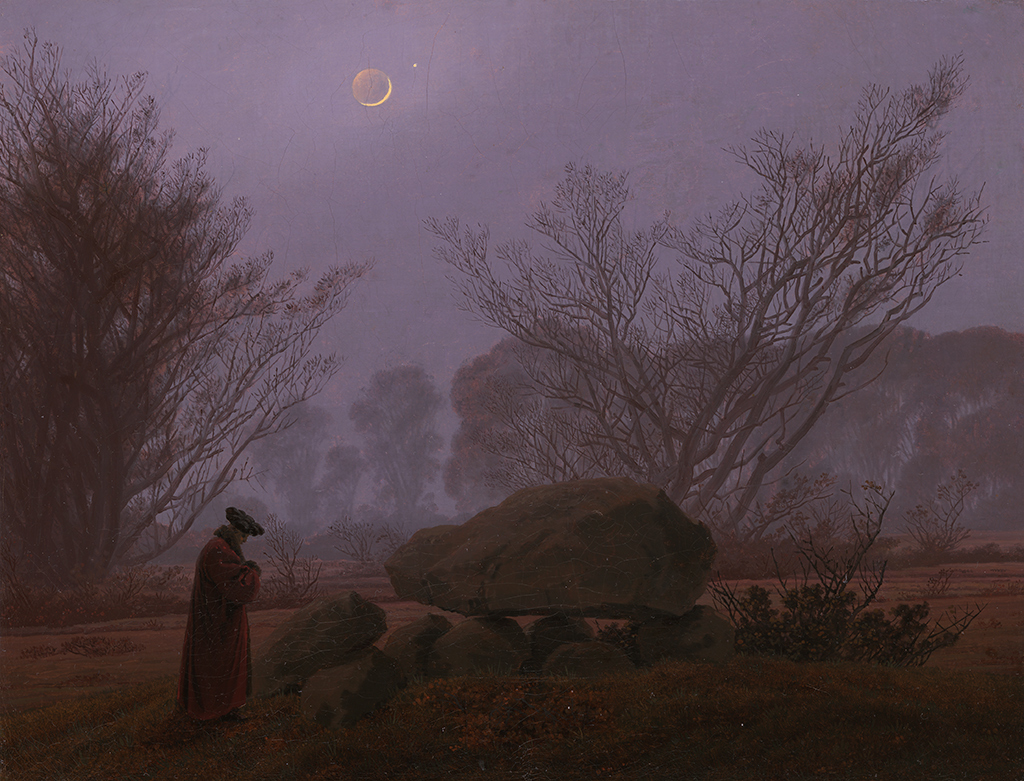 ("A Walk at Dusk," about 1830–35, Caspar David Friedrich, oil on canvas. Credit: The J. Paul Getty Museum)
To appreciate the Getty's new show, it helps to recall just how far behind the rest of Europe Germany had fallen by 1800. A bundle of separate countries, it had no national art school. Its single greatest artist, Kasper Friedrich, was just beginning his creation of dark moody tableaux showing nature vanquishing all else. 
But there was no German painting that corresponded to the music of Haydn or Beethoven, the literature of Goethe and Schiller, the poetry of Heine — products of that great romantic age.
Then suddenly, there emerged German painters who became famous and influential even in France and England. One major sect of such artists featured at the Getty called themselves Nazarenes — and seemed determined, like the Pre-Raphaelites in Britain, to distance themselves from all art since the Renaissance.
(1835 portrait of Peter Cornelius. Credit: Public domain/Wikipedia Commons)
Painters like Peter Cornelius, Julius Schnorr von Carolsfeld and Johann Friedrich Overbeck saw themselves as a chaste creative elite, resistant to sensuality and feeling. Important French critics called them "pure artists," but young composer Felix Mendelssohn was less impressed.
 "They sit around on benches with their wide-brimmed hats on their heads and huge mastiffs beside them; their throats and cheeks and their entire faces sprout hair, and they puff fearful clouds of smoke and hurl abuse at one another." — Mendelssohn on the Nazarenes
Most of the work in the Getty's new exhibit are drawings loaned by a philanthropist couple — therapist Fiona Chalom and plastic surgeon Joel Aronowitz. Their drawings are rare works and their like is seldom seen in America — to modern eyes, they're sometimes fascinating, sometimes banal.
(Head of a Man; Friedrich Overbeck; Germany; about 1820 - 1825; Graphite on brownish paper. J. Paul Getty Museum )
But it isn't fair to judge an entire body of work based just on these drawings — particularly Overbeck's, who is best known for his amazing murals. There is originality in the landscapes, but much of Schnorr and Runge's other work seems overdecorative; brilliant illustration rather than art. What was to these artists an avoidance of the Renaissance and modern traditions now makes their works seem to be of no period whatsoever.
And yet, of course, they are of the period when artists tried to refute their own era, only to be tsunamied by far more vital movements like impressionism. In the history of art, they are 19th century painting's Neanderthals, a culture that disappeared as the modern leapt forth.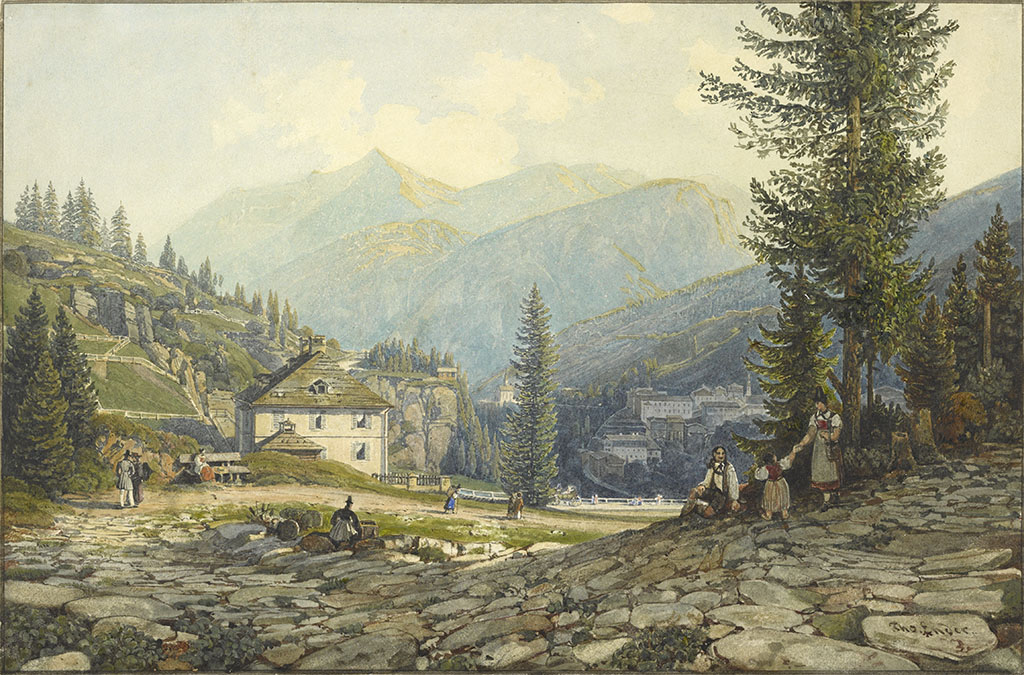 (View of the Residence of Archduke Johann in Gastein Hot Springs, about 1829–32, Thomas Ender, watercolor over graphite. Credit: The J. Paul Getty Museum)
Apart from Caspar David Friedrich, who understood that "A painter should paint not only what he sees in front of him, but what he sees within," the only artists in this show who brim over with excitement stand apart from the Nazarenes. They are Gustav Klimt and Alphonse Mucha, not Germans at all but Austro-Hungarian geniuses who poured into their art all the sensuality and feeling that these Germans scrupulously avoided.