When last we spoke with Zoey Tur about her gender reassignment, she said her goal was to become the nation's first transgender TV reporter.
"I'm really worried about transitioning. Will I be able to work in broadcast news again? There's not a single transgender transsexual person on the air in the United States that's open. And I don't know of anyone that's living stealth that's a broadcast reporter." -- Zoey Tur on KPCC's Off-Ramp, 5/21/2014
With a turn this month as a special correspondent for Inside Edition, Zoey Tur, the former macho TV chopper reporter Bob Tur, became the nation's first transgender TV reporter, and -- as far as she knows -- only the third in the world.
"It's important that there be a transgender person on the air because diversity is important, and TV stations and networks have always promoted that they're diverse, but the reality is it's really a white, male-dominated industry ... The transgender community needs their role models."
How did she get the gig? Inside Edition kept calling her for an interview about her transition.
"And I felt like if I'm good enough to interview, I'm good enough to be on the air. So I called up Charles Lachman [Executive Producer of Inside Edition], left a message, and he called back three minutes later. And I said, 'Do you want to make history?' And he said, 'How so?" And I said, 'There's not a single trans person anywhere on the air as a television reporter.' And he said, 'I get it; you're hired.'"
Zoey Tur says she'll be reporting both hard news and stories about transgender issues. "It's a real gig." And she has hopes for the job with Inside Edition to continue past this month.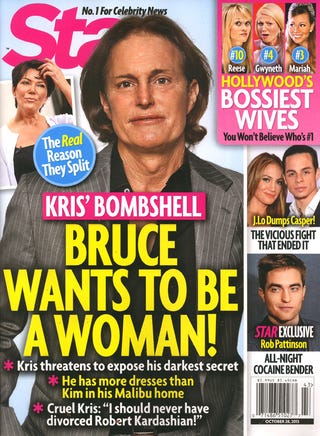 What does Zoey think about Bruce Jenner, who's been undergoing his own very public transformation as a transgender person? "To have the world's greatest athlete on the team is phenomenal. On the other hand, I feel she's gone about this so wrong, because she's lost control of her narrative, which has been told by the tabloid press."
Zoey says she's adapting to the lack of male privilege. She likes that the AAA mechanic fixed her dead battery and called her "dear." She doesn't like that one of her (male) doctors started condescending to her.
And she's adapting to another change with an old friend: After Zoey returned from her three-week trip for her surgery, her dog Laika didn't recognize her smell. It took a while, which made Zoey sad. Laika eventually realized Zoey is the former Bob, and they're friends again, but now Laika has become dominant, for instance, growling when Zoey tries to take back the covers in bed, which the dog never did before.