Maybe it's time we had an entire museum dedicated to the cultural migration that transformed Hollywood when the Nazis took power. Meanwhile, we're fortunate to have the Skirball Cultural Center's "Light and Noir," which recreates the actual environment of mid-century Hollywood's great immigration.
Although their monuments were simply flickers on the great screen, these migrants worked one of the greatest cultural transformations of all time, changing, through the medium of film, the way hundreds of millions of people looked at the world.
"It's not just about the largely Jewish immigration," says Skirball Cultural Center director Robert Kirschner. "It's basically an American story."
It's the old story of newcomers assimilating and then contributing to America's complex, mutating culture. But now on a cosmic scale.
The Skirball's "Light and Noir" show is the brainchild of young, Austrian-born Skirball curator Doris Berger. Created with the cooperation of the Motion Picture Academy, it includes 370 items in eight sections, including a remarkable partial reconstruction — including original costumes — of Rick's Café in "Casablanca."
"Casablanca," the exhibit points out, was perhaps the purest product of the emigration — with its cast of emigres including Conrad Veidt, Ingrid Bergman, Peter Lorre, Paul Henried, and Ludwig Stossel, and its heartfelt expression of the agony of defeat, exile, separation and hope.
But the exhibit also shows how the immigrants' troubled insights permeated the industry far beyond period films based on Hitler and the war.
Movies as various as "Scarlet Street,'' "Double Indemnity"  and "Mildred Pierce," all of which were directed and scored by Euro exiles, evoked a mood and style of urban gloom and fatality that came to be called "noir." A French word for a Central European Expressionist style, it became as American as the frankfurter during the hard times of the Depression and WW II.
"Light and Noir" gives you a panorama of the reality behind the noir. There is a simulation of the office of agent Paul Kohner, who, along with figures such as Carl Laemmle, created the European Film Fund to help dozens of talented refugees from Hitler escape to the U.S. and employ them once they got to Hollywood. There are also abundant stills on display, suggesting the unglamorous daily life many immigrants experienced in their studio work.
On the other end of that experience, there are comfortable replicas of the vast Pacific Palisades living room of Lion Feuchtwanger, one of the richest of the exiles, and the dining room of his Santa Monica counterpart, the actress and screenwriter Salka Viertel.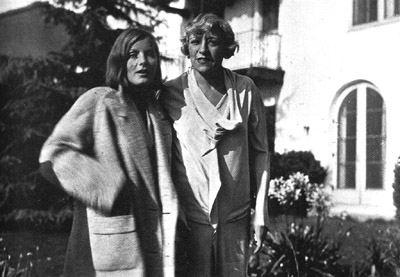 (Greta Garbo and Salka Viertel in California, 1930)
Feuchtwanger and Viertel hosted much of Filmland's aristocracy in the 1940s.
The show concentrates on Jews and other anti-Nazis from Germany and Austria, but fails to note that among those it mentions, Peter Lorre was from what is now Slovakia; while "Casablanca" director Michael Curtiz and screen composer Miklos Rosza were from Hungary.
Berger's exhibit doesn't spare the negative. She notes that during the prewar years, most of Hollywood's Jewish leadership condoned a de facto ban on any negative mention of Hitler. She closes her survey in 1950. That's when national and local Red-baiting scares drove many of those who had sought refuge from Hitler away from America — even global literary titans like author Thomas Mann. The Hollywood that represented a new freedom from oppression was over.
It's not altogether a happy story, but it's still a deeply inspiring one, which we can dive into at will via Netflix and TCM.
Light & Noir: Exiles and Émigrés in Hollywood, 1933–1950, is at the Skirball Cultural Center through March 1, 2015