Take a walk through Disneyland and you'll find a variety of signs. From the rustic posts in Frontierland to the hometown charm of Main Street, each sign is different. For seven years, it was Patrick Smith's job to guide visitors through Disneyland — as a sign painter. You probably never saw him, but his work welcomed you into the park.
Patrick's career in sign painting began with a "Speedball" lettering book. He later majored in drafting in college, learning how to make the drawings used in the design and construction of buildings.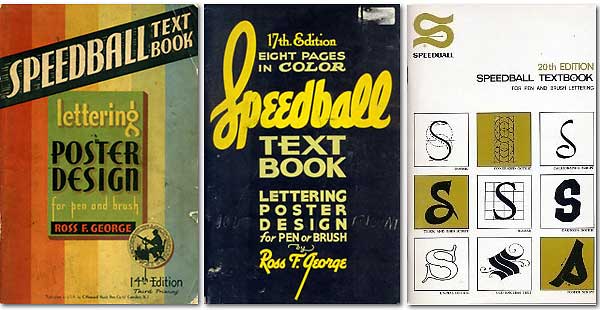 (Ross F. George's Speedball Text Book, a periodical manual containing lettering samples.)
At the height of the Vietnam War, Patrick was drafted into the army. "I knew that my chances of survival were kind of low," he says. "But at the same time, I accepted my fate and when I got to Vietnam, I was actually held back on a temporary basis at the 22nd Replacement Battalion."
This intervention of fate gave Patrick his first job as a sign painter. "The sergeant had asked if anybody could do drafting," he says. "Nobody volunteered, but when they picked me for KP, I went over to the guy and said, 'Hey, I'm your man for the drafting job.'"
The Army Post Office became his first sign shop. Following the war, Patrick worked independently. He roamed around California and operated his own traveling sign shop. 
After settling in Rancho Cucamonga, Patrick learned of a job opening as Disneyland's Senior Sign Painter. "As a boy, I had always wanted to work for Walt Disney," he says. "I think every kid that grew up in that era that was into art had that kind of a thought. It was kind of like a dream come true for me to go there for work."
"It was Walt Disney who wanted a sign shop at the park — no ifs, ands, or buts," says Patrick. Main Street was inspired by Disney's Missouri hometown, where all the storefronts had homemade signs.