Off-Ramp correspondent Marc Haefele reviews The Scandalous Art of James Ensor, at the Getty Center through Sept. 7.
In his final decades, James Ensor was an international celebrity showered with official honors in his native Belgium. But in the 1880s and 1890s, the young Ensor was a scandalous and defiant figure. To this day, Ensor's art continues to baffle in its psychological complexity, internal contradictions, and sheer eccentricity.

- J. Paul Getty Museum
Of all the artists of over a century ago, James Ensor would probably have done best in Zap Comix. Much of his most famous work — roughly from 1886 to 1900 — is rooted in obscenities akin to those of S. Clay Wilson and R. Crumb's cartoons, but spread across vast and vividly colored canvases, packed with massive menace and minute malign fantasies.
(The artist as a young man)
One of the greatest Ensor paintings is the 1898  "Christ's Entry into Brussels."  It has long been a prized possession of the Getty Center, its worth-the-trip-to-the-museum picture. Now it's joined by  118 other great Ensors in a magnificent new show, "The Scandalous Art of James Ensor."
RELATED: The Art of Disney's Golden Books - golden memories of childhood
"Christ's Entry into Brussels" is the star of this show, but in the painting, Christ is almost an afterthought, diminished in a 14x8-foot canvas packed with marching bands, ranks of officials and clergy, some parodistic faces of Ensor's contemporaries and even a few surprise celebrities — like the Marquis de Sade (who in profile resembles Bob Hope). Banners praise socialism and official dogmas, along with the newly returned Christ the King. Everything shouts and shrieks in bright colors except Jesus' humble, inarticulate message, utterly lost in the commotion. It's a  painting so big and jam-packed that it could take you all day just to see it. Ensor himself redid it several times on a smaller scale.
RELATED: Confusion reigns as LA schools flip-flop arts education plans
"Christ's Entry into Brussels" is Ensor's most famous picture, but it's by no means his weirdest, or even his most offensive.  Take the colored etching on display here called "Doctrinal Nourishment." One of several treatments  Ensor did of the same subject, it shows the highest leaders of  1800s European society — a king, a cardinal, a general and a judge — squatting bare-bummed as they defecate into the wide-open mouths of their supine, passive subjects.
(Doctrinal Nourishment, James Ensor. LACMA/Joan Palevsky Bequest/ARS/SABAM)
While Ensor respected — or perhaps a better word would be "pitied" — Jesus Christ, he detested every one of the authorities that bound up the young nation of Belgium into which he was born — a kingdom created only 29 years before his own birth in 1860.
Ensor showed his genius in his teens, and by his early 20s he was an undeniably original master painter in the avant garde tradition of the 1880s. The Getty includes some of his best early work — seascapes, still lifes and some remarkable interiors, including a young woman gorging on oysters at a well-laid table that is likely to make the viewer share her hunger. But then, quite suddenly, in the mid-1880s, Ensor went weird.
(The Skeleton Painter, James Ensor. Royal Museum of Fine Arts Antwerp/Lukas-Art/Hugo Maertens/ARS/SABAM)
First, he incorporated into his pictures the carnival masks sold in the family store downstairs from his studio.  His painted subjects sported grotesque, long-nosed faces, obscuring their feelings and motivations. Then he took a big step that no one in those pre-Freudian days seemed to comprehend:  he plunged a kind of psychic sump pump deep into his sub-conscious; and out poured the crazy, wicked notions that filled his work for almost the next 20 years. Works that scandalized his closest friends and colleagues but made him Belgium's most famous artist.
There are masks, there are demons in masks, there are masked devils from far away Asia — Ensor  was influenced by Japanese master Hokusai. Death's dark scythe sweeps people away in masses in the same empty spirit that the Belgian police massacre dozens of striking fisher folk on Ensor's Ostend doorstep in "The Strike." Impressive as the big pictures are, even some of the smallest have stunning impact. 
(The Man of Sorrows, James Ensor. Royal Museum of Fine Arts Antwerp/Lukas-Art/Hugo Maertens/ARS, SABAM)
Like the "The Man of Sorrows," a small oil painting in which Jesus' face, far from sad, shows a tear-your-throat-out rage. The usual religious expectation is again and again reversed: Devils defeat angels in mortal combat, and elsewhere, like friendly old pals, those demons lead Christ into Hell. Elsewhere, Jesus miraculously spreads a few fish and crustaceans before his hungry flock, and they ignore the sparse bounty and turn away.
But this show is itself a bounty from which we cannot turn away. If I have one criticism, it's that the show stops early in the highly productive career of a man who died at 89.  Only a hint of where Ensor was heading is shown here — a photograph of him in the 1920s, playing a little harmonium.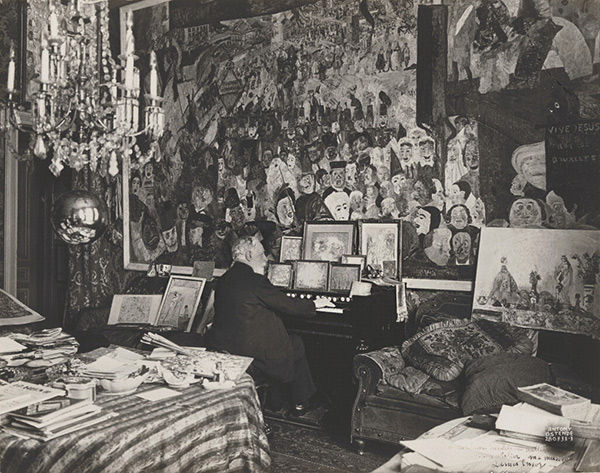 (James Ensor Playing the Harmonium in His Music Studio, July 28, 1933, Maurice Antony)
It turns out, Ensor was then teaching himself how to be a composer, and eventually wrote a performed ballet, for which of course he designed the sets and costumes.  His pictorial art continued to evolve too, to describe the sufferings of occupied Belgium in World War I ("The Banquet of the Starved") and beyond, to a sensuous new style in the 1920s ("The Finding of Moses").
But even if it isn't perfect, "The Scandalous Art of James Ensor" certainly is sufficiently scandalous — and a very fine thing to see.