Off-Ramp commentator Marc Haefele reviews "Expressionism in Germany and France: From Van Gogh to Kandinsky," at LACMA's Resnick Pavilion through mid-September.
The Los Angeles County Museum of Art has just opened one of the most impressive displays of 20th Century European painting in its history. It's about the Expressionists, and how they got that way.
What makes it so great is not the concept, but its vertiginous flaunt of famous and fine works. It connects Gauguin, Van Gogh, Braque, Matisse, and Picasso to over a hundred other pictures by Middle-European painters in the Expressionist style which the curators see as being sparked and ignited by these moderns.
RELATED: Take Two talks with Helen Moleworth, MOCA's new chief curator
It's an ever-changing landscape of riches. There is the wealth of the post-impressionist mostly French moderns, some familiar to you and me, some not. Then there's the mostly German Expressionists, with all the big names of that genre, like Paul Klee and Emile Nolde.  And many less celebrated contenders, like Jawlensky and Munter.
Expressionism was considered the opposite of the previous century's Impressionism — an expression of what was felt, rather than what was seen. Feelings are what writhe through the paintings of the great Expressionists — love, lust, fear, despair, hatred, and increasingly, beyond the World War One climax date of this show, alienation. Expressionism was the single great current of Middle European painting until it was doused like a candle in the mud by the Nazis, to whom art was solely to express the glory of the Reich. But too late, Expressionism had already spread as far as America, Argentina, and Australia, where it thrived for another generation.
RELATED: LA schools swipe DC arts educator for new position
The well-arranged display at LACMA, done by architects Frederick Fisher & Partners, lays out the path of Expressionism from 1905. First came the "Bridge" (Brücke) school, founded by Emil Kirchner. The idea was to bridge the modern with the past, but Kirchner included, quote, "Anyone who directly and honestly reproduces that force which impels him to create." In this spirit, they built on the revolutionary work of Cezanne, Van Gogh, and Gauguin.
Then came the 1911 Blue Rider (Blaue Reiter) school, begun by Wassily Kandinsky. The Blue Riders were half Russian in membership and completely Expressionist in purpose. The LACMA show is rife with wonderful stuff from this group, and Kandinsky's evolution as an artist is a central thread of the exhibit's narrative. He had his Expressionist upheaval when he first saw Monet's painting, "Haystacks."  He said the picture suddenly "took on a fairy-tale power and splendor'' that never left him. He soon became perhaps the world's first abstract painter.
(Kandinsky's "Sketch I for Painting with White Border, 1913, Phillips Collection, © 2014 Wassily Kandinsky/Artists Rights Society (ARS), New York/ADAGP, Paris, photo © The Phillips Collection)
But the LACMA show demonstrates the development of the influencers as well as the influenced. Among the rarely seen Matisses and Van Goghs, one particular juxtaposition stands out. There's an 1888 Gauguin pastoral landscape called "The Swineherd,'' an excellent painting but quite conventional in scope and subject.
(Gauguin's "Swineherd," 1888, gift of Lucille Ellis Simon & family)
Nearby hang a series of bold, stark Gauguin woodcuts from 1894 incorporating Polynesian motifs with deeper, dark themes.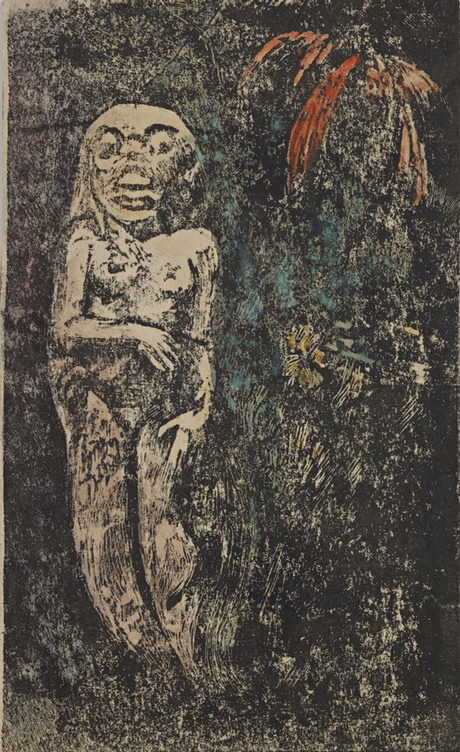 (A Gaugin woodcut,  "Oviri" (Savage), 1894, private collection)
The rural had given way to the universal in six short years. The difference seems like an eternity.
LACMA's curators make the case that the period covered was a golden age of pan-European art, in which Central and Western Europe, so soon to meet in the most terrible war ever fought, made paintings of international greatness. Their art could only be described as "cosmopolitan," a word soon to become an insult under both the Nazis and the Soviets. But the term cosmopolitan, created by the Greek philosopher Diogenes, meant something that still sounds magnificent: "Citizen of the Universe."