Off-Ramp commentator Marc Haefele reconsiders a forgotten master, artist Channing Peake. Channing Peake's "Santa Ynez Valley" is on display at the Elverhøj Museum in Solvang through June 8.
He was probably the only important 20th Century painter who ever won a major rodeo contest. But he was much more than that — a devoted rancher, a friend of Picasso,  pupil of Diego Rivera, father to a large family and an artist whose creations' variety still dazzles the mind.
Channing Peake died 25 years ago, and now there's a new and rewarding show of his work in Solvang, not far from the 1,500 acre ranch that focused so much of his life. Appropriately, the focuses on his striking late works, many of which reflect the tumbling landscape of the surrounding Santa Ynez Valley that he loved for so long and so deeply. But it's just a final segment of more than 50 years of his work — a life accomplishment that seems to beg for a long-overdue major retrospective in Southern California.
(Channing Peake in his studio with "Fiesta Mural," now at Santa Barbara airport. Credit: Santa Barbara County Arts Commission)
The story goes that on graduating from San Fernando High School, Peake was offered a football scholarship to USC and an arts scholarship to the California School of the Arts in Oakland. He picked Oakland. There began for him a decade long freebooting odyssey of self-discovery that he liked to call "getting out of my own way." It took him to Santa Barbara for more study ; to New York's Art Students' League, where he collaborated on a major post office mural; to Cambridge, Mass., where he worked on the murals in a Harvard museum; to Mexico City, where he worked for Diego Rivera on the Palacio Nacional murals; to the archeological discovery of the Xapotec capital of Monte Alban; to the American southwest, where he lived and worked among native Americans; and finally back to Santa Barbara.
He wed an heiress, acquired his ranch, raised a family and some of the nation's finest quarter horses. His pictures were found in the collections of Hollywood's greatest.  He won a prize at LACMA and had shows in Europe. He befriended the famous — Gregory Peck, Audrey Hepburn, director William Wyler, painter Ruben Tamayo. And even, most notably, Pablo Picasso.
"I have done everything I wanted to do, and sometimes twice," he said.
But although he was raised in the San Fernando Valley and later lived in Los Angeles and Beverly Hills, he's now little known here. Perhaps that's because his work — particularly his later work — so strongly references the rural locale where he spent so much of his life — in the hills near Santa Ynez.
Appropriately, then, his new show is in Solvang's lovely little Elverhøj Museum. It's focused, but still presents a broad cross section of the artist's work, from his singularly expressive modernist-realistic drawings of generally well-fed farm animals, their energy caged in the lines of his drawing, to his famous color-drenched abstractions based on farm machinery. Peake had a lifelong admiration for farming, and his paintings of combines and harvesters evoke his feeling for the immense labor and risk involved in wrenching food from the soil.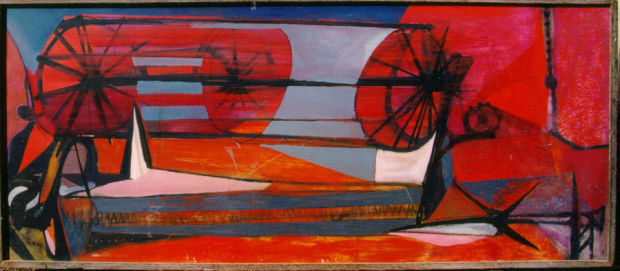 (This piece, "Farm Disc in Motion," was shown at LACMA in 1955. James Main Fine Art)
Peake's widow, Cheri, the executor, great appreciator and curator at large of his work, uses the word "biomorphism" to describe the life-based abstraction of some of his last works. These include what most pleased me in the Solvang show: a series of late, local landscapes pressed into cubist form, infused with the vivid but restrained primary colors of the artist's imagination. As you drive out of Solvang and into the surrounding landscapes, you feel you have known them forever, but in a way that's far beyond what you see around you.
Be sure to listen to our bonus audio: Cheri Peake describing her husband's friendly drawing contests with Picasso. And here's a guide to getting acquainted with this forgotten master:
Until June 8, an excellent and richly varied display of Channing Peake's work will hang in Solvang's Elverhøj ("Elves' Hill") Museum. (1624 Elverhoy Way, Solvang, 805-686-1211.)
Casa del Herrero: The young Peake did a splendid ceiling painting in the library of this over-the-top Gatsby-era squillionaire's mansion. Peake also decorated the rest of the house with fanciful paintings and made the owner a massive marquetry hardwood table. By reservation only. 1387 E. Valley Road, Montecito, 805-565-5653.
Cava Restaurant: Seven mural studies and animal drawings, plus a study for his Don Quixote mural in the private dining room. (1212 Coast Village Road, Montecito 805-969-8500)
Dos Carlitos Restaurant: Several fine equestrian drawings. Enchiladas Suizas also recommended. (3544 Sagunto St. Santa Ynez, 805-688-0033)
Santa Barbara Airport: Peake's last completed mural, a 34-foot monster that used to hang in a downtown restaurant, has found a permanent home here. It evokes Santa Barbara's annual "Old Spanish Days" celebration. (500 Fowler Road, Goleta, 805-967-7111)
Santa Barbara County Administration Building: A Peake painting is featured in the Board of Supervisors' hearing room. (105 E. Anapamu St., Santa Barbara)
Santa Barbara Public Library: Peake's famous "Don Quixote" mural is displayed in the foyer. 40 Anapamu St., Santa Barbara