Wayne Thiebaud is one of the rare artists who changed the way we see. Decades ago, gallery after gallery laughed at him and his paintings of cakes and pies. The one that accepted him had an overnight success — and a new art star — on its hands. His works are showing at two Southern California museums.
At the Laguna Art Museum it's a show called "American Memories," pieces that date back to 1959 that Thiebaud (say it "TEE-boh") chose himself. At the Weisman at Pepperdine it's an exhibit of Thiebaud's works on paper from the 1950s to now, with etching, lithography, woodcut and other graphic media.
Off-Ramp interviewed Thiebaud from his studio in Sacramento about the Laguna show (we've posted the full audio on this page), and we asked Off-Ramp contributor Marc Haefele to write about the show at Pepperdine. Here's Marc's review:
---
Making your way slowly through the comprehensive exhibit at Pepperdine's Weisman Museum, you just know that Wayne Thiebaud must be a pretty good cook. His images of pies, cakes, candy, ice cream and yes, even a perfect bacon and eggs breakfast haunt you after you leave — possibly hungry.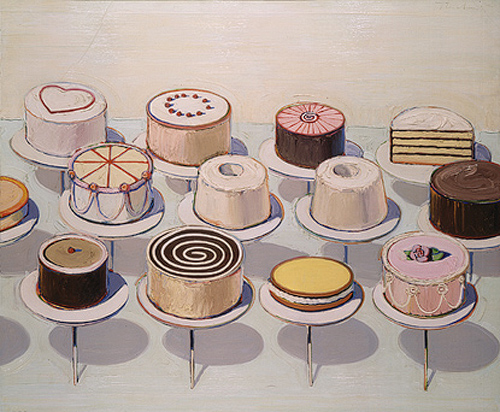 (Wayne Thiebaud, "Cakes," 1963. National Gallery of Art, Washington D.C)
This is perfectly appropriate; Thiebaud, who is now nearing 94, was a food worker himself, early in his career, in a Long Beach fast-food joint. And much of his work, he says, is from memory. Which at least assures us that his studios don't drip with melted ice cream.
But we, his viewers, also carry those images of common American classic dessert cuisine around in our heads, so that they meet his pictures head on with some delicious consonance with our animal desires for forbidden sweets. Which probably explains a great deal of his popularity — and it's also why critics saw him as the primal pop artist, 52 years ago, having got there a bit before Robert Rauschenberg and Jasper Johns.
But as the show at the Weisman demonstrates, he built this work phase on a foundation of solid, even brilliant artistic work experimenting with various modern forms of the fifties — wood cuts and then silkscreen prints. He even had a bout of abstract expressionism, but you feel he really found his footing with straight expressionism in his prints, as in his rose-pink picture of a movie theater marquee that somehow reaches mysteriously beyond the lobby, into the heart of the building itself.
("Three Machines" (1963), by Wayne Thiebaud. De Young Museum, San Francisco)
Maybe Thiebaud's gum machines belong in that very lobby. He does have a singular fascination with them. He says it's "a gadget for stimulating the greatest series of associations and responses." Like life itself, you put something in and something comes out of it for you. A shape, a flavor, in one of Thiebaud's astonishing range of colors.
There is, though, in the continuity of food pictures through the 1960s and beyond, something increasingly sinister, like an implicit black-and-white sandwich, without any defining lines, a dark cake whose brownish-black hue seems somewhat threatening (is it chocolate, or is it perhaps plutonium?) or the black, semi-elliptical shadows his food objects throw on an invisible table. And everything is now more purely geometrical.
Meanwhile, Thiebaud was shaping a singular series of San Francisco streetscapes. Obsessed with the near verticality of some of that city's avenues, Thiebaud used Asian painting techniques to reformulate the city itself into proud towers bound with impossible ascents.
(Wayne Thiebaud, "24th Street Intersection," 1977. Private collection/artchive.com)
Then, in a complete departure, there is a page of Thiebaud's sketchbook, maybe by itself the single most fascinating thing in the show, with its spread of visual encounters—muffins and mandolins, books and bagels, cartoonish little figures reminding us that the artist once apprenticed at Disney.  "I've drawn all my life," Thiebaud says. That's close to 90 years of drawing, and it shows in every aspect of his work.
At this point, we ought to add that Thiebaud is a living California treasure. He's taught in state and community colleges all of his life, been generous with sharing his visions and encouragement, shining the light of his genius, in areas that rarely get the benefit of artistry of his caliber. 
The show at Pepperdine, and its companion at the Laguna Art Museum, are suitable demonstrations of what he has given us — and still gives us.