Off-Ramp commentator Marc Haefele pays tribute to possibly the last of  the post-WW II-era Great Generation of SF writers and editors, Frederik Pohl, who died Monday at 93.
Try to imagine "Mad Men" turned upside down. Instead of  21st-century TV writers trying to imagine what the advertising business was like in the middle of the last century, how about some mid-20th century writers trying to imagine the advertising business of the future?
In 1952, Frederik Pohl and his brilliant collaborator, Cyril Kornbluth, cranked out a classic of Speculative Fiction called "The Space Merchants." It foresaw a  future ruled by the heirs of Don Draper, who've made consumption addictive and produced a wall-to-wall population explosion that's stripped the Earth of its resources.
According to The New York Times, "The Space Merchants" has been translated into more than 25 languages and has sold millions of copies worldwide.
It was a double predictive success — lampooning the exploding power of Madison Avenue and warning  against ecological disaster. Rooted in 50s sci-fi and Mad Ave fiction, some digs still seem sly, as when the protagonist reasons that when the greedy world ran out of uranium there was still coal left, "and when we ran out of coal, we still had pedicabs.''
Fred Pohl was 33 when "The Space Merchants" appeared; Kornbluth, with whom Pohl wrote 11 novels, was just 28. Six years later, Kornbluth died, and Pohl was on his own. By the 1970s he stood at the top of his field as a writer, but also as editor and cheerleader for younger writers such as Larry Niven, Samuel R. Delany and Joanna Russ.  Many an editor, including me, can recall Fred suggesting we take a look at some phenom he'd discovered. We who took his advice were rarely sorry we had.
A Brooklyn-born high school dropout,  Pohl was energetically self-educated, and the science in his fiction garnered professional respect.  He early joined with other aspiring writers like Robert Heinlein, Isaac Asimov and Damon Knight in the pulpy incubator of 1930s science fiction fandom.  
All became sci-fi titans, and, with Pohl's death, all of them are gone — long-ago teenagers gathered in the back rooms of the late Depression to invent the imagination of an age. Asking questions  most scientists weren't bothering with: Can there be life on Mars?  Is there life on other planets? Are there planets around other stars? Can we travel in space? And what kind of culture will space travel create?
Pohl was a light of this culture. By World War II, he was editing  SF magazines and agenting sci-fi as well as writing his own. After Army service in Europe, Pohl wrote advertising copy — background for "The Space Merchants" – continued as an agent and wrote sci-fi with and without Kornbluth.  But Kornbluth was only one of several collaborators, extending to his 2008 work with late science fiction superstar Arthur C. Clarke.
Pohl's most singular collaboration, however, came  in 1954, when Galaxy Magazine and the mainline publisher Simon and Schuster offered a prize for the great "undiscovered" SF novel. All the submissions were terrible. So the editors perpetrated  a scam: Pohl and fellow sci-fi veteran Lester del Rey were commissioned to write the  prize winner, the fictitious Edson McCann; the book was called "Preferred Risk." Let's just say it was the best sci-fi novel ever based on the insurance industry.
In  his 1960 study "New Maps of Hell," English mainstream novelist Kingsley Amis named Pohl the ablest science fiction writer. Soon Pohl was editing two of the four prominent magazines — Galaxy and IF — and putting his own stamp on the sci-fi genre through the '60s. His publications won multiple awards. But while he encouraged younger talent, the most revolutionary new writers were appearing elsewhere.
In the '70s, he concentrated on his writing. He won consecutive Nebula awards in 1976 and 1977— the last for "Gateway," the first in his six-book Heechee series.  His 1979 novel, "Jem: The Making of a Utopia," won a National Book Award.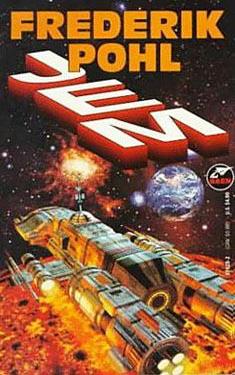 In his 93-year lifetime, Frederik Pohl wrote nearly 100 books: fiction and nonfiction. That is a towering accomplishment. Yet perhaps we should best remember him as the last of those fabulous sci-fi geeks of the dismal 1930s who  focused their lives on trying to imagine the future we all live in today.
(Image: Jack Gaughan)