In "They Bled Blue: Fernandomania, Strike-Season Mayhem, and the Weirdest Championship Baseball Had Ever Seen: The 1981 Los Angeles Dodgers," sportswriter Jason Turbow takes readers back to the remarkable and unlikely 1981 Dodgers season.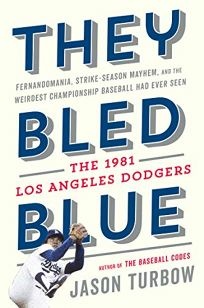 While the season culminates in a surprising World Series victory in the midst of the longest player strike in baseball history, the real story Turbow tells is about Fernando Valenzuela.
As the title of the book suggests, the rookie left-handed pitcher swept fans with "Fernandomania," becoming the first prominent Mexican player for the Dodgers. He was also the first pitcher to win rookie of the year and the Cy Young Award in the same year. 
With a historical and biographical take, Turbow traces the rise of the Dodgers from the disappointing late 1970s to their chaotic but shining victory in 1981 against the New York Yankees.
Larry sits down with Turbow to discuss the significance of this period in baseball and sports history.
Jason Turbow will be at Diesel bookstore in Brentwood tomorrow, Tuesday, June 4 at 6:30pm to talk about "They Bled Blue" And he will join fellow sportswriter Ron Rapoport to talk about "Fernandomania" on Thursday, June 6 at the South Pasadena Library. The free event starts at 7:00pm.
Guest:
Jason Turbow, sportswriter and author of "They Bled Blue" (Houghton Mifflin Harcourt, 2019); he tweets @BaseballCodes