More than 19 million voters in California were eligible to cast ballots in today's primary election. The stakes are high and the results far from certain. We'll keep you posted as we get results throughout the evening — you can follow live election results from across California here.
11:08 p.m. Villaraigosa and Chiang concede in governor's race
Both Antonio Villaraigosa and John Chiang conceded Tuesday night in the race to be California's next governor. With 30 percent of precincts reporting, Villaraigosa racked up 12 percent of the vote, while Chiang garnered 8 percent.
Gavin Newsom and John Cox secured their spots in the November general election at 34 percent and 27 percent, respectively.
"Gavin, thank you for caring enough about this state to put your hat in the ring," said Villaraigosa, who threw his support behind the current lieutenant governor.
He added: "To John Cox, thank you as well. Different parties, different views of the world"
Had Villaraigosa won, he would have become the first Latino ever elected governor in California. Not since Romualdo Pacheco served as governor in 1875 has the state had a Latino executive, and Pacheco was not elected, instead becoming governor after his predecessor became a U.S. Senator.
Since 2014, Latinos have been the largest ethnic group in California.
https://twitter.com/JohnChiangCA/status/1004240392592560129
— Mary Plummer and Aaron Mendelson/KPCC
10:43 p.m. AG Becerra wins primary to defend his office
California Attorney General Xavier Becerra has won his primary fight Tuesday to defend the job he was appointed to last year.
The Democrat had an almost 20 lead over retired Republican judge Steven Bailey in second place in a four-way race. The top two advance to a fall runoff.
Republican attorney Eric Early and Democrat Dave Jones, the state insurance commissioner, trail far behind.
Becerra, a longtime congressman, was appointed last year to replace Kamala Harris when she was elected to the U.S. Senate.
Becerra has relentlessly challenged President Trump on policies he said harm Californians. His challengers say Becerra has neglected other important issues because of his fixation with Trump.
— AP
10:28 p.m. John Cox secures second spot in fall general election
Republican John Cox has won the second spot for the November election in the race for California governor.
Cox's second-place finish in Tuesday's primary ensures Republicans won't be shut out of the race. But the San Diego businessman faces long odds against Democrat Gavin Newsom in a state where Democrats are increasingly dominating.
Cox got a major boost from President Donald Trump's endorsement, which helped solidify his support among Republicans and push him past Democrats Antonio Villaraigosa, John Chiang and Delaine Eastin.
Trump's endorsement was a blow to Republican Assemblyman Travis Allen of Huntington Beach, who portrayed himself as the candidate most loyal to the president.
Democratic Gov. Jerry Brown is barred by term limit laws from seeking re-election.
— AP
10:26 p.m. Democrats hope California races will propel House takeover
Democratic hopes to retake control of the House will rise or fall in California, where the party is pursuing a string of Republican-held seats in Tuesday's primary election.
Republican Rep. Mimi Walters easily advanced to the November election in her Orange County, California, district targeted by Democrats, while several other Republicans facing strong challenges jumped out to early leads.
Among them was Republican Rep. Dana Rohrabacher in the coastal 48th District, who was out ahead of a large field.
Speaking to a jubilant crowd at his campaign headquarters in Newport Beach, incumbent Rohrabacher struck a populist tone.
"This race represents the defeat of the major power brokers in both parties," he said.
He also mocked the so-called "blue wave" that some pundits predicted could sweep in Democratic candidates across the country.
"Well the blue wave didn't hit, and you know what we've got instead? The tide has turned, America is winning against these left-wing fanatics who are in charge of our governments."
When most of the crowd was gone, Rep. Rohrabacher led his supporters in a sing-along to Tom Petty's "I won't back down."
In Walters' district, the second spot on the November ballot remained up for grabs in a race featuring several Democrats, including lawyers Dave Min and Katie Porter.
Rohrabacher was facing rivals from both parties, including former Orange County Republican Party leader Scott Baugh.
Democrats need to gain 23 districts nationally to take the gavel in the House, and a key part of that strategy is expanding their 39-14 advantage in the home state of Democratic leader Nancy Pelosi. The key battlegrounds are seven districts, mostly in Southern California, where Hillary Clinton defeated then-candidate Donald Trump in the 2016 presidential race, making them targets this year.
Republicans, including Rohrabacher and Walters in Orange County and Rep. Jeff Denham in Modesto, are among GOP incumbents on the defensive in a year when Trump could energize Democratic voters who loathe him, though Republican voters may show up eager to keep their party in charge in Washington.
The uncertainty is heightened by the state's top-two primary system, in which all candidates appear on a single ballot but only the top two vote-getters regardless of party advance to a November runoff. In crowded, closely matched races, it's possible that only two Republicans advance to the runoff in some districts, or two Democrats.
A breakdown of mail-in ballots in key Orange County congressional districts compiled by nonpartisan Political Data Inc. showed the vote dominated by older, white voters, a vital demographic for the GOP.
Republicans are hoping a proposed gas-tax repeal and anger over illegal immigration will galvanize their voters.
The Wild West
The retirements of long-serving Republican Reps. Ed Royce and Darrell Issa brought on a stampede of candidates, and no one knows what will happen in their Southern California districts. Seventeen names are on the ballot in Royce's district, the 39th, which includes parts of Orange, Los Angeles and San Bernardino counties. Registration is closely divided, and Clinton carried the district by 9 points, making it an obvious pickup opportunity for Democrats. But the party's ambitions have been complicated by infighting among candidates.
There are 16 names on the ballot in Issa's neighboring 49th District, which includes parts of San Diego and Orange counties. Democrats nearly seized the seat in 2016, when Issa survived by a mere 1,600 votes. The coastal district has been growing more diverse and Democratic, although Republicans retain an edge in voter registration. Independents — who here tend to cast ballots like Democrats — make up one-quarter of the voters.
Protect the homeland
Orange County has long been synonymous with Republican prestige and power, but that's changing. Hillary Clinton carried the county in the 2016 presidential race, along with four Republican-held House districts that are completely or partly within it. Rohrabacher, seeking his 16th term in the 48th District, and Walters, seeking her third in the 45th, are contending with multiple Democratic challengers in districts that favor the GOP. In Rohrabacher's case, he's also competing with a strong challenge from a former protege, Baugh, who led the county's Republican Party for a decade.
Staying power
Republican Reps. Jeff Denham and David Valadao have been Democratic targets before, and survived. Denham, whose farm-belt 10th District includes Modesto, managed to hang on by a few percentage points in 2016, in a year when Clinton carried the district by 3 points.
Valadao has prospered in his San Joaquin Valley district, the 21st, despite a strong Democratic registration edge. Clinton carried the district by a wide margin in 2016, but so did he. Unlike other crowded races in the state, he's facing a single rival, Democrat TJ Cox.
Dealing with Trump: Bearhug or stiff-arm?
The president's poor approval ratings in California pose potential problems for some Republicans, but he could prove an asset for others in pockets where conservatives hold sway.
The 25th District that runs through northern Los Angeles County and a thin strip of Ventura County has a Democratic registration edge but a Republican congressman, Rep. Steve Knight. Not surprisingly in a swing district, he's occasionally created distance with the Republican president. Last year, for example, he criticized the president's proposed cuts to education. Clinton carried the district by 7 points in 2016, but Knight, a former state legislator, was re-elected with a 6-point margin. Several Democrats on the ballot will be dividing the party's vote, including lawyer Bryan Caforio, Knight's 2016 rival.
In the 22nd District, House Intelligence Committee Chairman Devin Nunes has gained national attention as an ardent Trump supporter eager to discredit special counsel Robert Mueller's Russia investigation. He carried the district, where Republicans hold a comfortable registration edge, by an impressive 35 points in 2016, when Trump also prevailed.
Meet the next speaker
It's possible, even likely, that the next House speaker will call California home, regardless of who controls the chamber. House Majority Leader Kevin McCarthy, a Republican from Bakersfield, and House Democratic leader Nancy Pelosi of San Francisco, each advanced easily to the November ballot and are expected to coast to re-election.
— Michael R. Blood/AP and Jill Replogle
10:17 p.m. Newsom advances to general election in race to be California's next governor
Democratic Lt. Gov. Gavin Newsom secured the first of two slots in the November election to replace Jerry Brown as California's governor while Republican businessman John Cox was running a strong second in Tuesday's balloting. 
Newsom, the former San Francisco mayor, was the first candidate to announce a bid for governor more than three years ago and was strongly favored for the top slot. He leaned heavily on his decision in 2004 to issue marriage licenses to same-sex couples in San Francisco, touching off years of debate over gay marriage in California and around the country.  
Speaking to supporters, Newsom said, "It looks like voters are going to have a real choice this November — between a governor who is going to stand up to Donald Trump and a foot soldier in Trump's war on California."
With about 1.8 million votes counted he led over Cox. Former Los Angeles Mayor Antonio Villaraigosa, a Democrat, was third and needed a strong showing on his home turf in California's largest city to close the gap. 
Because of California's "jungle primary ," the top two vote-getters — regardless of party — advance to a runoff in November.
The race is one of hundreds of contests across the state that could solidify Democratic dominance and reshape the fight for control of the U.S. Congress.
The election is pivotal for Republicans looking to end their mounting struggles and gain a stronger foothold in the nation's largest state. For Democrats, who risk getting shut out of key congressional races, it has massive implications for their push to retake control of the U.S. House.
Democrats need to gain 23 districts nationally to flip the majority in the House, and a key part of their strategy is expanding their 39-14 advantage in the home state of Democratic leader Nancy Pelosi.
The key battlegrounds are seven districts, mostly in Southern California, where Hillary Clinton defeated then-candidate Donald Trump in the 2016 presidential race, making the districts targets this year.
Democrats hope to avoid their nightmare scenario — the vote is split among a crowded field of Democrats and two Republicans get the only slots in the November election.
U.S. Sen. Dianne Feinstein is seeking another six-year term at age 84 and is expected to cruise into November when her likely opponent will be fellow Democrat Kevin de Leon, the former state Senate leader. There are 11 unknown Republicans in the race and none was backed by the party.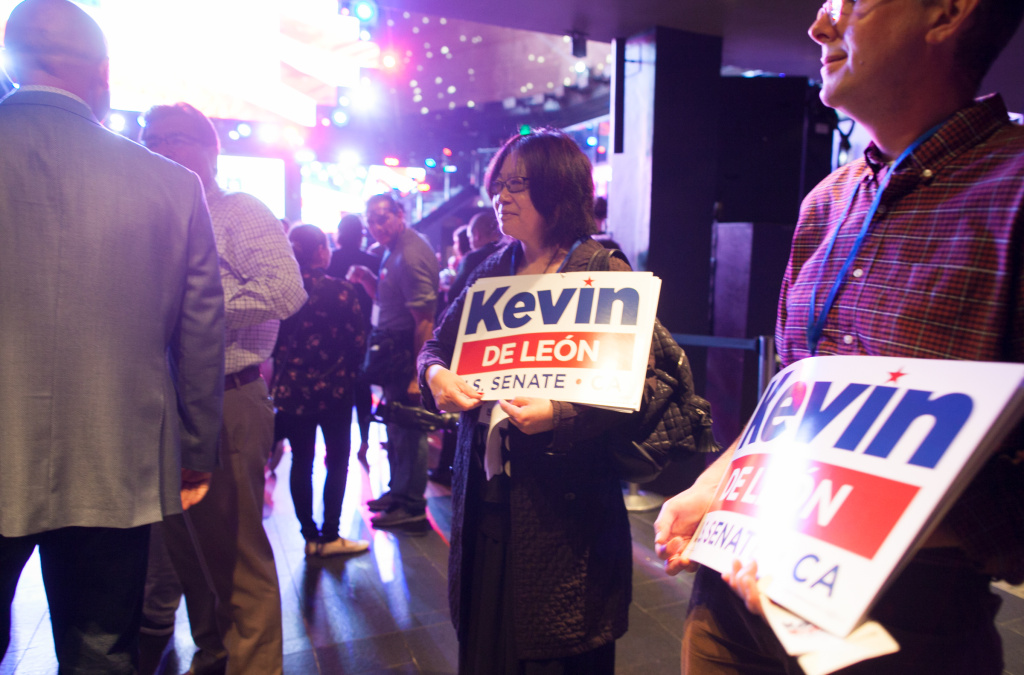 Elsewhere, San Francisco will choose a new leader following the sudden death of Mayor Ed Lee, and a Northern California judge, Aaron Persky, faces a recall for the light sentence he gave a former Stanford University swimmer who sexually assaulted a drunken woman.
In the race for governor, recent polls showed a surge by Cox, who was endorsed by Trump. Meanwhile, Villaraigosa, seen as a major threat to Newsom when the campaign started, has tailed off. He campaigned furiously in the final days to try to close the gap.
There are 27 candidates on the ballot for governor, including state Treasurer John Chiang and former education Superintendent Delaine Eastin, both Democrats.
The campaign has played out largely under the radar despite millions of dollars in spending by candidates and their independent supporters. The closing days of the race were marked as much by dueling complaints over that spending as by differences between the candidates, their priorities and their styles of governing.
Sean Spicer, 42, a San Diego resident who works in marketing, said he voted because it's a civic duty — though he doesn't like California's top two primary system and said it is showing its shortcomings this year.
"We have 7,000 candidates vying for governor and so the top two primary system means you end up voting for people who you think can win not who you believe in," he said.
Evelyn Corado, a 50-year-old preschool teacher from Huntington Beach and naturalized U.S. citizen from El Salvador, chose Villaraigosa for governor.
"He was already mayor of Los Angeles and I saw him do a lot for the Hispanic community," she said after casting her ballot.
Cox, a businessman from San Diego has run unsuccessfully for a number of offices in his native Illinois but gained footing among California Republicans as the campaign progressed. He and Travis Allen both aligned with Trump — Allen repeatedly noted Cox voted for Libertarian Gary Johnson in the 2016 presidential election; Cox said he regrets the choice.
Trump is a popular punching bag for Democrats and unpopular with independents but maintains strong support and loyalty from the GOP base.
"I don't think there will be a blue wave at all," registered Republican Keith Smith, 66, said outside a Solana Beach polling place where he voted for Cox.
— Jonathan J. Cooper/AP
9:45 p.m. Lawmaker Tony Mendoza, accused of sexual harassment, struggles in early returns
Early returns were grim for Tony Mendoza, the former state senator running for his old seat in south L.A. County. Mendoza, who resigned following a string of sexual harassment allegations against him from female aides, was in fifth in early returns.
Republican Rita Topalian was leading in the race, followed by Democrats Bob Archuleta and Vanessa Delgado.
In a separate election to fill the vacant state Senate seat until Dec. 3, Mendoza was receiving 12 percent of the vote, putting him in fourth place.
Mendoza, a Democrat from Artesia, stepped down ahead of a possible vote to expel him, and is now running for the same seat. He has apologized to anyone who felt uncomfortable around him and said his recollection of events didn't match that described by Senate investigators.
Mendoza struggled to raise campaign cash in the run up to the primaries.
Meanwhile 58th District Assemblymember Cristina Garcia, who was under fire after reports of sexual harassment but ultimately cleared by an Assembly investigation, faces a tight race in her re-election bid. Early results show Garcia trailing Republican Mike Simpfenderfer.
Several other Democrats trailed Garcia, all by a sizeable margin. If the results hold, Simpfenderfer and Garcia will square off in the general election in this deep-blue district.
Garcia was also under fire following reports that she used homophobic and anti-Asian slurs. That, combined with the harassment allegations, was a head-spinning move for political observers after Garcia had emerged as a leader in the statehouse's #MeToo movement.
— Aaron Mendelson/KPCC
9:36 p.m. Villaraigosa raises concerns over voters being left off rolls, calls for polls to be left open until Friday
At Democratic gubernatorial candidate Antonio Villaraigosa's watch party, campaign staffers handed out a press release announcing he had asked that L.A. County vote centers to stay open through Friday. Earlier in the evening, the candidate had called for extended hours to address errors in the printing of the voter rosters that left more than 118,000 registered voters off the list.
"We've been told that a number of people were turned away and weren't allowed to cast a provisional ballot," Villaraigosa said, speaking to supporters. "We've got to figure that out."
Monica Flores, an L.A. County Registrar executive assistant, said the polls closed at 8 p.m. She added that they can't legally be kept open longer without a court order. She acknowledged receiving requests from Villaraigosa's campaign, but said that's "not possible."
Villaraigosa told supporters that he wanted to calm the waters, but will demand answers on the problems with voter rolls.
"Anyone who is turned away should be allowed to return to a vote center and make sure their vote is counted," Villaraigosa Campaign Manager Pat Dennis said in a statement. "This election is too important and every voice should be heard."
The campaign also called on Secretary of State Alex Padilla to investigate almost 120,000 voters were left off the rolls, as well as calling on voting centers to remain open in any other county with reported problems.
Speaking to supporters at his event in downtown L.A., Villaraigosa seemed somber. His staff said that they had been in touch with their attorneys regarding the problems at the polls.
Villaraigosa said it was too early for him to say whether he'd question the vote tally.
"This is the county that I come from," he said.
He said of the more than 118,000 names kept off the rolls due to a printing error:  "Obviously this is unprecedented to have this number."
A major concern for his campaign staff is that Latino communities may have been hit hard by the error. Staffers said they've heard from some people who say they were turned away and not offered provisional ballots.
— Mary Plummer/KPCC with KPCC Staff
8:40 p.m. Democrat Dianne Feinstein wins US Senate primary, but her opponent remains in question
U.S. Sen. Dianne Feinstein cruised to first place in California's primary on Tuesday in her bid for a fifth full term in Washington.
Feinstein's opponent hasn't yet been determined, but fellow Democrat Kevin de Leon, a state senator, is hoping to secure the second spot. Little-known Republican James Bradley is also in the running for second place.
California sends the two highest vote getters to the November general election regardless of party. Feinstein heads to November with more than $7 million in the bank.
A Feinstein-de Leon general election would be California's second U.S. Senate contest featuring two Democrats. In 2016, then-state attorney general Kamala Harris defeated U.S. Rep. Loretta Sanchez.
Feinstein won her U.S. Senate seat in 1992 after serving as San Francisco's mayor and running unsuccessfully for governor. At 84, she is the chamber's oldest member. She's also one of the most well-known politicians in California and has a sizeable war chest to communicate her message.
But activists denied her the California Democratic Party's endorsement in February, highlighting frustrations among some of the party's most liberal members about Feinstein's interactions with President Donald Trump and stance on issues such as immigration.
De Leon has sought to seize on that vulnerability by making the case that he better represents California's values in the Trump era.
Feinstein, for her part, points to her record of defending California's environment and successful assault weapons ban in 1994 as evidence of her effectiveness. She is the ranking Democrat on the Senate Judiciary Committee.
Bradley, the Republican, has raised less than $5,000 but generated some interest after a one-off poll showed him close to de Leon.
— Kathleen Ronayne/AP
8:17 p.m. With polls closed, Newsom and Cox lead in race for California's next governor
Polls have closed in California and results have started rolling in. Early returns show Democrat Gavin Newsom in the lead in the contest to make it to the general election for the state's next governor, with almost 40 percent of the vote. Due to the state's top two primary rules, Republican John Cox appears likely to make it to the fall general election as Newsom's rival.
Democrat Antonio Villaraigosa is in third with 12 percent of the early vote, while Republican Travis Allen closely trails with 11 percent of the vote. The other two major candidates, John Chiang and Delaine Eastin — both Democrats — trail in the single digits.
How was your voting experience? Let us know in the comments, and follow us all night long for full results.
— KPCC Staff
6:59 p.m. Printing error could mean more provisional ballots than 2014 midterms
A printing error that led to 118,522 voters' names being left off the rolls in L.A. County will boost the number of provisional ballots election officials need to sort through — and could leave some tight races up in the air for longer than is typical.
With the printing snafu, the number of provisional ballots may surpass the roughly 41,000 reported by the registrar after the last midterm primary in 2014. That'll be particularly true if turnout is higher this year than in 2014, as expected.
However, the number of provisional ballots is unlikely to set records for L.A. County. The L.A. County registrar reported having nearly 410,000 provisional ballots to sort through after the 2016 general election.
Election officials scrutinize provisional ballots cast at polling places to make sure the voter is registered, and didn't vote by mail or cast a ballot elsewhere. The registrar said that about 85-90 percent of provisional ballots are determined to be valid and tallied in past elections.
Among those left off the rolls: The Fonz.
More details on what happens if your name was left off the rolls and you had to file a provisional ballot can be found in our Human Voter Guide.
— Aaron Mendelson/KPCC
6:41 p.m. Here is the only statewide office race that could be decided tonight
The State superintendent race may be decided tonight.
Unlike other races on today's primary slate, Californians may decide tonight their next statewide schools chief.
The state superintendent of public instruction is California's only nonpartisan statewide office, and under election rules it can be decided every four years in the primary election if a candidate wins by clear majority.
That is to say that frontrunner state superintendent candidates Tony Thurmond or Marshall Tuck would instantly win the election tonight and become California's 28th schools chief if either candidate receives more than 50 percent of the popular vote.
The state superintendent race differs from other statewide offices under California's top-two primary system. With other offices, including those for governor and the state Senate and Assembly, the two candidates that receive the most votes advance to a succeeding runoff election, regardless of vote count. Other nonpartisan offices that can be decided in a primary election include county elections such as district attorney and sheriff.
Despite the nonpartisan rules, frontrunner candidates Tuck and Thurmond have both brandished their Democratic party affiliation to broaden their appeal among voters.  Thurmond is backed by the California Teachers Association, while Tuck is supported by advocates for charter schools.
— Allen Young/Capital Public Radio
5:04 p.m. 118,522 voters' names left off LA County voting rosters
There was a printing error that left 118,522 voters' names off the rosters at Los Angeles County polling places, according to a statement from the L.A. County Registrar Recorder/County Clerk's Office. A total of 1,530 of the county's 4,357 voting locations were affected — 35 percent of polling places. There are more than 5.1 million registered voters in the county, so about 2.3 percent of voters' names were missing.
The L.A. County Registrar-Recorder/County Clerk Dean Logan said in a press release that all registered voters can still cast provisional ballots, even if they're among those whose names were left off voting rolls.
Poll workers have been instructed to make sure every voter whose name doesn't appear is issued a provisional ballot and to tell voters their votes will be counted, according to a statement.
"We apologize for the inconvenience and concern this has caused," Logan said in the statement.
Officials are still working to determine what caused the problem.
Provisional ballots are counted once voters' registration is confirmed. In the past, an average of 85 to 90 percent of provisional ballots have been determined to be valid and have been counted, according to the statement.
— KPCC Staff
Read more about Southern California's experience at the polls Tuesday here.