Walter Sobchak may not roll on shabbos but LAist will. From beer, vegan food and a celebration of the "Big Lebowski" to a long overdue retrospective of L.A. photographer George Rodriguez's work, the weekend has plenty to offer. It's also a somber weekend as we remember the men and women who died while serving in the U.S. armed forces.
---
Have you heard the news? KPCC is bringing back LAist. That's where event roundups like this will live in the not-so-distant future. Until then, get out there and enjoy all that Southern California has to offer. And consider donating to our Kickstarter to #BringLAistBack.
---
FLICK PICK
LEBOWSKI FEST
WHEN: Friday, May 25 — Saturday May 26
WHERE: The Wiltern in Hollywood; Fountain Bowl in Fountain Valley
COST: $20-$30, movie party; $25-$30, bowling night; MORE INFO
"The Big Lebowski" turns 20 and fans (aka Achievers) of the Coen brothers are ready to pour White Russians. The fest kicks off at 8 p.m. at The Wiltern on Friday night with a live performance by Kyle Gass Band (Tenacious D), special appearances by several of the film's actors and a screening. On Saturday, the fun moves to Fountain Bowl for costumes, trivia contests, unlimited bowling and more guest appearances.
---
DRINKY PICK
FRIDAY NIGHT WINE TASTINGS
WHEN: Friday, May 25; 5:30 p.m.
WHERE: Barnsdall Art Park — East Hollywood
COST: $45, Food Bowl event; $60, tasting and house tour; 21+; MORE INFO
The 10th season of the popular summer series debuts with a special event in conjunction with the LA Times Food Bowl. Silverlake Wine selects the vino while Jonathan Gold sits down for a Q&A with James Beard-winning chef Daniel Humm of NoMad Los Angeles. Architecture buffs can walk through Frank Lloyd Wright's UNESCO-nominated Hollyhock House.
---
COMEDY PICK
THE NOPE SHOW WITH ALICIA LUTES
WHEN: Friday, May 25; 9 p.m.
WHERE: The Ruby  — Hollywood
COST: $5; MORE INFO
Former Nerdist managing editor Alicia Lutes hosts an evening of horrifying, funny, insane, crazy stories about the perils of dating in Hollywood. The lineup includes comedians Dani Fernandez, Jenny Jaffe and Anam Syed. The venue is also worth mentioning. The Ruby used to be the Nerdist School before it recently relaunched as an inclusive, female-centric performance space.
---
TRIPPY PICK
LIGHTNING IN A BOTTLE
WHEN: Thursday, May 24 - Sunday, May 27
WHERE: Lake San Antonio — Bradley, Monterey County
COST: $332, four-day festival passes include walk-in camping access; MORE INFO
Road trip time! This trippy festival of art, music, performance and sustainability takes you to California's central coast. Camp out, listen to music, do yoga, dance, meditate, attend workshops and check out the installations. You'll need a vehicle pass to bring a car or RV into the campgrounds.
---
HOPPY PICK
THE RAREST EXPERIENCE
WHEN: Saturday, May 26; 1 - 6 p.m.
WHERE: Stout Burgers & Beers — Hollywood
COST: $40, general admission; $60 VIP; MORE INFO
Touted as a "beer fest for beer geeks," the outdoor gathering offers unlimited draft pours of more than 30 rare libations including brews from Clown Shoes, Hangar 24 and Joseph James.
---
FOODIE PICK
EAT DRINK VEGAN
WHEN: Saturday, May 26; noon - 8 p.m.
WHERE: Rose Bowl & Brookside Golf Course — Pasadena
COST: $50, general admission; $120 VIP; MORE INFO
Formerly the Vegan Beer & Food Festival, this plant-based shindig features unlimited pours of more than 250 beverages (both alcoholic and nonalcoholic) as well as tons of marketplace vendors and restaurants — although food is sold separately.
---
FLICK PICK
#METOO FROM THE SILENT SCREEN
WHEN: Saturday, May 26; 7:30 p.m.
WHERE: The Egyptian, Spielberg Theatre — Hollywood
COST: $12; MORE INFO
Harassment in Hollywood is hardly new. The 1916 silent film "The Social Secretary" stars Norma Talmadge as a woman who makes herself as physically unattractive as possible so she can work without being sexually harassed. Presented by the American Cinematheque and the George Lucas Family Foundation, the screening includes a program of silent shorts and live musical accompaniment by Cliff Retallick.
---
CULTURE VULTURE PICK
SECRET PSYCHIC FRIEND SPOTLIGHT
WHEN: Saturday, May 26; 6:30 - 10 p.m.
WHERE: GR 2 Gallery — West L.A.
COST: FREE; MORE INFO
Giant Robot opens its latest solo art show, featuring more than 80 wood cutout drawings by Theo Ellsworth, who traffics in "medicine monsters, multi-dimensional welcome wagons, haunted architectural spirits and mutant children who have vowed to use their powers for good." The exhibition remains on view through June 13.
---
CULTURE VULTURE PICK
DOUBLE VISION
WHEN: Saturday, May 26; 1 - 9 p.m.
WHERE: The Lodge — Koreatown
COST: FREE; MORE INFO
Born and raised in South L.A., photographer George Rodriguez has documented more than four decades of the city's history, from the East L.A. student walkouts in 1968 to the United Farm Workers movement. He has also shot a raft of celebs including Marilyn Monroe, Elvis Presley, Lucille Ball, Michael Jackson and Jim Morrison. He's getting his due with a retrospective and a book, "Double Vision: The Photography of George Rodriguez," edited by MacArthur "genius grant" winner Josh Kun. The exhibition runs through July 14.
---
FLICK PICK
THE THIRD MAN
WHEN: Saturday, May 26; 11:59 p.m.
WHERE: Vista Theatre — Los Feliz
COST: $11; MORE INFO
The Secret Movie club screens the 1949 film, "The Third Man," a beautifully shot thriller set amid the ruins of post-WWII Europe. Joseph Cotten stars as the hapless American expat and and Orson Welles plays his shadowy former friend. Credit goes to Graham Greene for brilliant dialogue like, "In Italy, for 30 years under the Borgias, they had warfare, terror, murder and bloodshed but they produced Michelangelo, Leonardo da Vinci and the Renaissance. In Switzerland, they had brotherly love. They had 500 years of democracy and peace. And what did that produce? The cuckoo clock."
---
FUNKY PICK
BOOGALOO ASSASSINS
WHEN: Saturday, May 26; 5 p.m.
WHERE: LACMA — Miracle Mile
COST: FREE; MORE INFO
The 12-piece Latin band mixes soul, salsa and funk as they reinterpret classic tunes. They'll be kicking off LACMA's 13th annual Latin Sounds Concert Series.
---
FESTIVAL PICK
SIMI VALLEY CAJUN & BLUES MUSIC FESTIVAL
WHEN: Saturday, May 26 - Sunday, May 27; 11 a.m. - 7 p.m.
WHERE: Rancho Santa Susana Community Park — Simi Valley
COST: $30 - $45; FREE for kids 12 and younger; MORE INFO
Cajun, zydeco, blues and roots music performers Dave Mason, Eddie Money, the Devon Allman Project with Duane Betts and Lost Bayou Ramblers take over two stages. There are also crafts, food booths and a Mardi Gras parade each day. Who cares that Mardi Gras was months ago?
---
UNPLUGGED PICK
HENRY ROLLINS
WHEN: Saturday, May 26; 8 and 10 p.m.
WHERE: McCabe's Guitar Shop — Santa Monica
COST: $60; MORE INFO
The former Black Flag frontman and current KCRW DJ plays two shows in honor of the 60th anniversary  of Santa Monica's most famous guitar store. Tickets are scarce. Proceeds benefit McCabe's and the cMr. Holland's Opus Foundation.
---
FLICK PICK
EAT|SEE|HEAR: EASY RIDER
WHEN: Saturday, May 26; 5:30 p.m.
WHERE: The Autry — Griffith Park
COST: $14 - $21, adults; $8, kids 12 and younger; MORE INFO
Never seen Dennis Hopper and Peter Fonda blaze across the U.S. on motorcycles? This is your chance to watch the 1969 road trip classic — and to watch it under the stars. Arrive early to walk through the Autry (Eat|See|Hear ticket holders get in free) and hear music by L.A. band Pom Poms, at 7 p.m. "Easy Rider" screens at 8:30 p.m.
---
FOODIE PICK
MAINOPOLY: TASTE OF MAIN STREET
WHEN: Sunday, May 27; 1 - 6 p.m.
WHERE: Main Street — Santa Monica
COST: $25-50; MORE INFO
This live, interactive version of the board game takes participants on a culinary walking tour. Attendees exchange "Mainopoly" bucks for tastings at restaurants, cafes and ice cream shops, working their way around the board to win prizes. Stops include a beer garden, M Street Kitchen, Sweet Rose Creamery, Stella Barra, Manchego, The Victorian and Bulletproof Coffee, among others. The event benefits Heal the Bay and Summer SOULstice.
---
COMEDY PICK
BOAST RATTLE
WHEN: Sunday, May 27; 8 p.m.
WHERE: Dynasty Typewriter at the Hayworth Theatre — Westlake
COST: $10-15; MORE INFO
If you felt sorry for Ann Coulter at Comedy Central's Rob Lowe roast, this might be your ticket. Instead of hurling insults, two comics compete to see who can dish out the best compliments. Hosted by Kyle Ayers, the lineup includes Kurt Braunohler, Jackie Kashian, Ahamed Weinberg and Kira Soltanovich.
---
LITERARY PICK
LA ZINE FEST
WHEN: Sunday, May 27; 11 a.m. - 6 p.m.
WHERE: Pasadena Convention Center — Pasadena
COST: FREE; MORE INFO
More than 200 zine creators and vendors sell their literary wares. You can also play arcade games, peruse art displays and attend readings, talks and workshops.
---
COMEDY PICK
NEIL HAMBURGER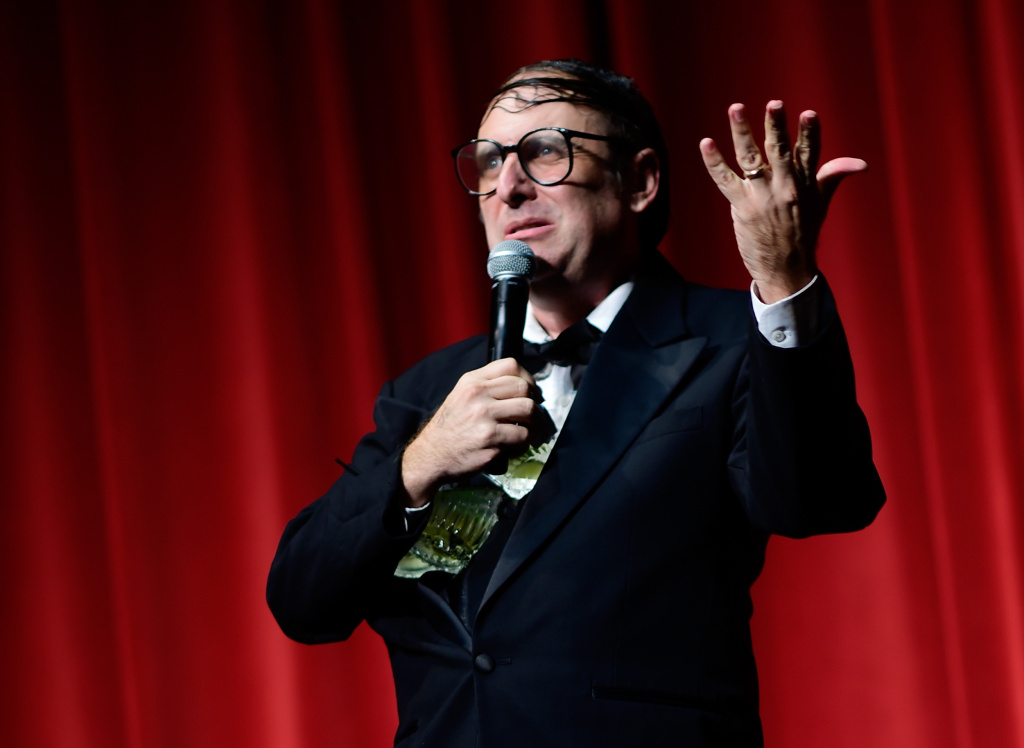 WHEN: Sunday, May 27; 8:30 p.m.
WHERE: The Satellite — Silver Lake
COST: $8; 21+; MORE INFO
The deliberately sad sack comedian Neil Hamburger returns to host an evening starring funny folks Whitney Cummings, DJ Douggpound, Ian Abramson and Minori Hinds.
---
CULTURE VULTURE PICK
FIBONACCI TUNNEL
WHEN: Sunday, May 27; 11 a.m. - 6 p.m.
WHERE: Craft and Folk Art Museum  — Miracle Mile
COST: FREE on Sundays; $7, other days; MORE INFO
Japanese artist Akio Hizume's large-scale bamboo installation opens in conjunction with the exhibition "Bamboo." Hizume, an architect and mathematician, uses the Fibonacci sequence and Golden Ratio to create his intricate, minimalist sculptures.
---
STORYTELLING PICK
BUSTED! LOS ANGELES
WHEN: Sunday, May 27; 5 p.m.
WHERE: Stories Books and Cafe — Echo Park
COST: FREE; MORE INFO
Listen to true stories of trying to get around L.A. as told by people who don't drive. Featured storytellers include Brandon Burkhart, Robert Calix (who works for L.A. Metro), Sam Cutter, Katya Duft, Christopher Korbel, Alex Pages and See Susanita Sì.
---
FESTIVAL PICK
JAZZREGGAE FESTIVAL
WHEN: Monday, May 28; 11 a.m.
WHERE: UCLA, Sunset Recreation Center — Westwood
COST: $25; MORE INFO
Bring your blankets and picnic supplies to the annual festival headlined by Konshens. Also on the bill: Jamila Woods, Charlotte Day Wilson, Half Pint, Global Soul Collective and Sahara Grim.
---
PATRIOTIC PICK
WESTMINSTER MEMORIAL DAY SERVICE
WHEN: Monday, May 28; 11 a.m.
WHERE: Westminster Memorial Park — Westminster
COST: FREE; MORE INFO
Memorial Day marks the start of summer but it's also a day to honor those who died while serving in the U.S. armed forces. Many cities and neighborhoods — Inglewood, Glendale, Burbank, Sylmar, Canoga Park, Brea,  Anaheim, Buena Park, Costa Mesa, Dana Point, Irvine, Fullerton, Laguna Beach, Lake Forest, Newport Beach, San Clemente, Santa Ana, Seal  Beach and Yorba Linda, to name a few — will hold ceremonies. Forest Lawn will also host observances.
In Westminster, the high school marching band, HOPE Music Program and vocalists Debi Wheeler-Ure and Gregory Pierce will play patriotic music. The American Legion will dedicate memorial wreaths and hold a white dove release. After the formal program, stick around for hot dogs and refreshments.
---
How are you spending your weekend? Let us know on Twitter @ChristineZiemba and @LeoHasACat.