In a moment when party unity was deeply needed, California Republicans failed to reach a consensus yesterday on who to back in the race for governor.
This all went down at the state GOP convention, which ran over the weekend at an upscale hotel near the San Diego airport. The party decided who to endorse in statewide races and which ballot measures would get official backing or opposition. 
In the June 5 primary election, voters will select the top two gubernatorial candidates to advance to the November 6 runoff; the highest voter-getters move on, regardless of their political party.
Many in the party had hoped Republicans would unite behind one candidate rather than risk being shut out of the general election by the Democrats. Of the six major candidates running to succeed Gov. Jerry Brown, four are Democrats and just two are Republicans.
But when about 1,000 convention attendees cast their votes on the party's endorsement, GOP businessman John Cox earned just 55 percent of their support, falling short of the needed 60 percent threshold.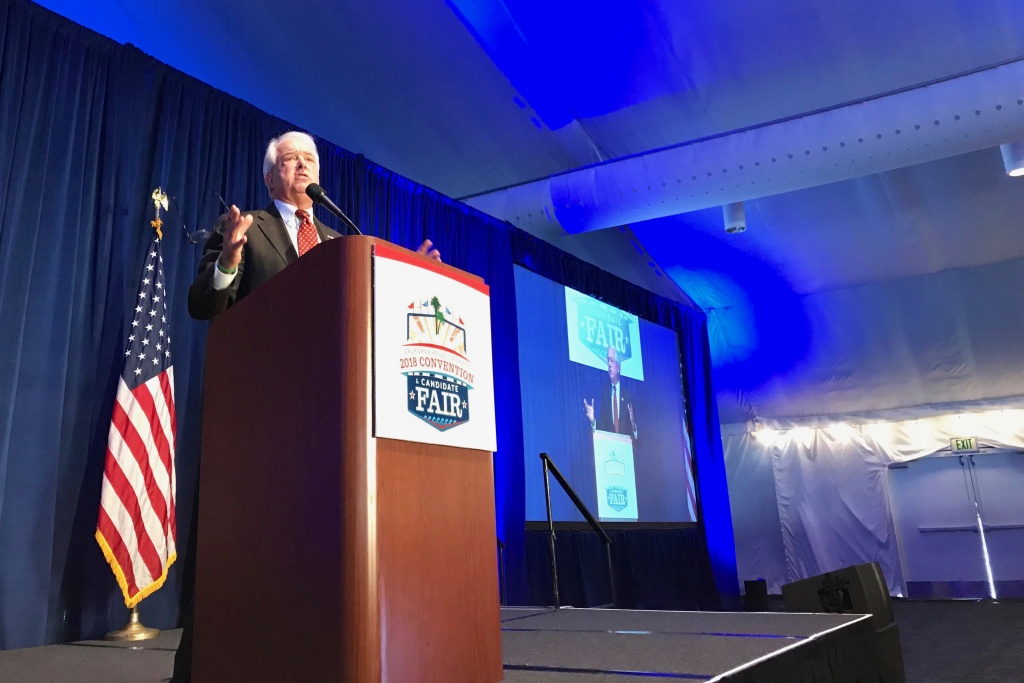 That failure set off a dramatic showdown between Cox supporters and those backing his major Republican rival, state Assemblyman Travis Allen. Some in the audience pleaded for another vote.
"It is absolutely necessary that we as a party are united around the top race in the state," said Karen Roseberry, a convention attendee from Los Angeles County. 
In the end, the delegates voted no on a procedural decision that would have allowed delegates to vote again, and so neither candidate won the party's endorsement.
Lack of a clear party favorite makes the path to November even more difficult for a Republican candidate in a deep-blue state like California. Republicans have no one in the state's top offices and their voter registration numbers have been declining in recent years. The latest report from California's Secretary of State office shows only about a quarter of the state's voters are registered Republicans.
If there is no Republican running for governor in the coming general election, party supporters may be less inclined to show up at the polls, which could hurt Republicans' odds in races further down the ballot.
Still, Republicans in California have had some success in recent months. 
While Lt. Gov. Gavin Newsom has a wide lead in the governor's race against three other major Democratic candidates and the two Republicans, Cox has been polling second in recent surveys of likely voters. 
In the Berkeley Institute of Government Studies poll released April 26, Cox won the support of 18 percent of those surveyed while Allen drew 16 percent. Both were running ahead of Antonio Villaraigosa, the former Democratic mayor of Los Angeles. 
The Republicans have also gained traction with a hot-button issue: the recently enacted statewide hike in gas taxes and vehicles fees.
Cox has pushed a measure to repeal the gas tax hike, with supporters gathering hundreds of thousands of signatures on a petition to place the proposal on the November ballot. Allen, who also supports repealing the gas tax, failed to qualify a separate initiative proposing a repeal earlier this year.
At the convention, delegates voted to back the gas tax repeal measure, as well as an initiative that would place restrictions on parole programs for nonviolent offenders. The party also voted to oppose a ballot measure that would allow cities and counties to strengthen rent control policies.
Some Republicans have also organized against the state's California Values Act, also called S.B. 54, that limits the extent to which local law enforcement officials can cooperate with federal immigration agents.
The sanctuary law riles conservatives, who have been cheered on by President Trump. He has singled out California in calling sanctuary policies a threat to national security. A growing number of jurisdictions are pushing back against S.B. 54, with several local governments taking legal action or passing resolutions in opposition to the law.
Allen also drew applause and cheers from some in the audience as he called for loosening the state's  strict gun control regulations. Efforts for tighter gun laws have escalated in the wake of the Parkland, Florida, shooting in February that left 17 people dead.
"The handgun roster, that's going away, and that ammunition registry, that's gone too. California will be safe again," Allen said, referring to actions he would take if elected governor. 
Beyond the governor's race, convention delegates voted to back retired El Dorado County Superior Court Judge Steven Bailey in the race for attorney general. Other key endorsements went to lieutenant governor candidate Cole Harris and Mark Meuser, who is running for secretary of state.
"Ready for Election Day? Get up to speed on what you need to know with KPCC's Voter Game Plan. Read up on the candidates and ballot measures, find out about registration deadlines and ask us your questions."