The latest initiative to split up California is not the first.  Or the 10th.  Or even the 100th.  There have been at least 220 efforts to hack California up into smaller states, with at least five just since 2000.  Here's a list of seven interesting efforts, including the latest, with maps of how California could have been divided.
Pico Act, 1859
This early proposal got farther than any other. It was pushed by Southern California residents who thought tax and land laws were unfair.  It also attracted pro-slavery Confederate supporters. In 1859, the Legislature approved the Pico Act, named after former Assemblyman Andres Pico.
The act called for the southern part of the state to be called the Colorado Territory. This new state would have included the area from San Luis Obispo, Kern and San Bernardino counties south.  The governor signed the bill, and 75 percent of voters in Southern California voted for it as a referendum.  Congress needed to approve the split. But the Civil War began and the effort died.
State Names:
California
Colorado Territory
Dolwig Proposal, 1965
State Sen. Richard Dolwig proposed splitting the state in 1965 at the Tehachapi Mountains. The reason: water politics. As he later explained in an oral history, "You'd have North California and South California, and those two states would then enter into contracts as far as the water was concerned and you'd take it [the controversy] out of politics. It was the sole reason." The state Senate approved the bill 27-12 but the Assembly never took it out of committee.
State Names:
North California
South California
Statham Proposal, 1992
Assemblyman Stan Statham sponsored a bill to split the state into North, Central and South California. The proposal was approved by the state Assembly, but died in the Senate. The three-state-split followed Statham's effort a year earlier to split the state in two. "While his quest eventually failed, Statham, who was born in Chico, became identified with rural California's seemingly perpetual feeling of inadequacy in a state that's more closely identified with sunny beaches and cable cars than endless farmland to the rest of the world," according to a 2002 Sacramento News & Review article.
State Names:
North California (Orange) 
Central California (Purple) 
South California (Red)

(This map represents the first two-state-split Statham Proposal)

(This map represents the second three-state-split Statham Proposal)
Stone Proposal, 2011
Riverside County Supervisor Jeff Stone pursued a policy to create South California. The new state would have included the counties of Riverside, Imperial, San Diego, Orange, San Bernardino, Kings, Kern, Fresno, Tulare, Inyo, Madera, Mariposa and Mono. With 13 million residents, the 51st state would have had more people than Illinois. It also would have been a Republican-leaning state. "If you want to live in a Republican state with very conservative right-wing laws, then there's a place called Arizona," Gov. Jerry Brown's spokesman said at the time.
State Names:
California (Orange)
South California (Red)
State of Jefferson, 2013
Residents in Siskiyou County and Modoc County voted last year to join the state of Jefferson. The effort soon picked up support from supervisors in Glenn and Yuba counties. But this ongoing idea actually dates back to 1941. Jefferson would include the rural areas of northern California and southern Oregon. It would have about 423,000 residents, based on the 2010 U.S. Census. Supporters even created a flag and seal for the would-be state. 
State Names:
California
Jefferson (Yellow)
Six States Proposal, 2016
Venture capitalist Tim Draper is collecting 1.3 million signatures for a 2016 ballot measure that calls for splitting California into six states.  Even if voters approve, it would take an act of Congress to create the new states.  But even if Congress doesn't act, the measure would allow counties to work together to create regional governments. The measure would change part of the California Constitution. The Sacramento Bee reports it would also allow counties to ignore state laws that are not funded.  Draper says smaller states would be more responsive to their constituents. "California, this is your opportunity to get a better government or a government that's closer to you and more responsive," he said, according to the Sacramento Bee.
State Names
Jefferson (Blue)
North California (Green)
Silicon Valley (Purple) 
Central California (Red)
West California (Yellow)
South California (Orange)
KPCC's online polls are not scientific surveys of local or national opinion. Rather, they are designed as a way for our audience members to engage with each other and share their views. Let us know what you think on our Facebook page, facebook.com/kpcc, or in the comments below.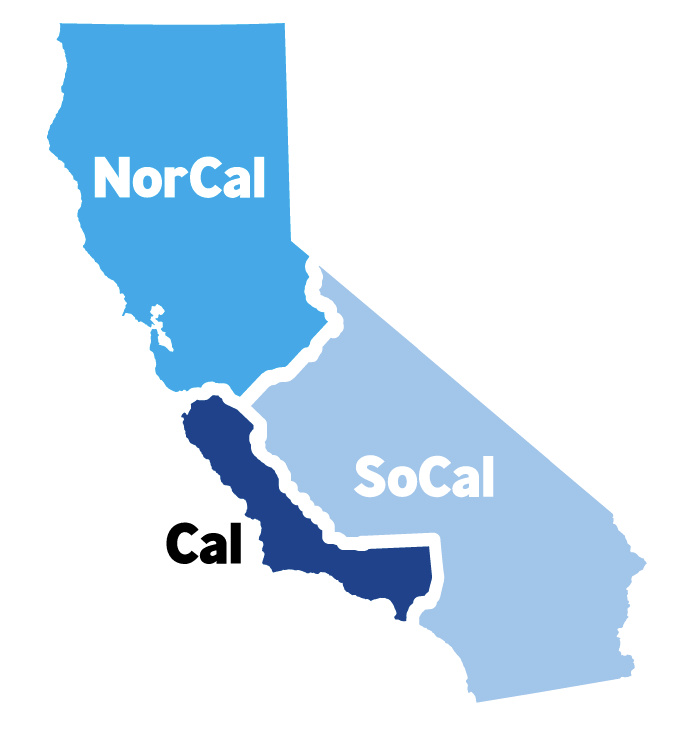 'Cal 3' Plan
Tim Draper is back at his plan to split up The Golden State, this time with a proposal to divide the nation's most populous state into three states. On April 13, 2018, Draper announced he plans to deliver more than 600,000 signatures to be verified by California's secretary of state. More than 366,000 are needed to put the question on the November ballot.
Three three states would be:
California - The smallest of the three proposed states would include Los Angeles County and span north to the Monterey area, but excludes most of the inland region currently considered Southern California.
Northern California - Includes San Francisco and north to Oregon. 
Southern California - Includes Orange County and land up to the Fresno County region and south to the U.S.-Mexico border
Those names are just placeholders, according to Draper, who said residents would decide the final names.
This story has been updated