A powerful Pacific storm moved across the central and southern parts of California, drenching communities previously ravaged by wildfires and mudslides, but the rains have started to die down. Thousands of residents evacuated their homes ahead of the storm while others were waiting it out and hoping for the best — thankfully, these storms were far less destructive than those that came in January.
The situation now | Evacuations| Shelters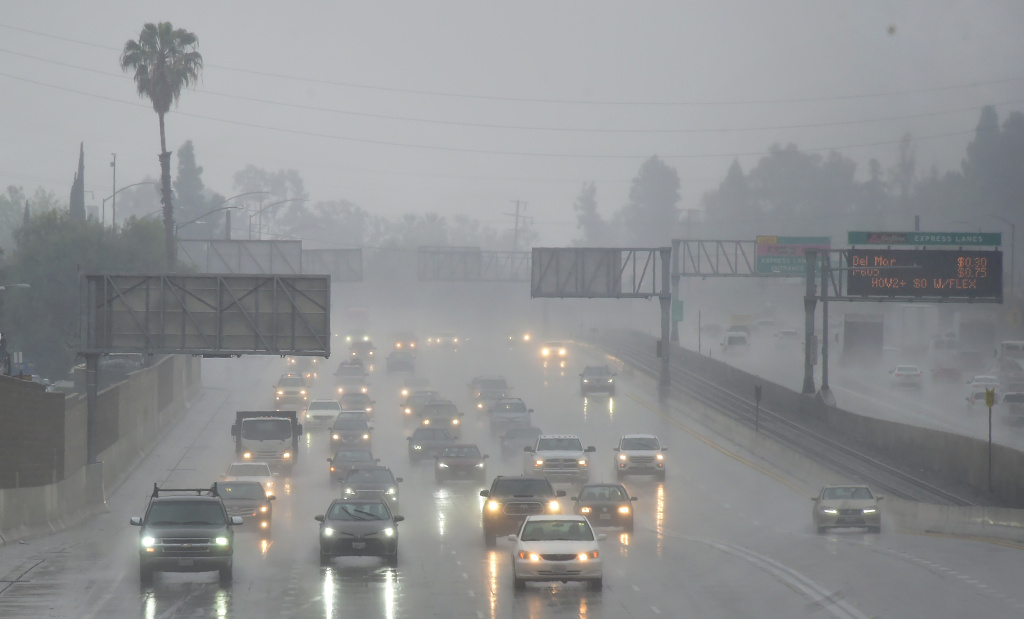 The situation now
Note: This story is no longer being updated.
The rain from this storm system has started to taper off, according to the latest information from the National Weather Service. Evacuations have almost all been lifted, with all Santa Barbara County evacuations — both mandatory and voluntary — lifted as of 5 p.m. Mandatory evacuation orders in Ventura County were lifted as of 4 p.m.
The so-called "atmospheric river" has started to leave Southern California, which means that less potentially destructive weather is on the way.
View 48-hour rain totals for the area as of Thursday afternoon below:
5:01 p.m. Santa Barbara County evacuations lifted
All residents in Santa Barbara County are being allowed to return to their homes, with evacuations lifted as of 5 p.m.
Some 21,000 residents were ordered to evacuate earlier this week in anticipation of this winter's biggest storm, which had the potential to trigger mudslides. But forecasters say the storm system will begin to dwindle off later Thursday night.
Santa Barbara County Sheriff Bill Brown said at a news conference Thursday that the county dodged a bullet when the storm didn't drop destructive amounts of rain. 
"However, these areas, particularly those that are below the Thomas Fire burn area, have still not experienced a major test of the damaged water shed since January 9th," Brown said.
That means the area will almost certainly be under more evacuation orders in the coming years, Brown said — but he hopes these will be the last of the season.
All schools in the county are expected to open again Friday morning.
1:15 P.M.: Car overturns, roadway closed in Santa Clarita
Rain was falling steadily in the Santa Clarita Valley, which led to flooding — and a scary situation for at least one motorist.
After a vehicle overturned on Roadrunner Road in Santa Clarita's Canyon Country neighborhood, passersby sprang into action to rescue the people inside, according to officials from the Santa Clarita Valley Sheriff's Station.
https://twitter.com/SCVSHERIFF/status/976910152094834688
The occupants in the vehicle were not injured, authorities said, adding the street has been closed due to "hazardous road conditions."
— KPCC staff
12:15 P.M.: Watching the waters
In El Capitan Canyon near the 101 Freeway, Rob Hazard, a battalion chief with the Santa Barbara County Fire Department, is using markers and points of reference on the shore line to monitor the amount of water coming down a creek.
Water flow down the creek roughly doubled in volume in a 10-minute period at about 11 a.m., Hazard said.
In 2016, the Sherpa Fire burned parts of the region. Then a 2017 winter storm caused a "significant" debris flow in the canyon, Hazard explained.
After last summer's Sherpa Fire burned even more of the area, the possibility of another heavy debris flow remains a concern, and that's why Hazard drove out to keep an eye on the water levels.
If the creek floods, the backup could jeopardize the freeway and other transportation infrastructure, Hazard warned.
"It's a pretty significant amount of water coming down but it's running free and clear," he said, adding that trees, boulders and other objects washing out would present the real problem.
"(The creek) can handle quite a lot of water — it's just we don't want the debris."
— Emily Guerin with KPCC staff
10:45 A.M.: Minor debris slide, 'erosion' reported
A portion of a hillside in the La Tuna Canyon area gave way, but no structures were damaged, according to L.A. County officials.
The hillside "erosion" happened about a mile north of the 8300 block of La Tuna Canyon Road.
"Residents should continue to be aware of erosion, debris and mudflow in their communities," county officials said.
https://twitter.com/CountyofLA/status/976873827803254784
La Tuna Canyon Road remains closed from its 8600 block to the 210 Freeway, according to Caltrans.
A minor debris slide was also reported on Glendora Mountain Road. The slide happened at culvert marker five, according to Tony Bell, spokesman for L.A. County Supervisor Katherine Barger.
— Sharon McNary with KPCC staff
9:55 a.m.: Intense rainfall reported near Santa Barbara
Rainfall rates nearing an inch per hour have been reported near Refugio as the storm heads east into Santa Barbara.
The National Weather Service has issued flash flood warnings in the Whittier and Sherpa fire burn areas.
— KPCC staff
8:23 A.M.: New flash flood warning
National Weather Service officials issued a flash flood warning for a large area in the Thomas Fire burn area in Ventura County, which includes the communities of Ojai and Santa Paula.
"Significant mud and debris flows" are likely in the area, according to the NWS.
The warning is currently set to expire at 11 a.m.
https://twitter.com/NWSFlashFlood/status/976838314757120001
Residents are advised to move to higher ground and avoid driving or walking through flood waters.
— KPCC staff
8 A.M.: 'Don't let your guard down'
First responders in Santa Barbara are gearing up for another busy day.
While flooding so far has been contained to the creek beds, emergency officials are being told to stay cautious and aware, given the fact that rainfall is expected to increase throughout the day before dissipating this evening.
https://twitter.com/guerinemily/status/976823926775939074
7:35 A.M.: La Tuna Canyon awaits heavy rain
Police have closed La Tuna Canyon Road just east of Sunland Boulevard at Vineland Elementary School. It is currently a voluntary evacuation area and is open to residents only.
Given the massive wildfire that burned in the area last September, the La Tuna debris basin has a vital role to catch any flood water and debris that the storm might send downhill.
https://twitter.com/KPCCsharon/status/976816813815169024
One flood channel appears to already have a lot of debris in it, raising questions about its capacity when the big rain hits later in the day.
https://twitter.com/KPCCsharon/status/976826388349988864
— Sharon McNary with KPCC staff
7:10 A.M.: Rain sets records
Some areas along the coast of San Luis Obispo, Santa Barbara and Ventura counties saw record-setting rainfall yesterday, with nearly two inches falling in some spots.
https://twitter.com/NWSLosAngeles/status/976757324353298433
However, the heaviest rains were up in the mountains, where 24 hour rainfall totals neared three inches.
The strongest bands of rain have yet to befall Santa Barbara, Ventura and Los Angeles counties. A cold front is on its way in, which could mean thunderstorms and heavy bursts of rain, which is a concern for burn areas.
Half an inch to 3/4 inch per hour, coupled with the steep, damaged terrain, mean debris flows are still a possibility.
https://twitter.com/JacobMargolis/status/976823601658675200
You can see the latest rainfall totals by exploring this interactive map.
— Jacob Margolis/KPCC
6:57 A.M.: Flash flood watch for Santa Barbara County
https://twitter.com/EliasonMike/status/976804505118392321
The "strong spell" of rain that moved through Santa Barbara County early Thursday morning also brought lighting and thunder to the region, according to Amy Anderson of the Santa Barbara Fire Department.
The spat of heavy rain also caused Montecito Creek to swell.
The National Weather Service has issued a flash flood watch for Santa Barbara County through 5 p.m. due to the storm.
https://twitter.com/SBCityFirePIO/status/976803679171887104
— KPCC staff
5:50 A.M.: Second round of rain moves in
https://twitter.com/guerinemily/status/976786088676110336
Another strong band of rain is making its way through Santa Barbara County, dropping an estimated 1/3-inch of water in a 15-minute period in parts of the Thomas Fire burn area, according to Suzanne Grimmesey of the county's office of emergency management.
Grimmesey said the rain has not led to any problems so far.
"We'll be keeping a close watch in the day as the rain continues to fall," she said.
https://twitter.com/SBCountyOEM/status/976788867574460416
— KPCC staff
Evacuations
Los Angeles County
Most Los Angeles County evacuation orders have been lifted, including all evacuation orders for the city of Burbank.
The last remaining evacuations: Mandatory evacuations in the La Tuna Canyon Fire burn area:
Residences between the 8300 and 9000 blocks of La Tuna Canyon Road
La Tuna Canyon Road remains closed from the 8300 block to the 210 Freeway
Santa Barbara County
All evacuations for Santa Barbara County are lifted as of 5 p.m. Thursday. Deputies with the Santa Barbara County Sheriff's Department had gone door-to-door on Tuesday, March 20, 2018, to notify residents they were under mandatory evacuation due to the incoming storm system.
Ventura County
Mandatory evacuation orders were lifted as of 4 p.m. Thursday, with voluntary evacuation orders expiring as of 5 p.m.
Riverside County
The evacuations in the Canyon Fire Burn Scar Area have been lifted by the city of Corona.
Emergency shelters
Los Angeles County: Evacuation shelters opened Wednesday at:
For residents with large animals in evacuation zones, a shelter is set to open at 7 p.m. Wednesday at the Hansen Dam Equestrian Park, 11127 Orcas Ave., Lake View Terrace.
In Burbank, an evacuation site has been established at Verdugo Recreation Center, 3201 W Verdugo Ave. The shelter cannot accommodate animals, according to city officials. 
Santa Barbara County: The Red Cross has opened an evacuation center in Warren Hall at the Earl Warren Showgrounds, 3400 Calle Real.
Ventura County: In Ojai, Nordhoff High School, 1401 Maricopa Hwy., has been set up as a shelter for local residents with support from the Red Cross.
A Red Cross emergency evacuation shelter opened at Ventura College at 12 p.m. Tuesday. The college is at 4667 Telegraph Rd.
A shelter for the homeless is open in theCulture Arts Room of the Santa Paula Community Center, 536 W. Main St.
A small and large animal evacuation shelter has been established at Ventura County Animal Services, 600 Aviation Drive in Camarillo.
Homeless shelters
In anticipation of higher demand due to the heavy rain, many homeless shelters in L.A. County will be open around the clock from Tuesday evening until Friday morning, according to theThe Los Angeles Homeless Services Authority.
Hours at the following shelters are being extended until 7 a.m. Friday:
Bridge to Home, Santa Clarita
Bethel Los Angeles CDC, South Los Angeles
First to Serve, West Los Angeles
Armory First to Serve, South Los Angeles
First to Serve, Inglewood
Hope of the Valley, Pacoima
Salvation Army, Lancaster High Desert MACC
U.S. Veterans Initiative, Long Beach
Volunteers of America, Pomona
Weingart Center Association, Skid Row
For more information and to verify hours, call the LAHSA Winter Shelter hotline at 800-548-6047.
This story has been updated.