Two months later, January 9th still plays in Brent Larson's mind like a movie.
That early morning, mud was rushing down the hill behind the home in Montecito where Larson was living with his two kids, crashing into the big glass windows facing the back patio.
Larson knew they had to get to a more sheltered part of the house. They had just seconds.
"We basically ran as the back part of the house was falling apart," Larson said. He watched as those big glass windows shattered from the mounting pressure — with his son running just ahead of the wave of mud that flowed into the house.
"It was like something out of Indiana Jones," Larson said.
Larson's family has come a long way since the mudslides which, two months ago on Friday, killed at least 21 people, left two others missing, and damaged or destroyed hundreds of homes in Montecito. This week, Larson was able to return to work for the first time.
Still, rebuilding this hillside community is proving to be slow work. After the mudslide, Santa Barbara County officials "red-tagged" 246 structures that were damaged to the point of being uninhabitable. Two months later, few of these "red-tagged" structures have been upgraded; 210 remain unsafe to enter, a county official said — including 128 single-family homes.
At least 400 residents of Montecito are still unable to return to their homes because of damage, according to Yaneris Muñiz, who manages Santa Barbara County's Joint Information Center.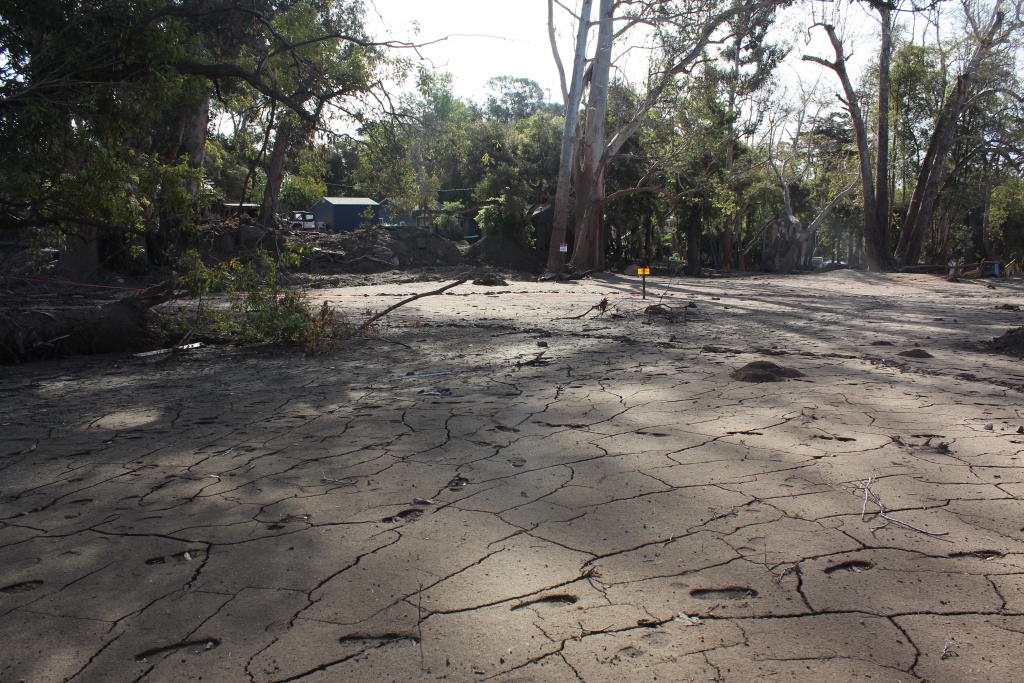 To Larson, rebuilding the town "feels like it's going to be a really long process."
In neighborhoods where debris swept through on Jan. 9, the remains of homes still stand un-demolished on many lots, with possessions as menial as mud-caked bicycles and paintings sitting nearby.
There are reasons why much has yet to be done with this wreckage.
"A lot of the properties," Larson explained, "have just been concentrating on moving earth because there's just so much dirt that they're trying to scrape and clean what they can to even get to the point where we can demo. That's what happened with us."
"It is very difficult to go through the planning processes when nobody knows where their property lines are," added Das Williams, who represents the area on the Santa Barbara County Board of Supervisors. "How do you rebuild without resurveying?"
And owners of these red-tagged structures are in limbo for another reason: before they can move forward with repairs, the Federal Emergency Management Agency must finish a geological risk survey to determine where it is safe for homeowners to rebuild — a process that is estimated to take another two to three months.
However, less-damaged Montecito properties have been getting repairs more quickly. Another 134 structures remain "yellow-tagged," which means mud may have infiltrated a crawlspace or severed utilities within the house, but require less-extensive repairs before they can be fully inhabited again. So far, 52 yellow-tagged properties have been upgraded to "green" after receiving repairs.
Yellow-tagged properties are also eligible for fast-tracked building permits from the county, officials said.
"We want to look at ideas like allowing them to [rebuild] if they move the footprint away from the creek or to higher ground," Williams added. "We want to be open to better ideas about how to rebuild in a safer manner."
Residents of mudslide-affected areas are becoming accustomed to seeing uplifting progress and lingering devastation side-by-side.
"It sort of looks like Disneyland compared to how it looked before," said Susan Moe, whose home was yellow-tagged after sustaining damage on January 9. "It's amazing how much progress we've made."
At the same time, the strain is beginning to wear at Moe. In two weeks, she has to move for the fourth time in three months to another temporary home. In six months, money from her insurance company she's using to cover temporary living expenses will run out, and she doesn't know when she'll be able to move back into her home.
Moe came to the Montecito Center for Preparedness, Recovery and Rebuilding — an information center for mudslide survivors that opened Thursday — to speak with a county official about proceeding with repairs on her home.
The amount of time it's taken to recover is one measure of the massive scale of the disaster, Moe said.
"You would think at two months," Moe said, "it would be— not back to normal, but that it would be so much further along … It's such a mind trip."
But residents have also banded together, they say, to fill gaps left by disaster relief organizations who may have overlooked Montecito.
For Brent Larson, a grassroots group, the Santa Barbara Support Network, helped replace some of his kids' belongings and donated gift cards that have helped his family make ends meet.
Larson was also able to return to his job as an organic gardener this week thanks, in part, to a client who gave him a huge discount on a truck to replace the one he lost on Jan. 9.
It's left Larson's wife, Brooke Van de Water overwhelmed by "this amazing feeling that, 'Wow, this is my community and they are phenomenal people and they figured out how to help us.'"