Note: This story is no longer being updated. For the latest information, go here.
Evacuations | Road closures | School closures | Map
A fire engineer from Cal Fire's San Diego unit was killed by the colossal wildfire burning northwest of Los Angeles. He has been identified as Cory Iverson.
"I am very saddened to report that a firefighter fatality has occurred on the Thomas Incident," Cal Fire Chief Ken Pimlott said in a statement. "Please join me in keeping our fallen firefighter and his loved ones in your prayers."
The Thomas Fire became the fourth largest in California history and authorities said it would likely keep growing and threatening communities as hot, gusty winds fanned the flames.
State officials said Thursday that the so-called Thomas Fire straddling coastal Ventura and Santa Barbara counties covered 379 square miles, or 242,500 acres. That surpassed the Zaca Fire, which burned a little more than 240,000 acres of inland Santa Barbara County a decade ago.
Firefighting costs so far were tallied at $74.7 million, according to the California Department of Forestry and Fire Protection.
Some evacuations were lifted and the risk to the agricultural city of Fillmore was diminishing. But coastal enclaves to the west remained under threat as crews protected hillside homes in Montecito, Summerland and Carpinteria.
Ventura County Fire officials said Thursday that fire activity will increase in the Fillmore and Sespe wilderness areas throughout the day. 
Schools were closed and many roads remained shut down. The USA Water Polo Women's National Team match against the Netherlands scheduled for Saturday in Santa Barbara was moved to Orange County.
The National Weather Service said extreme fire danger conditions could last through the weekend due to lack of moisture along with a likely increase in wind speeds. Gusts were expected to top 35 mph by midday Thursday.
Firefighters made some progress Wednesday on corralling the fire, which continued to spread mostly into national forest land.
Since the blaze broke out on Dec. 4, it has burned destroyed 970 buildings — including at least 700 homes. Flames threatened some 18,000 buildings and prompted evacuations of about 100,000 people. Covering more ground than the city of San Diego, it was 30 percent contained.
Evacuations
Mandatory:
City of Ventura

North of Foothill Road from Cobblestone Drive to Kimball Road

Unincorporated Ventura County Area

Residents and day visitors of Rose Valley

Ventura County North Coast Area

Boundary of Lake Casitas to Laguna Ridge Fire Road on the north, south to the 101, east of Ventura County Line, west of Emma Wood State Beach, with the exception of:

Casitas Springs Community
Foster Park

Unincorporated area of Fillmore

The area of Hall Road to the west, Sespe Creek to the east, the Los Padres National Forest boundary to the north and the Fillmore City limits to the south.

Santa Barbara County

North of Highway 192 to East Camino Cielo between Highway 150 and Mission Canyon Road.
Hot Springs Road to Buena Vista Road, from Highway 192 north to East Camino Cielo
Buena Vista east to the County line and north of Highway 192 (E. Valley Road), to include the 900 block of Park Lane east.
Carpinteria area East of Toro Canyon Rd. East to HWY 150, North of Hwy 192 to Camino Cielo.
Carpinteria area East of intersection of Casitas Pass Rd & Hwy 192, North of Hwy 192, & West of the county line.
SR-192 north to E.Camino Cielo between Toro Canyon Rd and Linden Ave.
Shepherd Mesa, Gobernador Canyon.
Voluntary:
Unincorporated area of Fillmore
Santa Barbara County

Above (North of) Highway 192 between Mission Canyon and Highway 154, South of E. Camino Cielo
South of Highway 192, east of Mission Canyon, west of Hot Springs, north of APS, Salinas Street and Highway 101 to Hot Springs
East of Hot Springs, South of Highway 192 to the ocean, West of Padaro Lane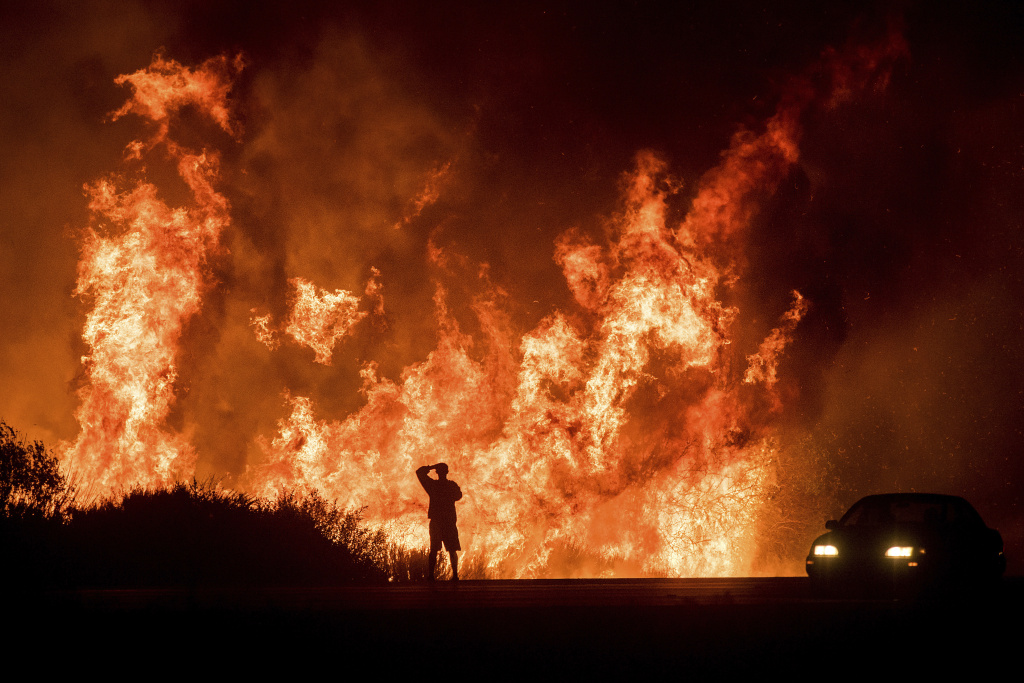 Road closures
City of Ojai, Ojai Valley and unincorporated areas

SR 150 (Casitas Pass Road) between Camp Chaffee Road(Ojai) and the 101
SR 150 at Santa Ana Road to Via Real
SR 33 from Ojai to Ventucopa

City of Ventura and unincorporated areas

North of Foothill Road between Day Road to Kimball Road

City of Fillmore and unincorporated areas

Old Telegraph Road at C Street
Old Telegraph Road at Keith Road
Grand Ave at Old Telegraph Road
Sycamore Road at SR 126
Hall Road at SR 126

Santa Barbara County

State Route 154 from Cathedral Oaks Road/State Route 192 in Santa Barbara to Highway 246 from 5 a.m. to 9 a.m.

Starting Thursday, it will be closed at the same time every day for the foreseeable future

Linden Avenue and Highway 192
Santa Monica Road and Highway 192
Cravens Lane and Highway 192
Nidever Road and Highway 192
Toro Canyon Road at Highway 192 and at Ladera Lane
Highway 192 and Highway 150
Highway 192 and Casitas Pass Road
Highway 150 at Via Real
Highway 150 and Gobernador Canyon Road
School closures
Santa Barbara County

Carpinteria Unified School District
Montecito Union School District
Cold Spring School District
Santa Barbara Unified School District
Hope Elementary School District
Goleta Union School District
Ballard Elementary School
Buellton
Santa Barbara City College
Los Olivos
Solvang
Vista Del Mar
Santa Ynez Valley Union High School District
Lompoc Unified School District
Los Robles High School (Los Prietos Boys Camp)

Ventura County

ACE Charter High School
Briggs Elementary
CAPE Charter School
Hueneme Elementary
Mesa Union Elementary
Mupu Elementary
Ocean View Elementary
Ojai Unified
Oxnard Elementary
Oxnard Union HSD
Rio Elementary
Santa Clara Elementary
Santa Paula Unified
Valley Oak Charter School

VCOE schools closed due to air quality:

Boswell School
Penfield School
Ojai TEAMS
Dwire School
James Foster School

VCOE-operated special education classrooms closed to due air quality at...

Ventura High School
Balboa Middle School
Emily Ritchen
Williams and Sunkist Schools