This story is no longer being updated. For the latest updates on the Thomas Fire, go here.
Evacuations | Road closures | School closures | How to help
California Gov. Jerry Brown declared a state of emergency Tuesday as a wind-driven wildfire continued to grow. The fire has burned more than 50,000 acres, according to Cal Fire — almost 80 square miles — and forced the evacuation of tens of thousands of residents in Ventura County.
"This fire is very dangerous and spreading rapidly, but we'll continue to attack it with all we've got," Brown said. "It's critical residents stay ready and evacuate immediately if told to do so."
Santa Paula and both the county and city of Ventura have also declared local emergencies, according to fire officials.
The culprit behind the wildfires burning across Southern California on Tuesday: Santa Ana winds hitting the area when there hasn't been significant rainfall this fall, according to Cal Fire's Tim Chavez, a fire behavior analyst. For the last five to 10 years, rain came in September, October or November ahead of Santa Ana winds, allowing grass to grow and help relieve fire danger, but the sequence of events this time left dry fuel for the fires, according to Chavez.
The National Weather Service expects winds to die down Tuesday afternoon through the evening, but pick up again Wednesday evening and last through at least Friday. Wind gusts in the area have been between 35 and 50 miles per hour, the weather service's Rich Thompson said, with low humidity combining with those winds to create what he called "explosive" fire growth. A red flag fire danger warning remains in effect until Friday night.
Jayme Laber, an Oxnard-based hydrologist with the weather service, said these are the strongest Santa Ana winds L.A. and Ventura have experienced since 2012. He also said the area hasn't seen such long-lasting winds since 2007.
The Thomas Fire grew exponentially after breaking out Monday evening near Santa Paula, Ventura County Fire Chief Mark Lorenzen said. Santa Paula is a city of some 30,000 people about 60 miles northwest of Los Angeles.
Winds were pushing the fire toward the city, and many homes there were evacuated. Evacuation orders were later expanded to houses in Ventura, which is 12 miles southwest and has 106,000 residents.
The Ventura County Fire Department released these images of their goals late Tuesday afternoon as they continued fighting the fire:
The Thomas Fire was just one of several that have broken out across Southern California amid damaging Santa Ana winds. The Creek Fire erupted Tuesday morning, quickly scorching thousands of acres and prompting the evacuation of thousands of homes in Sylmar and Lake View Terrace by mid-day. Meanwhile, the Rye Fire broke out about 9:30 a.m. and forced the closure of the 5 Freeway in both directions at State Route 126.
For its part, the Thomas Fire has been consuming vegetation that hasn't burned in decades, Ventura County Fire Sgt. Eric Buschow said.
The fire has prompted evacuation orders for nearly 8,700 homes, and more than 150 structures have burned so far, fire officials said, with more than 3,000 structures still threatened as of a late afternoon press conference.
There was no immediate word whether the structures were homes or businesses, but a live view of Vista del Mar Hospital broadcast by KCBS-TV showed the structure in flames. The facility treats patients with mental health problems, chemical dependency and veterans with post-traumatic stress syndrome.
With the fire continuing to burn out of control, there were multiple reports of structures on fire and crews having trouble gaining access, according to fire officials.
While firefighters poured water onto apartments that burned Tuesday morning at the Hawaiian Village apartment complex at sundown, more were catching fire just a quarter mile away.
These apartments are built into the hillside, one above the other. At Kalorama Drive and Tioga Drive, it appeared one large apartment building had burned — an hour later, the building a few doors down was on fire.
The sky was orange above downtown Ventura due to the pollution in the air, the downtown area empty thanks to the fires and evacuations. Traffic signals weren't working due to outages, with many side streets closed off due to burned apartment buildings at the other end.
About 38,000 people were under evacuation orders and one firefighter was injured, but has been released from the hospital and sent home. Sheriff's Department personnel were on patrol to protect the homes of those who have been evacuated.
Rafael Perez lives on Wall Street in Ventura, a dense residential neighborhood with lots of small houses and apartment buildings. The hillside across from his house completely burned.
Perez and his family evacuated around 11 p.m. Monday but returned Tuesday morning. He told KPCC the fire moved really fast.
"Honestly, with this fire, I heard about it and I'm like, 'No way, Santa Paula is a while back,'" Perez said. "And then all of a sudden I look on my phone, I look outside, and there's fire everywhere."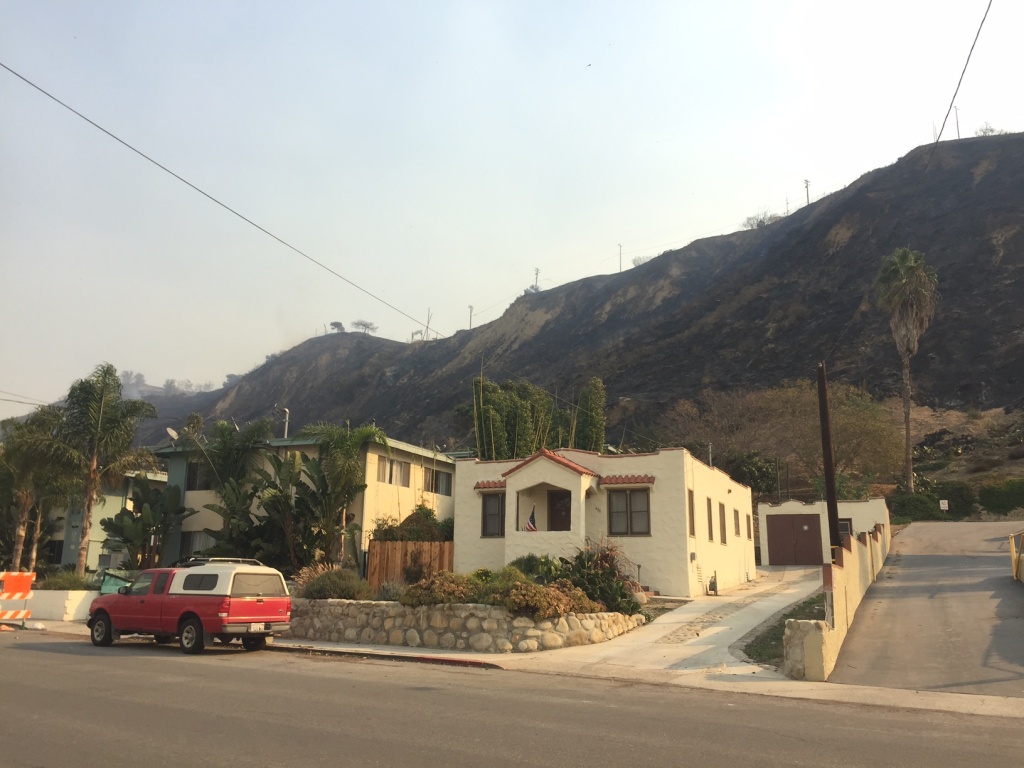 Another Wall Street resident said he still didn't have power at 11 a.m. Armando Rey, who lives in an apartment, was standing with his neighbors in the parking lot talking when they evacuated the night before.
Rey said he hadn't worried about wildfires before, living in urban Ventura.
"I grew up here, and it just seemed like the fires were always mountains far away," he told KPCC. "That's why I just didn't imagine it would happen here."
Rey said he realized how big the fire was when he evacuated.
"It was just going for miles and miles and miles. And it was just like there's no way they're controlling this. There's no way they have the manpower to control this so fast," he said.
Rey also talked about how fast the fire moved. An hour elapsed between when he first heard about a fire in Santa Paula and began throwing things in a bag — and when he was running out the door.
"We started packing stuff earlier and, you know, when we ran out, everything I packed — I took nothing because that's how fast," He said. "It was like, 'Oh my god, it's right here, get out!' So I just grabbed my little briefcase and I got out."
Jesse Fronterhouse of Oakview, a community between Ventura and Ojai, evacuated Tuesday morning and was waiting for a room to open up at hotel in the Channel Islands area near Oxnard. 
"This is the last one that we could find any rooms for, everywhere was booked," he told KPCC. He doesn't know the condition of his home, which is located in an area where the fires are merging. 
"We have a river bottom in between us and the fire, so hopefully that breaks it … but there's no water in that river," he said. "With this fire, it don't matter where you're at … it's from Ojai to LA, Santa Clarita."
"The fire growth is just absolutely exponential," Ventura County Fire Chief Lorenzen said. "All that firefighters can do when we have winds like this is get out ahead, evacuate people, and protect structures."
Thomas Aquinas College, a school with about 350 students, was also evacuated, with students going to their own homes or to those of faculty and staff, the college said in a statement.
One fatality that was initially reported to be a person killed in an auto accident associated with the fire is now thought to have been an animal, Ventura County Fire Department spokesman Rich Macklin told KPCC.
More than 1,000 firefighters were deployed to help battle the fire.
Southern California Edison said 30,000 customers were without power across its coverage area late Tuesday morning and that some in fire-affected areas should be prepared to go without power for days because of damaged transmission lines.
Due to the fire and the power outages, all Ventura residents have been advised by the city to boil their tap water or use bottled water for drinking water and food preparation. Water should be boiled for at least one minute, according to the city. Not boiling water in the area could lead to stomach or intestinal illness. A city advisory said they expect to resolve the situation within two to three days.
Evacuations
The following areas are under mandatory evacuation orders as of Tuesday evening:
Oak View - Boundary of Hwy 33, Creek Road and Hermosa Road
Entire Community of Casitas Springs - Evacuate to Ventura County Fairgrounds - 10 West Harbor Blvd., Ventura
City of Ventura - Teloma east to Brent Street, Telegraph Road north to north of Foothill Road
East Ojai Valley - Carne Road east to McAndrew Road, Reeves Road north to Thacher Road 
City of Ventura - Victoria Road east to Hill Road, Telegraph Road north to Foothill Road
City of Ventura - North Ashwood Avenue east to Hill Road, Telegraph Road north to Foothill Road
These areas are under voluntary evacuations:
Residents in the City of Ventura, south of Loma Vista, east of Day Road, West of Victoria Avenue and north of Telegraph Road
Residents in the City of Ventura, east of Victoria north of Loma Vista South of Foothill west of Wells Road
All residents of the Ojai Valley not currently covered under the current mandatory evacuation
City of Fillmore - Boundary of 2nd Street north to 4th Street & Island View Street east to Pole Creek
City of Fillmore - Boundary of 4th Street on the south to Pole Canyon Road, Pole Canyon Road northeast to Goodenough Road, Goodenough Road south to 5th Street and 5th Street southeast to 4th Street
City of Fillmore - Boundary of Hwy 23 & the Santa Clara River south to Guiberson Road, Guiberson Road east to Torrey Road and Torrey Road north to the Santa Clara River
School closures
These schools have been announced as closed for Wednesday:
All Ventura Unified School District Schools
All Conejo Valley School District Schools
La Reina High School
Road closures
From Ventura County Fire and California Highway Patrol, hard closures affect the following routes.
Vassar Street at Maryville Avenue (city of Ventura)
SR-150 at Reeves Road (east end Ojai Valley)
SR-150 at Stonegate (Santa Paula)
SR 150 at Telegraph Road (Santa Paula)
SR 150 at Richmond Road (Santa Paula)
Foothill Road at Olive/Cummings/Wells/Briggs (Santa Paula/Ventura area)
Highway 33 in both directions between Casitas Springs and Canada Larga Road (Casitas Springs area)
How you can help
Ventura County Fire has advised anyone who would like to help by donating to victims to text "UWVC" to 41444, and all proceeds will go to those affected.
This story has been updated.