Los Angeles's Natural History Museum has a bold plan to modernize its campus — but has no idea how much the revamp will cost or how to pay for it. The institution debuted renderings for a new building that would anchor the south and west sides of the Exposition Park facility.
The design features an airy, three-story glass pavilion crowned by a rooftop restaurant with views of downtown L.A., Baldwin Hills and the San Gabriel and Santa Monica mountains.
The 485,000-square-foot building will house a welcome center, a gallery for temporary exhibitions and an immersive theater for screenings, performances and other events.
It will replace an auditorium that seats more than 300 people but isn't currently being used because it's hard to access, according to NHM president Lori Bettison-Varga.
She admits that museum officials don't know how much the upgrades will cost. They also don't know how the institution, which is a public-private partnership, will fund the upgrades.
That's the next step in the process. Bettison-Varga said she expects to have some figures and a funding proposal in the spring of 2018.
The goal of the proposed facelift is to increase the flexibility, capacity and transparency of the NHM's gallery space, she said — and, ultimately, to make it more welcoming.
"There's a certain lack of accessibility to these large facades that you see in museum spaces around the country, a formality to them that we know from research can be a bit of a barrier for people even thinking about going into those spaces," Bettison-Varga told KPCC.
Designed by local architecture firm Frederick Fisher and Partners, the concept would transform the museum's single entry point into a long, porch-like entryway running along the southwestern perimeter. It would also add 60,000 square feet to the institution, giving staff a chance to show off more of the museum's vast collection of insects, minerals and other fascinating objects.
"While we are absolutely excited about our dinosaurs, we have a lot more in the building," Bettison-Varga said. "We wanted to use that space as a way to display the many objects and the kind of research and the kind of education and engagement that we do."
The new structure is part of an ambitious, decade-long project that will also re-envision the La Brea Tar Pits in the Miracle Mile area.
It comes on the heels of major upgrades to other areas of NHM's campus, overseen by Bettison-Varga's predecessor, Jane Pisano.
Those debuted in 2013. Since then, attendance has skyrocketed. Bettison-Varga suggests that's partly due to improved facilities.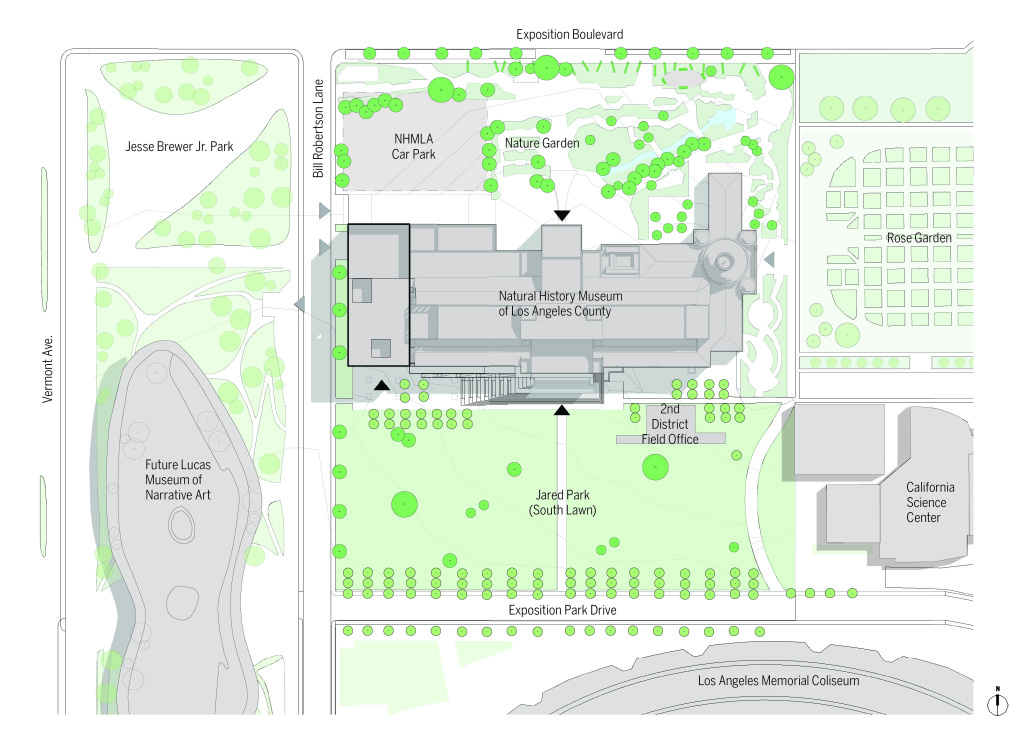 In 2010, 486,000 people visited the museum. In 2016, that number had almost doubled — to 890,000 people per year.
The opening of the Exposition Line, with a stop right in front of the NHM, has likely also helped attendance.
Bettison-Varga, formerly the president of Scripps College and a geology professor, has been at the museum since 2015.