More than cars, power plants, or even refineries, heavy duty diesel trucks are the reason why greater Los Angeles has never met federal smog standards.
So nine years ago, the area's twin ports – Los Angeles and Long Beach – began paying truck drivers to scrap their old, polluting rigs and replace them with cleaner ones. The program dramatically slashed diesel emissions, and now, the ports are rolling out a sequel meant to reduce emissions even more. But in the process of cleaning up the air, the ports lost the trust of some of their most important partners: trucking companies, who say after their experience with the first program, they're wary of driving alternative fueled vehicles again.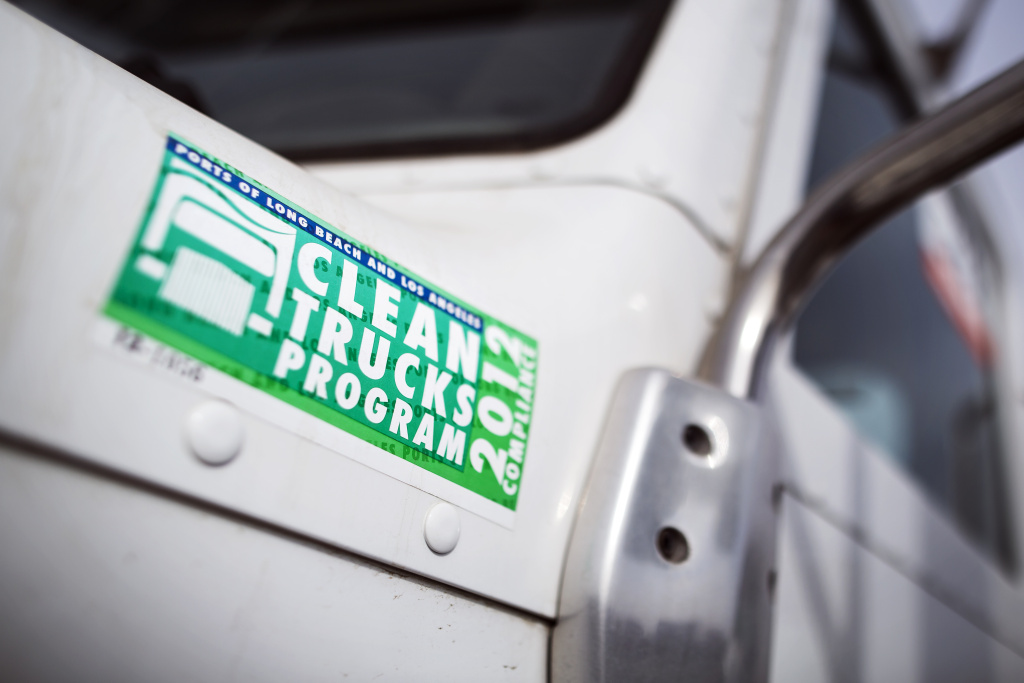 Perhaps nowhere is that skepticism more apparent than the used truck auction in Perris, California.
Here, on a hot December day, the smell of dust and diesel is strong. Trucks idle on a ramp on the auditorium floor. Above them, the auctioneer sits in a little booth, his fast-paced lilt pumped over loudspeakers to the crowd. Guys in T-shirts and ball caps nod imperceptibly or raise a finger to bid.
Richard Newell is a used truck dealer in Fontana who has a couple of trucks in the Perris sale. But one of them won't be sold this day because he can't get it to start – a requirement of the auction house. The truck is powered by liquefied natural gas, or LNG.
For Newell, dealing with these trucks has been "probably the worst experience I've ever had with a truck in my life." 
They don't start. They run of out fuel. They have sensor problems. Gas tank problems. He's in the business of selling used trucks, and he can't sell these trucks, except at auctions for rock bottom prices. 
Yet nine years ago, LNG trucks were the darling of the ports.
"You bring on the LNG trucks and we'll buy them," said David Freeman, former president of the Los Angeles Board of Harbor Commissioners at a March 2008 meeting. "Bring them on."
What happened?
"We have to get rid of these dirty old trucks"
The plan to clean up the ports began with Geraldine Knatz's job interview for the director of the Port of Los Angeles.
"At one point in my interview I mentioned, we have to get rid of these dirty old trucks," she said recently in her living room in Long Beach, wearing oversized tortoise shell glasses and a gold chain necklace that said "Geraldine."
"And I didn't know it at the time, but apparently when I said that, it clinched the deal in terms of me getting the job."
It was 2006, and Knatz had just read the results of a health study that found diesel emissions from port trucks were the main reason why harbor neighborhoods had disproportionately high cancer rates.
"We saw the results and it was like, 'Oh my God.'"
In addition to elevated cancer rates, trucks also contribute to LA's worst-in-the-nation smog, which prematurely kills 2,000 people a year. Smog is formed when nitrogen oxide and volatile organic chemical emissions from cars, trucks, and natural sources like trees are baked by sunlight.
There was also an economic reason for the ports to crack down on emissions. As part of a legal settlement, the ports couldn't expand and add new customers until they addressed their contribution to regional air pollution.
So harbor officials decided to do something no American port had never done before: They passed a truck ban. After 2012, trucks that did not meet 2007 federal emissions standards would not be allowed in the ports.
"The port was all of a sudden acting like an air quality agency," Knatz said. "We were telling the industry, 'You had to meet this standard or you can't come into our port.' And that was pretty radical."
Replacing approximately 16,000 trucks was going to be expensive, so officials from the ports and the South Coast Air Quality Management District provided hefty subsidies. They ranged from $20,000 for a new clean diesel to $142,000 for an LNG – nearly the entire cost of the rig. While no one told the truck drivers what to buy, both SCAQMD  and the Port of Long Beach said they encouraged drivers to buy LNGs.
"We targeted the funds to go to LNG because we thought at the time it was a cleaner option that could do the job," said Heather Tomley, the director of environmental planning at the Port of Long Beach.
In total, the ports of Long Beach, LA and the SCAQMD spent $202 million on new trucks.
And it was effective. By 2015, the cloud of toxic soot that hung over the ports nearly disappeared as diesel emissions dropped more than 95 percent.
"I would run into people in San Pedro who would tell me that they could really notice the difference, and that would make you feel good," Knatz said.
"We were the guinea pigs"
At the beginning, many truckers supported the Clean Trucks Program. They wanted to be a part of the solution and wanted to drive cleaner, newer vehicles.
"We were so proud. We put them in the fleet, took pictures," said Fred Johring, owner of Golden State Express, who got 12 brand new LNGs with $1.2 million in subsidies and $750,000 of his own money.
The enthusiasm didn't last. Within a week after picking up his new trucks, Johring said they started breaking down.
"For the first two years of ownership there were no less than three of our fleet of 12 LNG trucks in the shop at any given time," he said.
Worse, the LNG trucks were barely powerful enough to haul loaded containers from the ports – which is the exact job they were supposed to do. Johring said he got calls from miserable drivers, complaining that the truck slowed to 25 mph at the slightest grade, even when other trucks were going 55 mph.
And wasn't just Johring. KPCC spoke with 10 trucking companies and 2 used truck dealers, and all but one of them had negative experiences with their LNGs. One just uses her LNGs to haul empty containers because of how underpowered they are. Another says he doesn't drive the trucks outside of Los Angeles because of their unreliability. A third said he spent so much money towing his LNGs to the shop that he bought his own tow truck.
"We were told that the LNG trucks had been a proven entity, that they'd been running that engine for a long time. That they were perfect for the port. So it was a win-win all the way across the board," said Johring, who in addition to running his own trucking company is the chairman of the Harbor Trucking Association, a trade group for companies that haul from the ports of LA, Long Beach and Oakland. "That was anything but the truth. We were the guinea pigs, and we weren't told that."
Under the terms of the subsidy, Joring had to keep his trucks for 5 years. When that time was up, he sold the trucks as soon as he could.
They ended up at the auction in Perris, with so many other unwanted LNGs. In fact, LNGs now move 70 percent less cargo at the ports than they did in 2012.
On the day KPCC visited the auction in December, two LNGs sold for $19,000 each – just 12 percent of what they were worth five years ago. And four of the seven on offer never made it to the auction block, either because they wouldn't start or because of other problems. 
"There's no market. I'm in the resale market and I can't sell these trucks," said used truck dealer Rich Newell.
Newell said when people come to his shop in Fontana looking to unload an LNG truck, they typically do not buy another one. That's because of LNG's notorious problems and also because the price of LNG fuel is no longer cheaper than diesel. 
"Everyone's going back into dirty diesel, no one's going back into these," Newell said.
To be fair, diesel trucks manufactured after 2010 are orders of magnitude cleaner than the old, smoke-belching rigs the ports banned back in 2008. But they are still significantly dirtier than LNGs: when run at low speeds, like they are in the ports, diesels have smog-forming emissions that are as much as 44 times higher than an LNG truck.
Despite the problems, not everyone who bought an LNG through the ports has sold it – as of December 2016, there are still 691 registered.
But many of the people who kept their trucks are unhappy with them. Carlos Gil, who works for CSC Transport, purchased three LNG trucks with help from government subsidies. He called the the program "a rip off." He considered selling his trucks because of how often they broke down and how expensive they were to repair. "I was miserable for a few years," he said, then he learned how to repair them himself and stopped paying hefty mechanic bills.
Now, he buys them used from unhappy people at rock bottom prices -- $10,000 or less. He said he only uses them to haul empty containers over short distances.
"If I haul a load, it has to be very light, and it cannot go over the bridge, it's too slow," he said. "I use (diesel) trucks for full containers."
Lessons learned
Does this mean the LNG program was a failure?
"It was a huge experiment with public money, well meaning, and it didn't work." said David Pettit, an attorney with the environmental group Natural Resources Defense Council.
Pettit has long been critical of relying too heavily on incentives and subsidies to achieve air quality improvements.
"This is public money going to private industry to clean up the air pollution that private industry is causing," he said. "A lot of money was essentially wasted on subsidizing LNG trucks that were not successful in operation."
The ports see things differently.
Heather Tomley, the director of environmental planning at the Port of Long Beach, acknowledged there were problems with the LNG trucks, but she pointed to the massive reduction in harmful diesel emissions achieved by the Clean Trucks Program overall. The gains were part of the reason why the the risk of getting cancer from air pollution in the South Coast dropped by nearly 60 percent between 2005 and 2012.
"We established with the Clean Truck Program was a significant environmental benefit for the entire region," she said.
Tomley and her counterpart at the Port of LA, Chris Cannon, both defended their enthusiasm and subsidization of LNG engines at the time, saying they initially believed the trucks would work perfectly well.
"We were relying on the information we were getting from the regulatory agencies and the manufacturers," she said. "These engines had gone through the process to be certified and were being marketed for sale in this type of use," she said. "Once they went into practice it was determined they weren't necessarily the right size or the right fit for the type of work being done."
Going forward, however, the ports plan to do thorough field testing of any low-emission engines.
"Part of the lessons learned is that we recognized going forward that there really needs to be that vetting process," said Tomley, "We don't want to go down a technology pathway and have that technology not work."
In the end, the ports say it's not their responsibility to decide whether or not LNG trucks should be used in the ports.
"We have extensive discussions with manufacturers of equipment," said Cannon. "But ultimately the operators of the equipment themselves are the ones who have to make the decision about what to buy, because we know that they know what's best for their needs."
Getting buy-in
Now the ports are rolling out a sequel to the Clean Trucks Program. The goal is to cut overall port greenhouse gas emissions by 80 percent below 1990 levels by 2050. To do so, the ports plan to slowly shift the entire fleet of 16,000 port trucks to low emission and, eventually, zero emission technology powered by electricity and fuel-cells. Cutting carbon dioxide can also reduce emissions of other pollutants like nitrogen oxides.
To start, the ports plan to ban the oldest, dirtiest trucks -- similar to the first Clean Truck Program. But this time, they're targeting trucks that don't meet 2010 federal emissions standards, some 60 percent of the fleet.
To get even deeper reductions, all new trucks registered in the ports by 2023 will have to meet an even stricter state standard that will are scheduled to take effect that year.
But as of right now, there is no engine on the market that both meets the new standard and is powerful enough to haul loaded containers from the ports. That makes truckers like Fred Johring skeptical.
"If you're going to mandate something on us, this needs to be a commercial, viable solution," he said. 
The ports' reassurance that any new engine technology will be thoroughly field tested – unlike last time – is too little, too late for him.
"Any time you have an environmental program like the clean truck program, it's important that business and those that spent money on it feel like it was a success for them. In this case, those that spent the money feel like they were trickbagged," he said. "And as a result are going to be very hesitant to ever step their foot into anything that's experimental again."
Greater Los Angeles still doesn't meet federal air standards for smog. Changing that hinges, in part, on whether the ports can convince people in the trucking industry, like Fred Johring, to try low emissions trucks again in the future. And right now, that future looks decidedly hazy.