Visitors to the Los Angeles Zoo are getting their last glimpses of a popular male hippopotamus before he is moved to the Dallas Zoo in Texas in the hopes of continuing his genetic line. Moving the 3,700-pound hippo Adhama will take more than time —  it'll take an air-conditioned semi-truck, hundreds of gallons of water and getting the animal comfortable with his two-ton moving crate.
"It's a huge undertaking," L.A. Zoo curator Josh Sisk told KPCC. "This is a one-of-a-kind load that will be going to Dallas."
In two weeks, the two-ton Adhama will feel at home enough in the moving crate to make the 24-hour journey, Sisk said. Once zookeepers shut the crate's massive door behind him and lift the 6,000-pound load out of the enclosure with a crane, Adhama will be on his way to Dallas, Sisk said.
Carrying Adhama will be a specially designed semi-truck with round-the-clock video surveillance. Water hoses in the trailer will keep the animal wet and comfortable during the long drive. The truck has also been used in the past to move other large zoo animals such as giraffes and elephants, Sisk said.
At his new home, Adhama will be one of the featured residents of the Dallas Zoo's recently completed $13.6 million, 2.1-acre Simmons Hippo Outpost, which it calls "an immersive African waterhole habitat that includes a giant underwater viewing area for these surprisingly agile, super-sized 'river horses.'"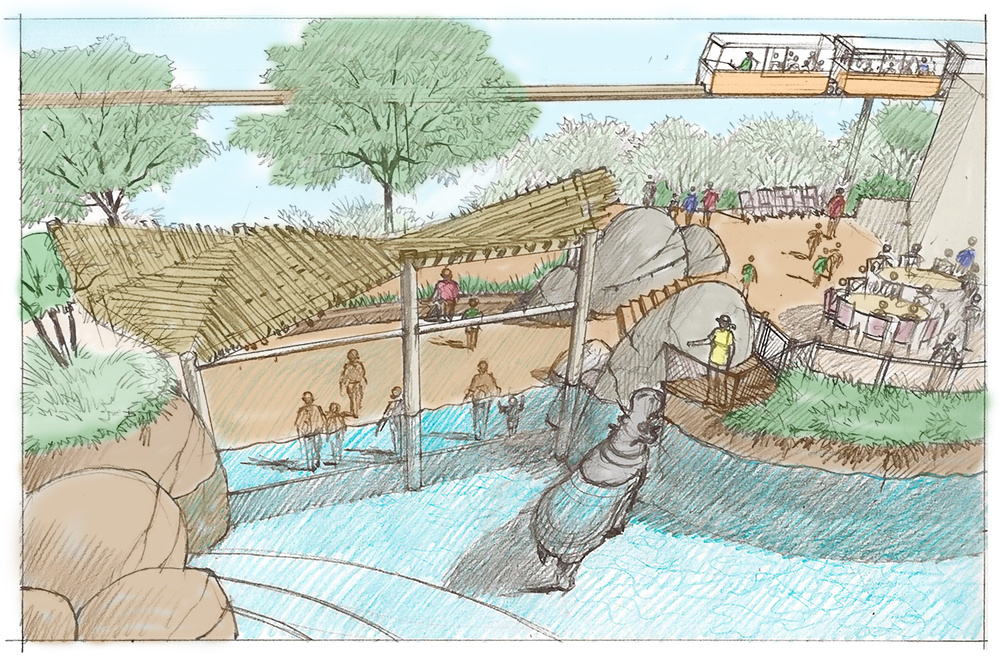 He'll also be the only male among several female hippos, Sisk said — where they hope he'll be a successful breeding partner. After successfully mating with the L.A. Zoo's only female hippo, Mara, in February 2014, baby hippo Rosie was born a year later.  
"We're looking at the genetics and how we're going to sustain the [hippo] species over time," Sisk said. "So, for [Adhama], we decided it would be a better match for him to go to the Dallas Zoo, where he can continue to sustain his population."
Conservationists say wild hippos aren't nearly as endangered as other large mammals, like rhinos and elephants, Sisk said. There are still hundreds of thousands of them swimming in the rivers of Sub-Saharan Africa.
Mara and Rosie, the L.A. Zoo's two remaining hippos, won't be going anywhere for the time being, Sisk said.
This story has been updated.