More than 100 homes have been destroyed in the Blue Cut fire and hundreds of other buildings, cars and other vehicles were charred, officials reported.
Crews continue to make progress in fighting the massive wildfire. As of Sunday morning, the blaze has burned more than 37,000 acres and is 83 percent contained. Higher humidity is expected to help firefighters through the rest of the weekend. 105 homes and 216 outbuildings were destroyed.
On Sunday, all remaining mandatory evacuation orders were lifted. Officials had previous lifted evacuation orders for Wrightwood, Phelan and southern Hesperia. People returning to their homes must show proof of residency.
A Smoke Advisory remains in effect for portions of San Bernardino Country. I-15 North and Southbound is open through the Cajon Pass although lanes may be lane closed intermittently to make repairs.
Evacuations  |  Road closures | Air quality
Updates 
Fire Tracker: Blue Cut Fire in San Bernardino County
Update 4:21 p.m.: All evacuations lifted
All remaining mandatory evacuation orders have been lifted. People returning to their homes must show proof of residency.
Update 9:46 a.m.: Lytle Creek evacuation lifted
The San Bernardino Sheriff's Department just announced that beginning at 10 a.m., the mandatory evacuation orders for Lytle Creek will be reduced to voluntary. Residents (and only residents) will be allowed past the road closure at Sierra Way/Lytle Creek Road and Glen Helen Parkway. They must provide verification of residency. Returning evacuees are urged to exercise caution. 
Update 9:36 a.m.: How did the fire start?
As the fight to stop the Blue Cut Fire winds down, investigators are trying to figure out what started it — and they want your help. If you saw anything, heard anything or have photos or videos, please call We Tip at 1-800-47-ARSON or submit your tip online.  
Update 12:12 p.m.: Residents can return to Wrightwood
At noon on Saturday, officials lifted the mandatory evacuation order for Wrightwood and began allowing residents to return — as long as they can show proof of residency at the road closure at Highway 138 / Highway 2. 
Update 11:46 a.m.: Weather helps firefighters
A red flag warning in the San Bernardino Mountains expired Friday night. Philip Gonsalves with the National Weather Service says firefighters aren't in the clear yet but that things are looking up. "Humidity has increased somewhat and the winds have become a little bit weaker and these conditions make it not as difficult for the firefighting efforts." Those winds are slowing down to gusts of 25 miles per hour and humidity is climbing up and out of the single digits to a wetter 15-to-20 percent.
Update 10:11 a.m.: Crews make progress overnight Friday
As of Saturday morning, the fire is 68 percent contained although hard-to-reach areas are still burning. Robert Taylor with the U.S. Forest Service tells KPCC the biggest trouble spots continue to be near Wrightwood and above Lytle Creek. "The terrain is steeper, it has more trees than brush so there's more fuel so that becomes both problematic for access as well as the potential for fire growth," he says. 
Update 6:21 p.m.: Mandatory evacuations lifted for portions of Phelan
Mandatory evacuations have been lifted for residents of areas in southern Phelan. The San Bernardino Sheriff's Department said Friday afternoon that areas west of Baldy Mesa Road to Wilson Ranch Road south of Phelan Road to Mission Street were reopened. 
Later on Friday, the department announced residents Phelan Road west of Green Road to Snowline Road would also be able to return home
You can see a map of affected areas below
The department asked returning residents to be cautious of fire vehicles and heavy equipment that continues to operate in the area, and offered tips for those returning home.
They've also set up a service center at the San Bernardino County Fairgrounds (14800 7th Street) in Victorville to help residents with disaster assistance, property information and help with insurance claims. 
Fire officials said they would deliver addresses of the destroyed homes to the Red Cross' evacuation centers around 7 p.m. on Friday. There will be mental health counselors on site to comfort evacuees.
Update 5:39 p.m.: Officials to distribute news about destroyed homes at 7 p.m. 
Blue Cut Fire evacuees heard the news that the Blue Cut Fire had destroyed nearly one hundred homes Friday morning with the rest of the public. None could be sure if their own home was among those burned , though; addresses weren't yet available.
Georgia Duncan, a Red Cross volunteer stationed at the Victorville shelter, described how one woman from the area reacted to the news.
"She turned around and said - well, I think I may have lost everything," she said.
Fire officials now say they'll deliver information about the addresses of the destroyed homes to the Red Cross' evacuation centers around 7 p.m. on Friday. There will be mental health counselors on site to comfort evacuees.
Update 3:16 p.m. Firefighters continue battle on northwest side
Firefighters are focusing on the northwest part of the Blue Cut Fire, fire incident spokesperson Michael Lopez told KPCC.
The reason for Wrightwood and Lytle Creek remaining under evacuation, Lopez said, is that they are continuing to put in containment line and do "really aggressive" firefighting operations on that side of the fire.
Firefighters are keeping their distance from fighting the fire directly.
"They're not going up on the fire's edge, but they're basically doing all the suppression tactics that they can in a safe manner, for the safety of the fire personnel," Lopez said.
As of late Friday morning, there were:
24 bulldozers, which are responsible for constructing line and creating fuel breaks
26 hand crews, who work with the dozers to continue progress with the line in order to contain the fire
178 engines, with serve as support
The fire was continuing to move north-northwest toward Wrightwood, Phelan, Baldy Mesa and the south side of Hesperia.
If the weather doesn't get significantly worse, the winds don't get too high and firefighters are able to continue aggressive firefighting tactics, one of the major areas of concern is actually Interstate 15, Lopez said. He cautioned drivers to be safe driving on I-15, as it may be congested.
California's five-year drought combined with low fuel moisture combines to lead to extreme, erratic fire behavior, Lopez said.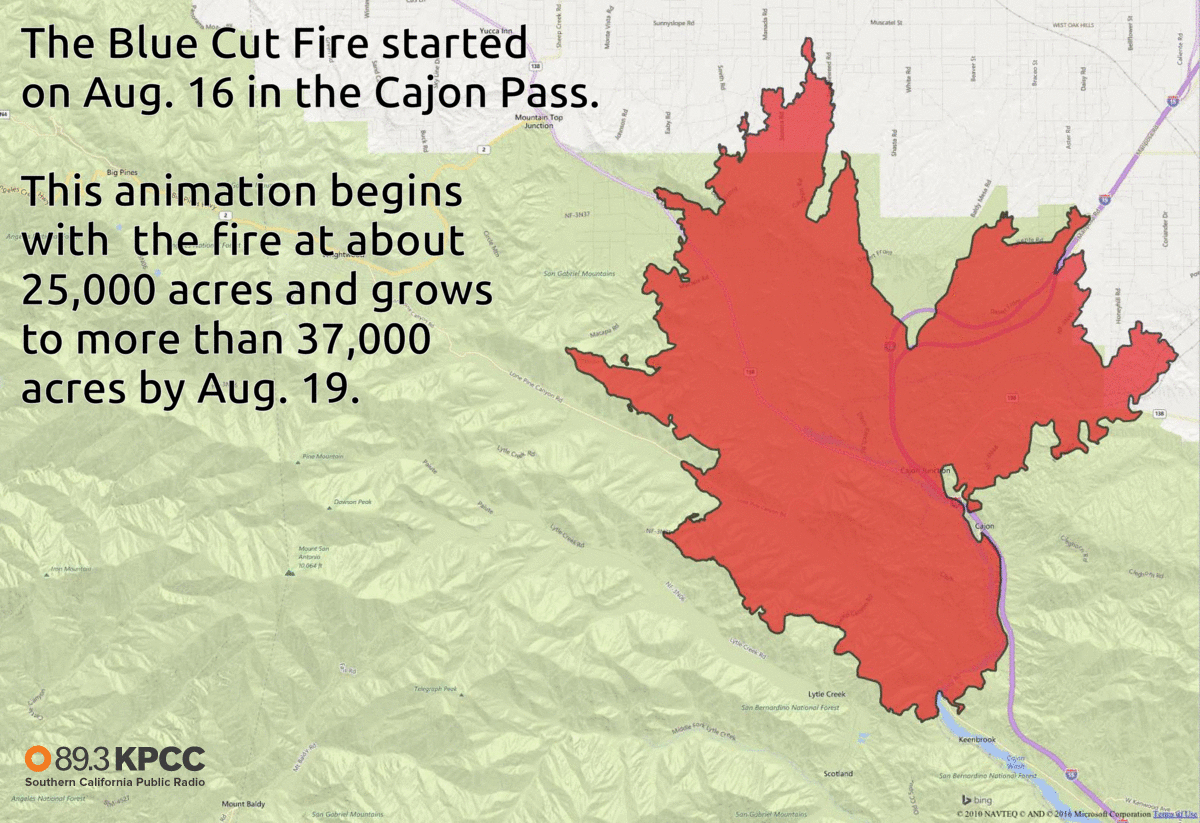 While firefighters appreciate the donations that the community has been offering firefighters, he offered another option for redirecting that generosity.
"We're very grateful for that, but it would be nice if they actually called Red Cross and possibly do those donations to the local families affected by the fire," Lopez said. You can find ways to help here. 
Update 3:07 p.m.: Weather conditions expected to improve
Firefighters on the front lines may get some relief this weekend. The red flag warning that has been in effect all week for areas in Southern California expires Friday night at 9 p.m.
National Weather Service Meteorologist Brandt Maxweol told KPCC that they don't anticipate extending the warning beyond that time. 
"The weather conditions are going to be a little bit better than they were the past several days," he said.  
Humidity levels bottomed out under 5 percent this week, but they have resurged and are at around 20 percent now, Maxweol said. 
Winds are expected to reach 15-20 miles per hour, which could still pose difficulties for fire crews. 
He also added that there is a slight chance of thunderstorms in the San Bernardino Mountains, but they should stay east of the blaze. 
Update 1:00 p.m. 266 customers still without power
There remain 266 customers without power in the area affected by the Blue Cut Fire, Southern California Edison spokesperson Paul Netter told KPCC. That's down from 683 at 5:30 p.m. Thursday, but there's still no estimate for when they will have their power restored.
The communities that remain impacted:
Hesperia
Oak Hills
Pinion Hills
Other unincorporated parts of the county
"We've been granted ground-based clearance to go into some fire areas to start assessing damage. We have crews currently assessing damages in some areas and even making repairs in some areas," Netter said.
Netter encouraged everyone to avoid downed power lines, and offered some more advice for those without power:
Don't rely on candles, as they are a significant fire hazard
Don't try cooking indoors with charcoal and/or fossil fuels
There are more than 300 power poles that were damaged following the Blue Cut Fire.
Update 12:28 p.m.: Blue Cut Fire among most destructive this year
The destruction wrought by the Blue Cut Fire adds to hundreds of homes and other structures lost to the more than 135 wildfires that have burned in California so far in 2016.
Available data from local, state and federal fire fighting agencies doesn't always make a distinction between whether the structure lost to a wildfire was a home or an outbuilding. In the table below these are simply labeled as structures.
The Blue Cut Fire is one of the more damaging fires this year, destroying at least 96 single-family homes and more than 200 outbuildings — structures such as sheds, garages or barns. The Clayton Fire in Lake County has destroyed at least 300 structures.
| Fire Name | County Name | Acres Burned | Date Fire Started | Structures Destroyed |
| --- | --- | --- | --- | --- |
| Soberanes Fire | Monterey County | 79000 | July 22, 2016, 8:48 a.m. | 57 homes, 11 outbuildings |
| Erskine Fire | Kern County | 48019 | June 23, 2016, 3:51 p.m. | 250 structures |
| Sand Fire | Los Angeles County | 41432 | July 22, 2016, 2:11 p.m. | 18 structures |
| Blue Cut Fire | San Bernardino County | 37002 | Aug. 16, 2016, 10:36 a.m. | 96 homes, 213 outbuildings |
| Chimney Fire | San Luis Obispo County | 11233 | Aug. 13, 2016, 4:05 p.m. | 45 structures |
| Border Fire | San Diego County | 7609 | June 19, 2016, 11:03 a.m. | 5 homes, 11 outbuildings |
| Mineral Fire | Fresno County | 7050 | Aug. 9, 2016, 1:08 p.m. | 2 structures |
| Cold Fire | Yolo County | 5731 | Aug. 2, 2016, 4:36 p.m. | 2 structures |
| Clayton Fire | Lake County | 3929 | Aug. 13, 2016, 6:03 p.m. | 300 structures |
| Goose Fire | Fresno County | 2241 | July 30, 2016, 2:36 p.m. | 9 structures |
| Fiddler Fire | Shasta County | 441 | July 8, 2016, 10:45 p.m. | 1 structures |
| King Fire | San Benito County | 237 | June 17, 2016, 2:30 p.m. | 4 structures |
| Cheyenne Fire | Calaveras County | 83 | June 15, 2016, 12:46 p.m. | 2 structures |
| Pala Fire | San Diego County | 70 | May 31, 2016, 1:48 p.m. | 7 structures |
| Bangor Fire | Butte County | 12 | June 30, 2016, 2:50 p.m. | 1 structures |
| Kendall Fire | San Bernardino County | 9 | July 2, 2016, 3:08 p.m. | 4 structures |
Update 11:00 a.m.: 96 homes, 213 other buildings destroyed so far
The Blue Cut Fire destroyed at least 96 single family homes and another 213 outbuildings, San Bernardino Fire Chief Mark Hartwig said Friday. Three other homes were badly damaged, he said.
"It's been a tough couple weeks for the people of San Bernardino County," Hartwig said a morning press conference. 
The destruction was the result of a wildfire that "moved with intensity and ferocity that firefighters haven't seen before," Hartwig said , adding that firefighters' efforts were crippled early on in the fire as they worked to protect individuals who hadn't yet left the area. 
"That process really continued for about 20 straight hours," Hartwig said. "Literally not focusing on line construction, but focusing on getting people and animals out of harm's way."
He added that "numerous" cars and recreational vehicles were also lost. 
The most significant damage was see in the Swarthout Canyon, West Cajon Valley and Oak Hills areas as well as in South Phelan, Hartwig said.
"We know that there are going to people that come home to nothing," he said. "There are also going to be homes that were saved that you scratch your head and wonder why those survived and others — that even seemed to be positioned better — did not." 
San Bernardino County officials expressed their thanks for how people have responded to the fire.
"It's been amazing to watch the outpouring, the care for our community and those, even with less, giving." County Supervisor Robert Lovingood said.
"Unfortunately, San Bernardino County has seen its share of crisis, coming through with different fires, different issues that we had to deal with," Supervisors Board Chairman James Ramos said.
"We know that the greatest impact when these fires come through our communities is the people that are drastically affected, and that's the residents."
For those trying to determine what losses they've had, they can get a property tax exemption while rebuilding by working with the County Assessor's Office, Assessor-Recorder-County clerk Bob Dutton said. The office can also help people recover official documents if there are copies storied in county offices, Dutton said, with all fees for those services waived due to the disaster.
—KPCC staff
Update 5:57 a.m.: Crews begin inspecting damage as threat wanes 
Crews fanned out across fire-ravaged zones to begin inspecting the damage, but many places were still too dangerous to enter.
"Right now the fire is just too hot in most of these areas," said U.S. Forest Service spokesman Jake Rodriguez.
Charmy Hartinger said it has been a "rollercoaster" since she got off work and realized she couldn't go home. After staying in a hotel with her sister, she arrived at the evacuation center to join her neighbor.
"I just want to know if I have a house," she said.
Meanwhile, a new fire broke out in rural Santa Barbara County, quickly surging to about 500 acres and prompting the evacuation of a pair of campgrounds.
Another blaze near Lake Isabella in Kern and Tulare counties in the center of the state had burned more than two square miles.
During five years of drought, California's wildlands have seen a continuous streak of destructive and sometimes deadly fires. No deaths have been reported in the latest fire, but crews assessing property damage were using cadaver dogs during searches.
The dry vegetation is like firewood, said fire information officer Sean Collins.
"It burns that much quicker, that much hotter. The rate of travel is extremely fast," he said.
Wildfires across the country in recent years have grown more ferocious and expensive to fight.
Last year's fire season set a record with more than 15,625 square miles of land charred. It was also the costliest on record with $2.1 billion spent to fight fires from Alaska to Florida.
Experts have blamed several factors including rising temperatures that more quickly dry out forests and vegetation. Decades of aggressively knocking down small fires also have led to the buildup of flammable fuel. On top of that, more people are moving into fire-prone regions, complicating firefighting efforts.
The Southern California fire unleashed its initial fury on a semi-rural landscape dotted with small ranches and homes in Cajon Pass and on the edge of the Mojave Desert before climbing the mountains.
Travel was returning to normal in the pass — a major corridor for trucking, rail and commuter traffic — after Interstate 15 was fully reopened.
— Associated Press reporters Christopher Weber and Christine Armario. AP writers John Antczak, Amanda Lee Myers and Robert Jablon in Los Angeles and Kristin Bender and Olga Rodriguez in San Francisco contributed to this report.
Evacuations
The following areas are under mandatory evacuation orders:
The entire community of Wrightwood
Wrightwood from San Bernardino County Line to Jackson Lake
Lone Pine Canyon
Swarthout Canyon
West Cajon Valley
Lytle Creek Canyon
San Bernardino National Forest officials stressed Friday that Lytle Canyon remains under mandatory evacuation order, despite what it said were rumors to the contrary. 
Shelters remain open at the Jessie Turner Community Center in Fontana and Sultana High School in Hesperia.
Small animals can be taken to the Apple Valley Animal Shelter in Apple Valley. Large animals can be sheltered at the San Bernardino County Fairgrounds in Victorville. Both large and small animals can be temporarily put up at the Devore Animal Shelter in San Bernardino.
The U-Haul Company of San Bernardino has offered 30 days of free self-storage, U-Box container usage and RV storage to residents who have been evacuated from their homes or need to move their things away from the fire. 
The company said those interested should contact one of the following locations:
U-Haul Moving & Storage at 14598 Palmdale Road in Victorville (self-storage, U-Box and RV storage) — (760) 243-5100
U-Haul of Victorville at 15811 Lorene Drive (U-Box only) — (760) 245-0196 
Road closures
I-15 was still open in both directions Friday, but no ramps were available to vehicles between Oakhill and Kenwood Avenue, Caltrans officials told KPCC. One lane also remained closed on the freeway between Cleghorn Road and State Route 138.
The 138 reopened between Summit Valley Road and the 173, but remained closed between the L.A. County line and Summit Valley Road.
The southbound 395 was also open, as was Highway 38.
The following road closures remain in effect as of Friday morning:
State Route 2 from the L.A. County line to the 138
The 138 between the L.A. County line and Summit Valley Road
Old Cajon Blvd. north of Devore Cutoff
Lytle Creek at Glen Helen
Beekley Road from Phelan Road to the 138
Air quality
The South Coast Air Quality Management District has reissued an earlier smoke advisory, noting the following areas are still most likely to be directly impacted and potentially reach unhealthy levels:
Portions of the Northwest San Bernardino Valley, especially near Devore
Portions of the Central San Bernardino Mountains
Portions of the West San Bernardino Mountains
Portions of the Central San Bernardino Valley
A separate smoke advisory from the Mojave Desert Air Quality Management District for the Victor Valley, Barstow and surrounding communities remains in effect until further notice.
Winds continue to push smoke to the north and northeast, with the possibility of smoke draining back into the San Bernardino Valley areas, according to South Coast AQMD spokesman Sam Atwood.
The image below shows how the smoke's projected spread from 6 p.m. Thursday to 2 p.m. Sunday. It was generated by the U.S. Forest Service based on data from the agency's BlueSky Modeling Framework. Some smoke from the Cedar Fire in Kern County is visible at the top of the frame at the end of the loop.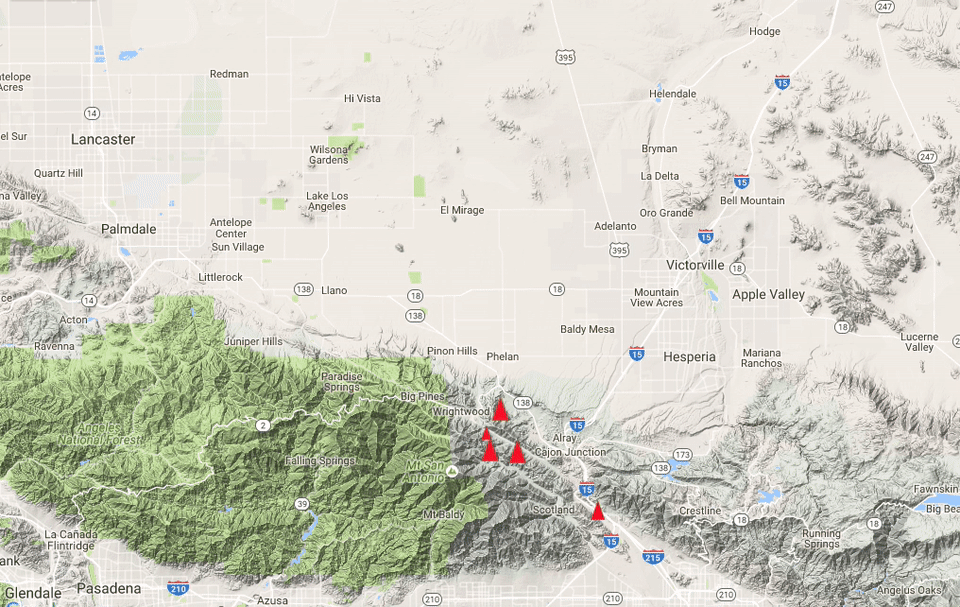 This story has been updated.