A wildfire burning out of control in the mountainous Cajon Pass is heading toward the community of Wrightwood Tuesday afternoon, U.S. Forest officials said.
By early Tuesday morning, the Blue Cut Fire had burned tens of thousands of acres in San Bernardino County and forced school closures and evacuation orders affecting more than 34,000 homes, prompting evacuation orders for more than 80,000 people, including Wrightwood. 
This story is no longer being updated. You can see Thursday's updates here. 
Evacuations | Road closures | School closures | Air quality
Fire Tracker: Blue Cut Fire in San Bernardino County
Updates
Update 6:39 p.m. Fire remains largely uncontained; firefighters focus on people 1st, homes 2nd
On its second day, firefighters started to gain some ground against the Blue Cut Fire — but only a small amount. Meanwhile, the size of the fire was revised down several thousand acres thanks to more accurate mapping, from 30,000 to 25,626 acres.
California's five year drought is one of the factors making this fire significantly more difficult to contain, Cal Fire spokesman Henry Herrera told KPCC.
Herrera told KPCC's Nick Roman that firefighters' first priority is public safety.
"Our number 1 priority is the safety of people, the public, and that of our firefighters. Our number 2 goal is to protect structures, people's homes, infrastructure. And then our third goal is to protect the natural resources. So we do everything that we can, with all the resources that we have available, to protect people's lives, and once that has been addresses and we've been able to evacuate people, then we're able to focus on their homes," Herrera said.
Another important factor, according to Herrera is whether residents have maintained "defensible space" around their property — getting rid of brush and other items that can serve to fuel fires. Defensible space doesn't guarantee that homes will be protected, he said, but it does help firefighters can defend those homes.
"Ultimately, it just depends on the fire behavior, the fire activity, how fast it's moving, the terrain, the weather, and the resources that we have available," Herrera said.
Update 5:21 p.m. Smoke, fire interrupt LADWP electrical transmission lines
Southern California Edison and Los Angeles DWP both maintain large electrical transmission lines through the Cajon Pass. Two of DWP's big lines sustained interruptions due to intense smoke and fire.
Edison's are at risk but not damaged, a spokesman said. Smoke can cause the electrical current running through the wires to arc to the ground, and possibly interrupt service on the line.
DWP spokeswoman Amanda Parson said one of the lines known as Victorville-Century Line 1 is shut down due to significant damage. That's a 287-kilovolt line that normally carries electricity generated from hydroelectric generators far from Los Angeles. The DWP is replacing that electricity by firing up local power plants within the L.A. Basin.
Parson said the stability of the L.A. power grid is not at risk right now, but is being carefully monitored.
Update 5:03 p.m. Lytle Creek evacuee awaits the return of her husband
Lytle Creek resident Doris Dodee was at the Jessie Turner Community Center on Wednesday, where she was anxiously waiting for her 82-year-old husband, Glen Huffman, to return. The night before, he walked eight miles back to their cabin to hose down the roof and protect it even though they have fire insurance. 
The cabin is over 80 years old and he's lived there for 60 years. Dodee has lived there for 38 years, but she didn't want him to go.
"You can replace wood, you can replace lumber, you can replace tiles, but you cannot replace your loved one," she said.
Shortly after, a fire backdraft trapped him until he flagged down a nearby sheriff. Huffman later called Doris to tell her that both he and the sheriffs were trying to rescue their neighbor's dogs who were stuck in the burning home.
Update 4:50 p.m. 2 C-130 planes added to firefighting efforts
Two military firefighting planes are joining the attack on the Blue Cut Fire. Two C-130 planes equipped with tanks capable of dropping 3,000 gallons of water or fire retardant are being sent to the Inland Empire from the Air National Guard Base at Channel Islands, said spokesman Capt. Will Martin
"The C-130s just add some punch to Cal Fire's efforts as they get spread pretty thin with so many fires," he said.
Cal Fire made the request for the additional planes Wednesday morning, and they could be on the fire lines by the evening.
The Air National Guard usually uses the C-130s for military transportation and shipping cargo, but they can also be fitted out with the special tanks when need for firefighting, Martin said.
Update 1:45 p.m. Low humidity, high temperatures drive Blue Cut Fire
The critical elements to the Blue Cut Fire, according to the National Weather Service's Philip Gonsalves: Temperature and humidity. While winds are also a factor, Gonsalves told KPCC they aren't as strong as they could be in the area.
However, temperatures are near 100 in the area Wednesday and are only expected to maybe go down a few degrees Thursday.
"Conditions don't change very much between today and tomorrow. We may see a slight decrease in temperatures, but the relative humidities will still be critically low," Gonsalves said.
In the proximity of the fire itself, daytime humidities will be 5 percent or less, with little improvement overnight. Firefighters usually try to gain ground on fires overnight when humidity improves, Gonsalves said.
"But they won't really have that advantage, since the overnight humidity recoveries are going to be very, very poor," Gonsalves said.
Temperatures and humidity should improve on Friday, Gonsalves said.
The winds will be breezy in the afternoon and evening, but gusts will be between 25 and 35 miles per hour, which isn't as bad as it could be, Gonsalves said. Winds typically pick up around 11 a.m. before dying down around 6 p.m. and weakening further overnight. They're supposed to pick up a little more around 2 p.m.
A sea breeze can come up from the Los Angeles Basin into the Cajon Pass, Gonsalves said — but by the time it gets there, it's lost its moisture.
"So you're just left with a warm, dry breeze — and fires love that," Gonsalves said.
Winds are coming out of the south-southwest, Gonsalves said.
You can see wind, temperature, humidity and more in the National Weather Service map at this link.
Wind direction and its potential to change is important information for firefighters, Gonsalves said, as it helps them decide how to redeploy their resources if the direction changes.
"Sometimes a sudden change in wind direction can be very dangerous, depending on where exactly those resources, that is to say manpower and machinery, are located," Gonsalves said.
A red flag warning for the area around the fire remains in effect until 9 p.m. Thursday. Gonsalves cautioned the public to do what they can to prevent fires in weather conditions like we are currently experiencing.
"When we are in conditions like these, people just need to be cognizant, for example, not throwing lit cigarettes out their car windows," Gonsalves said. "If you must pull off of the highway in your car, don't stop where there is brush under your car. Because very often, what will happen is your catalytic converter will set that brush on fire."
Update 1:30 p.m. Blue Cut Fire burns toward Wrightwood
The Blue Cut Fire is now burning near Wrightwood, U.S. Forest Service spokesperson Lyn Sieliet told KPCC.
"It's not far from the Wrightwood area. A few miles, maybe two-and-a-half, three miles from the Wrightwood area," Sieliet said.
The fire is burning from the southeast and is currently in Lone Pine Canyon, a backroad from Lytle Creek up to Wrightwood.
The fire has already burned through Lytle Creek, Swarthout Canyon, Lone Pine Canyon, the Cajon Pass and portions of both Oak Hills and Baldy Mesa.
"About 2:30, 3 o'clock is when we hit our peak temperatures, as well as the lowest humidities for the day. And that's also when the winds seem to be coming a little bit more active," Sieliet said.
The Red Cross, which is helping evacuees, and local animal shelters are in need of help, Sieliet said. Animal shelters are seeking donations of food for the cats, dogs, horses and other animals that they've taken in.
There are more than 1,300 personnel on the fire, Seiliet said.
Update 11:00 a.m. Many homes lost, but no time to survey yet 
An unknown number of homes and businesses have been destroyed. One of them was the Summit Inn, a roadside diner on historic Route 66.
Without giving exact numbers, San Bernardino County Fire Chief Mark Hartwig said he was able to survey the fire and damage from the air.
"In a word, it was devastating. A lot of homes lost yesterday. There'll be a lot of families that come home to nothing," Hartwig said at a morning press conference Wednesday. "If there's a bright side, a silver lining, there are some homes that were saved."
Firefighters would continue focusing on structure defense as a priority Wednesday, Hartwig said.
The fire's speed and ferocity stunned firefighters.
"In my 40 years of fighting fires, I have never seen such extreme fire behavior," said Mike Wakoski, incident commander from the Southern California Incident Management Team 3.
James Quigg, chief photographer with the Daily Press in Victorville, witnessed the fire's intensity firsthand.
Quigg said he arrived on scene Tuesday when the fire was still only about 15 or 20 acres.
"I saw all sorts of areas where I figured, 'OK, the firefighters will use this as a line break, or they'll use that as a fire break.' And the fire just kept hopping over them," Quigg told KPCC. 
Within 30 or 40 minutes, Quigg said, the fire had grown to 300 acres. 
"And then it was like, 'Whoa, this is going to be a problem,'" he said.
Aerial footage from ABC7 on the first day of the fire showed huge flames climbing a hill and then consuming a cross at the top.
At one point, Quigg said he saw the fire come right up against a set of railroad tracks near the 138 and 15 freeways, running alongside the entire length of a train, which was dwarfed beneath it. Flames rose at least 25 feet above the top of the train, he said.
While making another pass at a fire spot, Quigg was driving along with several fire vehicles, including eight or 10 trucks, and at one point he watched them disappear into the smoke. It was the first time Quigg said he ever felt unsafe enough that he had to turn back.
"I've seen several fires in the past. I have never seen, you know, the flames burn so high and so close and right up to the freeway as I did at the Blue Cut Fire yesterday," Quigg said.
At one point Tuesday, firefighters were forced to shelter in place in a residence they were protecting as flames swept past, according to San Bernardino National Forest spokesman Travis Mason.
Two firefighters suffered minor injuries in that incident, but they returned to the fire line to help defend structures after being treated and released at a local hospital, according to a statement from the San Bernardino County Fire Department.
The National Weather Service said conditions would continue to be very warm and dry Wednesday, with gusty south to southwest winds and humidity levels as low as 3 percent in the afternoon.
Evacuations
The following areas are under mandatory evacuation orders:
All of Wrightwood
West of I-15, and West of Hwy 395 and west of Summit Valley 
South of Bear Valley Rd. and East of Caughlin Road. 
East of Sheep Creek, south of Phelan Rd. and west of Green Road, including the Desert Front Rd. area.
Lone Pine Canyon
Swarthout Canyon
West Cajon Valley
Lytle Creek Canyon 
Evacuation centers have been set up at Jessie Turner Community Center on Summit Avenue in Fontana and Sultana High School in Hesperia.
Emergency crews were going door-to-door asking people to leave, according to San Bernardino County Sheriff John McMahon said.
McMahon said the department had 100 personnel assisting with evacuation efforts with help from San Bernardino County Probation. 
More than 40 volunteers have also been helping to evacuate large animals, he said.
Earlier, the Associated Press reported only about half of the 4,500 residents of the threatened town of Wrightwood had complied with evacuation orders.
That was concerning to San Bernardino County Fire Department Battalion Chief Mark Peebles, who said, "This is not the time to mess around," AP reports.
John Miller with the U.S. Forest Service reiterated the importance of leaving when asked.
"The worst thing that can happen is for folks to wait for the last minute, dial 9-1-1, and firefighters and law enforcement are unable to get people out of their homes. We have seen that throughout the state this year, and we want to avoid that on this incident," Miller said.
At an evacuation center at the Jessie Turner Community Center in Fontana early Wednesday, Lytle Creek resident Leo Kretz was  anxious to return home but said he was not permitted to do so.
"They tell us the fire is completely uncontained and still burning, so I believe that, but it's hard to believe that it's close to Lytle Creek," he told KPCC.
When officials came to his area to notify residents about the mandatory evacuation of Lytle Creek, they asked if he elected to leave. 
"He said, 'I can't force you to evacuate unless you have children,'" Kretz said, recalling that other residents had decided to stay put. 
Kretz said he evacuated as a precautionary measure. He didn't realize until later that he wouldn't be allowed to return home until fire officials granted access, regardless of whether his neighborhood was being directly threatened by the fire's path.
"I wish it had been said to me that once you go, you're not going to be able to come back," Kretz said.
The frustration of waiting in the evacuation center without being able to return home has shifted his thinking about how he would respond to an evacuation notice in a future fire, Kretz said. 
"If I had to do it over again, or the next time it happens, I'll certainly pack my car and be ready, but I may not opt to leave right away," he said.
Shawn Brady, an evacuee from Wrightwood, told Take Two he feared his home on Wild Horse Canyon Road at the junction of the 2 and 138 freeways was one of the unknown number of places consumed by the sweeping flames. He said one of his co-workers who lived near him saw flames "on the other side of the 2, which sounds like it's right there at my house."
Brady also described an emotional atmosphere at the evacuation center in Fontana.
"You've done everything right to put a roof over your head, and something like a wildfire comes and takes it away, and there's nothing you can do," he said. "That's … what I'm going through right now."
Closures
Road closures
Highway 138 at State Route 18
Eastbound SR-2 at Big Pines Highway
Big Pines Highway at Jackson Lake
Interstate 15 from Main Street in Hesperia to I-215 in San Bernardino
Southbound connector to U.S. Highway 395 closed
Southbound U.S. Highway 395 closed at Joshua St. 
SR-2 from the L.A. County line to SR-138
SR-138 from the L.A. County Line to SR-173
The fire has led to highway and road closures in the Inland Empire that have caused chaos for commuters, according to various transit agencies and authorities.
A "traffic nightmare" has been conjured from the closures of Interstate 15 through the Cajon Pass and Highway 138 in both directions, CHP Officer Steve Carapia told KPCC.
He emphasized that everyone should stay off the freeways.
"Please use alternate routes. Don't try to get through the closures," he said. "We've had some closures where big rigs have not followed the instructions of the closures and gone through the 138 … now they can't turn around."
The 138 is sporadically closed, but Carapia recommended that everyone should avoid that highway as well as the 15.
The California Highway Patrol is working to reopen the freeways as soon as possible, according to CHP Chief Rich Stewart, who said he understood the closures have had a major impact on the region, with thousands of vehicles traveling the Cajon Pass every day.
Stewart said about 50 personnel were dedicated specifically to working on the closures and an air unit was checking on traffic.
Alternate routes
For commuters trying to avoid Interstate 15 to travel from the High Desert to San Bernardino, Carapia recommended:
Take the 18 to the 247
247 to the 62 through Twentynine Palms
Get on Interstate 10, where travelers can then head west or east
To avoid the 138, Carapia recommended:
Take the 18 to an open stretch of the 138
138 to the 14, which connects to Interstate 5
Additionally, Carapia said that many local streets are closed and that the number of streets is changing rapidly.
A list of detours from Caltrans:
Eastbound I-10 to eastbound SR-62 to northbound SR-247 to westbound SR-8
Northbound I-5 to northbound SR-14 to eastbound SR-58 to I-15 
SR-18 through Apple Valley and Lucerne Valley to SR-330 through Big Bear.
School closures
The following schools/school districts are closed:
Apple Valley Unified
Barstow Unified
Helendale School District
Hesperia Unified
Oro Grande School District
Silver Valley Unified
Snowline Joint Unified
Victor Elementary School District
Victor Valley Union High School District
Kimbark Elementary in the San Bernardino City School District remained closed Wednesday, with the rest of that district remaining open
Schools in the area have already seen closures due to wildfires this year. Earlier this month the Pilot Fire shut down several nearby districts, according to Dan Andrus, principal of Serrano High School in Phelan.
Students from other schools were initially moved to Serrano High Monday when the Blue Cut Fure broke out. As the fire drew closer, they were relocated to an evacuation center in Oakhills and then Sultana High School. 
Andrus and his staff waited alongside students as they waited for the family members, many of whom were on the other side of the Cajon Pass.  
"They needed both someone to kind of talk them through a little bit that they're safe and there's a plan in place," he said. "But then they also needed to stretch, and we got the balls out and let them run around and play with balls and get their minds off a little bit of what was happening so that they could feel both comforted and that life was still going on. " 
He added that he's been amazed at how quickly the community has pulled together to help each other out. Still, he said he expects the real challenge will come when the flames settle down and people have a chance to assess the damage. 
"I know that we have students who have lost homes already in this fire, and so when we get back to school we'll be engaged with helping those families get relocated, get the necessities they need to get back on their feet," he said. 
Air quality
The South Coast Air Quality Management District issued a smoke advisory Wednesday, noting the following areas most likely to be directly impacted and potentially reach "unhealthy" levels:
Portions of the Northwest San Bernardino Valley, especially near Devore
Portions of the Central San Bernardino Mountains
Portions of the West San Bernardino Mountains
Portions of the Central San Bernardino Valley
"We're seeing most of the smoke impacts blown by the wind to the north, up into the High Desert," Atwood told KPCC.
The Mojave Desert Air Quality Management District also has a smoke advisory in place until conditions change. That district noted air quality impacts specifically for Victor Valley, Barstow and the surrounding communities.
The image below shows where smoke from the fire could travel, according to United States Forest Service projections. The loop begins at 5 p.m. on Tuesday, Aug. 16 and ends at 3 p.m. on Friday, Aug. 19. (Note: It is only a projection — the forest service suggests contacting your local public health department for the latest on air quality.)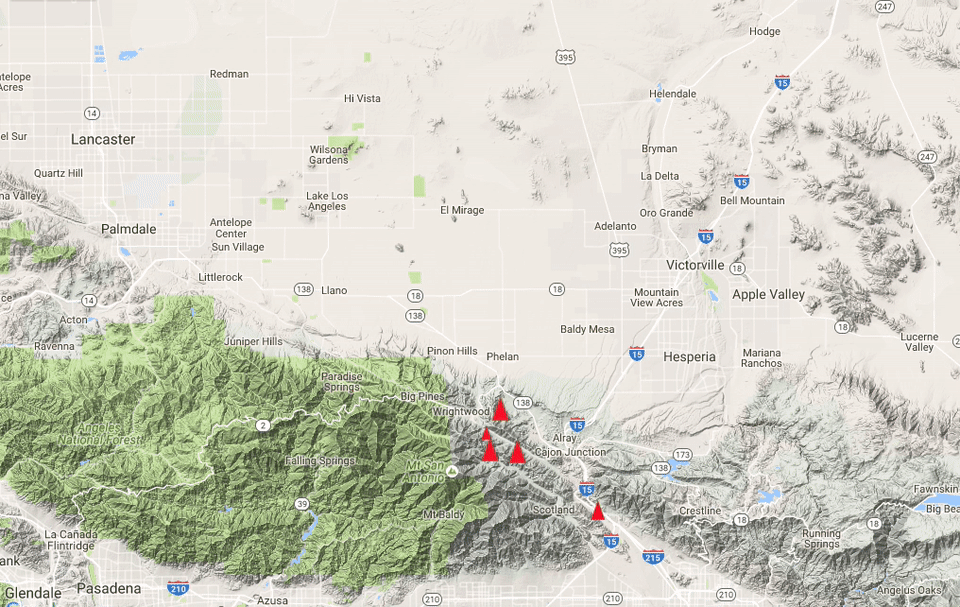 For anyone in areas affected by smoke, the AQMD advised avoiding any vigorous exercise, whether you are indoors or outside. People with any breathing or heart problems, seniors and kids should also stay inside. The agency also suggested running your air conditioner, if you have one, keeping the fresh air intake closed and the filter clean. The agency recommended against using a swamp cooler or whole-house fan, since these could bring in additional smoke.
Wood-burning appliances should also not be used in smoke-affected areas, the agency states.
This story has been updated.
Correction: An earlier version of this story noted the wrong day for photographer James Quigg's first arrival on scene.