Police officers across Southern California were wearing black bands across their badges Friday to mourn the deaths of five of their colleagues killed in targeted attacks in Dallas. Los Angeles Police Chief Charlie Beck said the attacks represent a "schism" in society and a crossroads for law enforcement as a profession. Meanwhile, in a conciliatory gesture, activists led by L.A. rappers The Game and Snoop Dogg turned out at the police graduation ceremony where Beck was speaking to show their support for law enforcement. The Dallas shooting came during a Black Lives Matter protest — one of many nationwide — over the fatal police shootings of two black men in Minnesota and Louisiana this week.
We want to hear from you. What kind of conversations are you having around all this? What discussions are going on in your community? Let us know on our Facebook page.
Updates
Update 5:58 p.m. Members of South LA community pessimistic following Dallas shooting
In South Los Angeles on Thursday, several people expressed horror at the recent shootings — and fear that tensions could escalate between police and communities of color, especially in the wake of the killings of the five Dallas officers.
 
But Aaron Ennis of Compton said he thinks police who have shot African-Americans are already acting in anger — and things can't get any worse.
"[Police] have been angry. They have been just killing out of anger, for whatever reason they like to kill us. So I don't think they can get any more angry than they already are," he said.
Ennis also wondered if the shootings of officers in Dallas will have an opposite effect — perhaps make law enforcement stop and reconsider the consequences of police-involved shootings.
 
"Maybe they will say, 'Maybe we will stop picking on these people, killing them, because they will shoot back,'" he said.
 
Even if his views aren't widespread, the recent shootings could slow the progress made by police departments like the LAPD, which has drawn praise for its community policing efforts to build trust between officers and communities of color.
Still, with violence seemingly escalating around her, Sherri Dodson, a Watts mother, said she's keeping a close eye on her five kids. 
"Keep your kids in the house, don't let your kids outside. I purposely bought cell phones for all of my kids. Because I need to know where you are, who you with, where you going, what time you coming back and do I need to come and get you," Dodson said.
Even after telling her children all of this, Dodson said she feels there is nothing more she can say to them to keep them safe. There are things in life, she suggests, that are just out of her control.
— Leslie Berestein Rojas/KPCC
Update 5:50 p.m. The day after: Police move ahead, play baseball following Dallas shootings
Los Angeles Police Department Capt. Don Graham, who commands patrol officers in the department's Central Division, said he had two basic messages for his officers at roll call Friday morning following Thursday night's shooting of police officers in Dallas.
"I stressed, remember your tactics, remember to take care of each other, remember, be observant and vigilant," he said. "But that doesn't mean to disconnect. I still want you walking your foot beats, I still want you out there."
While some officers were back walking their beats, others were trying to move ahead and have a little more fun on Friday. The LAPD held its annual "Swing-A-Thon" in Sylmar on Friday. The event included a fair for local kids and a baseball game between the LAPD and the L.A. County Sheriff's Department.
Still, Dallas loomed large in officers' minds. Oscar Bocanegra, a 14-year LAPD veteran, said the Dallas attack kept him up all night. He said he believes it's unfair that people turn their anger against all cops over police shootings like those in Louisiana and Minnesota this week.
Bocanegra also said he thinks that social media is feeding that anger by "bringing things more to light, countrywide."
 
Officer Michael Scott, who has served with the LAPD for 18 years, had a more optimistic take. He speculated that the images coming out of Dallas may actually encourage people to join law enforcement.
"I think it's going to make more people want to be police officers, when they see what we actually do out here," he said.
Bocanegra and Scott said the Dallas shootings won't change their attitude towards the job. But they said it will make them more alert going forward.
— Kevin Walker/KPCC
Update 4:52 p.m. Officer killed in Dallas was former part of Los Angeles Sheriff's Department
Lorne Ahrens, one of the police officers killed in the Dallas shooting, worked at the Los Angeles Sheriff's Department from 1991 to 2002, according to a statement from the department. He finished his time there as a law enforcement technician before leaving to join the Dallas Police Department. Read more about Ahrens here.
Update 3:32 p.m.: SoCal police have been targets in recent years, but haven't seen anything like Dallas 
Southern California police officers dying in the line of duty is relatively rare, and the region hasn't seen a mass killing of officers like the one in Dallas in recent years, according to state data.
From 2005 to 2014, 33 SoCal officers died in the line of duty. Eight of those officers died as a result of criminal acts, in what the Department of Justice calls "felony deaths." The other 25 officers died in accidents while on duty, such as car crashes.
Last Saturday, a suspect shot and wounded two Los Angeles County Sheriff's deputies, though both survived.
The police fatality figures include the shootings of a Riverside police officer and a San Bernardino County Sheriff's deputy by ex-LAPD cop Christopher Dorner in 2014.
The numbers track law enforcement from L.A., Orange, Riverside, San Bernardino, Ventura and Santa Barbara counties. A majority of the deaths happened in L.A. County, the most populous county in the nation. Of the eight felony deaths, four happened in L.A. County, and two happened in both San Bernardino and Riverside counties.
There were another four officer deaths in California last year, according to the Officer Down website, including deaths in Downey and San Bernardino. Three officers have died in the state so far this year.
The Washington Post reports that in the United States, 20 officers were fatally shot in the line of duty during the first six months of 2016 — an increase from 16 during the same period last year.
— Aaron Mendelson/KPCC
Update 2:37 p.m. First AME minister on Dallas attack: Ask 'What is it that I can do to make this better?'
KPCC's Take Two spoke to J Edgar Boyd, senior minister at the First African Methodist Episcopal Church in Los Angeles for his thoughts on the shootings in Dallas.
"We have to be courageous enough to continue to live and confront injustice, confront the will of those who have no respect for life. We have to do that with boldness and courage," Boyd said. "And we must, in the religious circle, reach out to those who are outside of the circle, inviting them into the conversation because as Martin Luther King Jr. said, 'Unless and until all of us come together and begin to live as brothers, we shall all perish as fools.'"
Boyd said that people still have the right to be angry.
"You can be angry, you can be filled with anger, but how you manage that anger, what you do with that anger, how you use and channel that anger in a positive direction, that's really what we need to do now. We can't accept things as being just a reality or a sign of the times," Boyd said.
People should reach out in the wake of this shooting and the events that preceded it, according to Boyd.
"Whatever it takes, inform yourself as much as you possibly can and then take a very deep breath and ask yourself a personal question: What is it that I can do to make this better?" Boyd said.
For more, listen to the segment or read highlights from Take Two.
Updated 2:20 p.m.: California panel meets on racial profiling
A panel tasked by the state Legislature with attempting to eliminate racial profiling by police held its first meeting in Los Angeles Friday.
With the nation still reeling from protests over the fatal police shootings of two black men in Louisiana and Minnesota and then a deadly attack on police in Dallas, Attorney General Kamala Harris urged the group to seek truth about a difficult problem at a time of great pain, according to the Associated Press.
The Legislature established the Racial and Identity Profiling Advisory Board last year, the AP reports:
It's intended to address a frequent complaint: that police too often target people based on the color of their skin.

The panel's job includes helping the state Justice Department establish a system to collect data from police on how they conduct traffic and pedestrian stops, then analyzing that information and making recommendations.
Updated 12:56 p.m.: The Game shares message of love
Rapper Snoop Dogg said participants in a march Friday on LAPD headquarters were not aware there was a class of recruits graduating when they initially made their plans, "but this is even better because now these students that are about to hit the streets can know that there is some sort of dialogue going on, and they don't have to be fearful."
Snoop Dogg and fellow rapper The Game led the march to show their support for the police following a targeted attack Thursday that left five Dallas officers dead and seven more wounded. That attack came at the tail end of a Black Lives Matter protest, one of many across the nation following the caught-on-video deaths of two black men who were shot by officers in Louisiana and Minnesota earlier in the week.
Speaking at a late-morning press conference, Snoop Dogg said Friday's march was just a first step.
"We're here to show love and support to the police force in Los Angeles and get some understanding and some communication, and we feel like this is a great start," he said.
At the same press conference, The Game summed up the theme of the march with this message:
"I love you. No matter what race you're from, no matter where you come from, no matter what gang you're from or what police force you stand for, what badge you put on, what school you teach — whoever you are, in the world, if you are a human being and you have ears and eyes to see, this is a day of change. Respect it, understand it, love it, embrace yourself for positivity."
Update 12:10 p.m.: Of 'blue lives' and 'black lives'
As the discussion moved suddenly from the fatal police shootings of two black men in Louisiana and Minnesota to the deaths of five police officers in Dallas, activists and police alike have called for unity and cooperation.
But two catch phrases, which some see as at odds, are surfacing again in the debate over community violence and policing: "black lives matter" and "blue lives matter."
The latter, which emerged in response to the Black Lives Matter movement, has been used to show support for the law enforcement officers whose job is to keep the peace. 
LAPD Chief Charlie Beck made a reference to "blue lives" in a tweet Thursday night, saying "Blue lives matter, they are willingly given and senselessly taken." He mentioned it again in a speech to graduating recruits on Friday, saying the focus should be not just on black lives or brown lives or blue lives, but on all lives. 
That notion did not appear to resonate with Nana Gyamfi, an attorney who has represented Black Lives Matter activists.
"From the perspective that I come from, I see the police as part of the state, and as part of state-sanctioned violence against our people. And so for me, I'm not concerned about blue lives. I'm concerned about black lives, and in fact I want the police to be abolished," Gyamfi told KPCC's Take Two, stressing that she does not speak on behalf of the movement.
Gyamfi said that individuals who are black tend to be painted with a broad brush whenever another black person does something wrong.
"It's always dangerous to be in a black body, but it's an even more dangerous time, because it causes those who already look at us as being sub-human, already are anti-black and already are targeting black people — it gives them an excuse, something that they can hide behind as their reason for their attacks on us," Gyamfi said. 
"So for me there's not even a discussion about 'blue lives matter,'" she said.
Update 12:01 p.m.: LA Sheriff: 'We go to work knowing these types of threats exist'
Los Angeles County Sheriff Jim McDonnell said Friday there is a somber mood among deputies.
"We go to work each day knowing these types of threats exist," McDonnell told Take Two.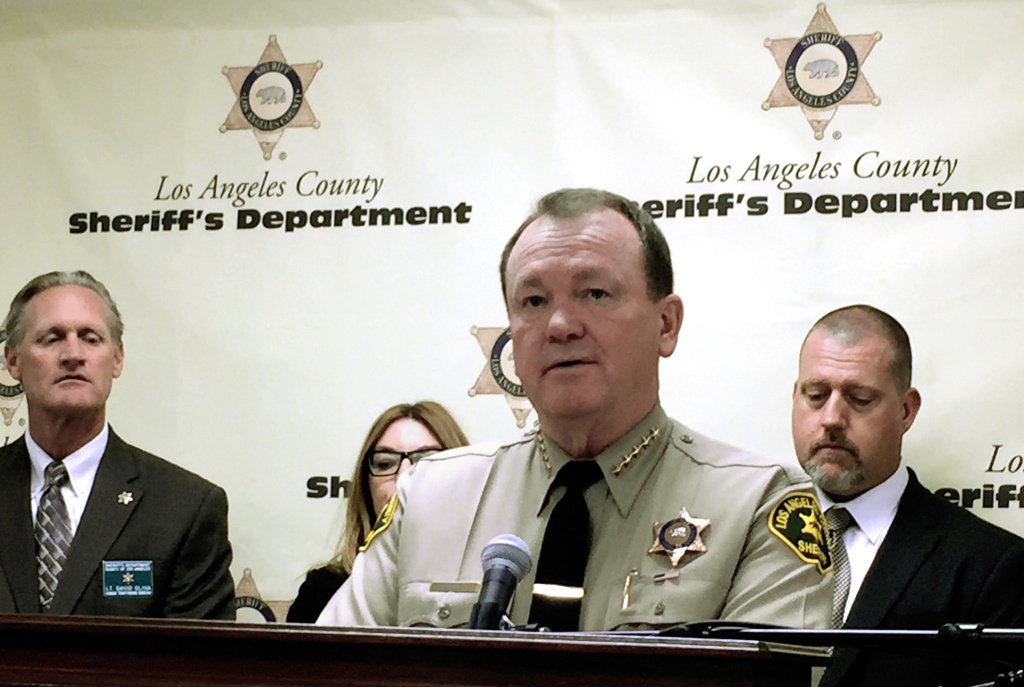 McDonnell said with the type of training and equipment police and deputies have, surprise attacks are difficult to combat.
The L.A. County Sheriffs Department responded to the shooting in Dallas by temporarily putting two deputies in each patrol car on Thursday — a move McDonnell said was done out of "an abundance of caution."
He attributed the need to be on alert in L.A. after the shooting in Dallas to social media.
"We live in a society where now with social media and everything things go viral very quickly," McDonnell said.
McDonnell said he was thankful that L.A. County hasn't seen the level of violence that has been seen in other communities in recent years, and he attributed community partnerships.
"We all have to work together when you think about it. Across this country, there's 900,000 police officers serving a population of 320 million people. There's no way we can do it the way we'd like to without the public support and partnership," McDonnell said.
Updated 11:06 a.m.: Snoop Dogg, The Game lead activists outside LAPD graduation
A group of activists organized by Southern California rapper The Game gathered outside a Los Angeles police graduation ceremony in a sign of goodwill Friday following targeted attacks in Dallas that left five officers dead.
Rappers and L.A. natives Calvin Broadus, or Snoop Dogg, and Jayceon Taylor, known as The Game, led a march to LAPD headquarters that they said was an effort to bridge relations between the black community and police.
"We're just out here to reintroduce ourselves to the LAPD and allow them to reintroduce themselves to us so that we're not in fear of each other, so that we can share the L.A. streets, so we can coexist, and so that we do away with this hatred that both sides have seemed to conjure up for each other," The Game told KPCC.
The Game said he had been "fueled by rage" Thursday after seeing videos of the shootings in Baton Rouge and Falcon Heights. Then he heard news of the Dallas shootings.
"My temperature was brought down after innocent cops were shot down and murdered last night in Dallas," he said. "I couldn't bring myself to rest last night, and so I conjured up this whole thing in probably four hours."
Snoop Dogg said that after years of fraught relations between LAPD and the community, the police department was "trying to straighten up and get it together now," and the demonstration was in part to support that effort.
"That's why we're here today," he said. "They're trying to do better, and we're here to help them do better."
Updated 10:46 a.m.: LAPD chief says attacks represent 'schism' in America
The targeted attacks that left five police officers dead in Dallas represent a schism in society and a crossroads for law enforcement as a profession, Los Angeles Police Chief Charlie Beck said Friday.
Police officers across Southern California placed black mourning bands across their badges in recognition of their fallen comrades. The Dallas officers were killed by sniper fire at a Black Lives Matter rally, where activists had turned out to protest the deadly police shootings of two black men in Louisiana and Minnesota.
But the mourning bands had become more than a symbol of personal loss or the loss of fellow law enforcement officers, or even of an attack on American institutions, Beck said, speaking at a graduation ceremony for police recruits.
"It is a symbol of a breakdown, of a schism that has occurred in our society, where we have done what societies do when they are in trouble — we have separated," Beck said. "We have broken into tribes. All of a sudden, it becomes more important who your parents were, what the color of your skin is, than whether or not you're an American."
Beck said it was time to move beyond tribalism and begin a national dialogue about violence, adding that it must not break down along racial lines.
Beck alluded to a story in which a vain queen who looks into a mirror and does not like what she sees breaks it and bans all other mirrors from the land. He said the police are that mirror, and that Americans gazing into it were seeing the violence that perverts the system reflected back. He said police officers should not be blamed for creating that violence and that, in responding to it, they sometimes must use force.
"Now I am not making excuses for when we fail, through either malignant heart or failed training. Sometimes we fail. But that is not, that is absolutely not, the vast majority of our interactions," Beck said.
Beck told the graduates they were entering the law enforcement profession at a very difficult crossroads, but he urged them not to take this opportunity to retreat or to pit one side of what should be a national dialogue against the other.
"This is not about black lives, it's not about brown lives, it's not about blue lives, this is about America. This is a country based on a promise that does not recognize a difference in the shades of humanity. You are the symbol of that promise," Beck said, addressing the recruits.
Mayor Eric Garcetti, speaking ahead of Beck, shared a similar sentiment.
"We cannot let our grief become anger tomorrow. We cannot let it escalate further in this country. And we cannot be divided," Garcetti told the gathered recruits. "We have a country in which we have seen people mowed down where they pray, mowed down where they learn, mowed down where they gather, and last night mowed down where they protect. That is not our America, and is why we need you here today, and why we need each other."
7:53 a.m.: LAPD mourns loss of Dallas officers, keeps low profile at local protests
Police officers across Southern California are wearing black bands across their badges to mourn the deaths of five of their colleagues in Dallas.
Following reports of a sniper attack targeting police at a rally in Dallas, local police were also on heightened alert, but so far the department has not gone on tactical alert — so no extended shifts or increasing the number of officers on the street.
Still, officers expressed their concern Friday morning.
"Everyone's worried about their safety, and every man and woman who went to work today left home a family that was worried about them coming home, and we're doing everything we can to provide for them," Los Angeles Police Assistant Chief Michel Moore told KPCC. "Our hearts and prayers are out to the men and women of Dallas, as well as to the entire nation, as we look at how do we take a step forward, and last night's instances cannot continue."
L.A. Mayor Eric Garcetti, meanwhile, expressed sadness over the shootings.
"These are police officers who were assassinated, targeted because of who they were. And they were out there protecting the rights of Americans to peaceably protest," Garcetti said in a phone conversation with KPCC media partner NBC4.
Garcetti noted protests last night in Leimert Park and downtown L.A. were peaceful.
Activists were demonstrating against the deadly police shootings of two black men this week in Minnesota and Louisiana.
"Los Angeles stands as I think an example of how we can work on issues of perfecting our democracy, but do it in a peaceful way," Garcetti said. "We had a protest tonight that we had police officers at, and we had individuals who were upset by what we've seen, all of us, on video — the abhorrent shootings across the country," Garcetti said, referring to the police shooting deaths of Alton Sterling in Baton Rouge, Louisiana and Philando Castile in Minneapolis, Minnesota.
The men's deaths resonated with the public and sparked Black Lives Matter protests nationwide. Garcetti attributed the success of the rallies to the resilience of Angelenos, who have "gone through Rodney King and the riots, and we've made ourselves better each time."
This story has been updated.
Correction: An earlier version of this story incorrectly stated that the Los Angeles Sheriff's Department had returned to regular duty rather than continuing to be paired up. KPCC regrets the error.