Hear the words "Little Italy" and you might think of New York, Boston or San Francisco's North Beach. But a Little Italy once thrived in Los Angeles and a group of local Italian Americans hope to soon put it back on the map.
The city's Little Italy developed in the 19th century when Italians began migrating to California in significant numbers. Their community centered around the northern side of downtown, right about where Olvera Street meets Chinatown today.
Bob Bozzani remembers what it was like. In the 1930s, when he was a boy, he and his mother would take the train from their home in Pasadena to visit Little Italy's many shops.
"It was all Italians in the area," said Bozzani, 86, who still lives in Pasadena. "They had an Italian bakery shop for pastries, and they'd have an Italian place that made sausages. There was a meat shop, a produce shop. There were about four Italian bakeries in that area."
 
For Bozzani's immigrant parents, Little Italy was the old neighborhood. His mom, who arrived in the U.S. in 1903, grew up there. His father and uncle arrived in 1909 and started their first business, a bike shop, in Little Italy. They eventually came to own several auto dealerships, including one in the old neighborhood.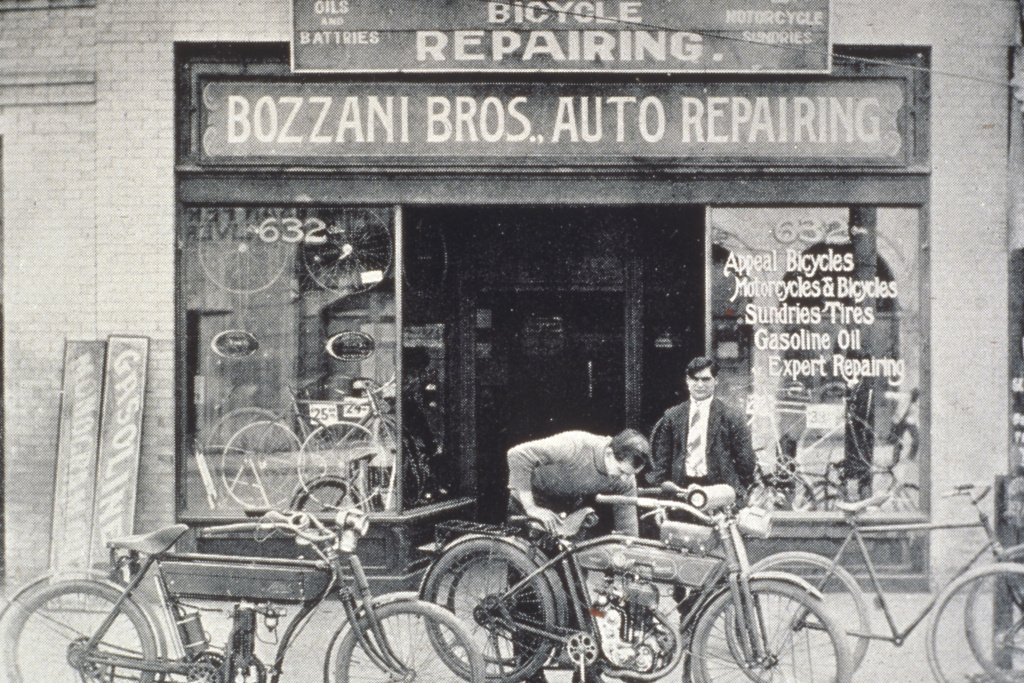 The bike shop run by Bozzanis sat just a couple of doors from Little Italy's social epicenter — the Italian Hall on Main Street that served as the community's gathering place from its construction in 1908 until the early 1950s.
The hall still stands on Main Street, just a few yards from Olvera Street. It is soon to become the site of a hoped-for revival of Little Italy's legacy with the opening next month of the Italian American Museum of Los Angeles.
For those who lived during the Italian Hall's heyday, "this is where you got married," said Marianna Gatto, a local historian and the new museum's executive director as she walked around the empty building one recent morning. "It's where a number of Italian organizations met. There would be concerts, banquets, dances...a little bit of everything."
The building was bought by the state in the 1950s and the upstairs left mostly abandoned except for storage. Gatto, the sister of California Assembly member Mike Gatto (D-Los Angeles), and other local Italian Americans have spent years raising about $3.5 million to restore the hall. 
Gatto remembers the first time she walked into the deteriorated building. "You could look up and see the sky," she said. "There were huge holes in the roof."
Nowadays, workers are completing renovations, putting on the finishing touches for the day the museum opens to the public. This is where exhibits documenting the city's Italian American history will be displayed — history that much of Los Angeles has forgotten or never learned.
The effort to remember and preserve the story of Little Italy comes just in time, according to Gatto.
"The Italian community and its history was near extinction," said Gatto, who first learned of the Italian Hall when she was in college and wrote a book about the community a few years ago. "It was never really documented very well."
Preserving history
Italians were among California's first immigrants. They began arriving in the state as early as the 1820s.
"Some of them actually got here during the Gold Rush, which was in the 1840s," said Lawrence DiStasi, author of several books about Italian Americans.
Many more came as the 19th century rolled on, some by boat and via South America, then eventually by train from points east like New York and New Orleans.
While many settled in the Bay Area, others were drawn to Southern California's wide-open spaces. They worked as farmers, growing grapes for wine, fruits and vegetables. Some settled near the coast, in places like San Pedro, where they worked in the fishing industry.
In Los Angeles, they gathered in the community that stretched from what's now Chinatown up to Lincoln Heights, where many Italian immigrants lived. Businesses bloomed in the downtown, as did the Italian Hall.
Near the building's coat-check area stands an odd metal door, with a crude hole cut out near the top. Gatto explains that it's a holdover from the Prohibition in the 1920s when the hall housed a speakeasy.
"This door was kind of your knock-knock, 'Do you know the passcode?'" Gatto said, laughing. The Italian Hall also hosted political meetings, rallies, immigrant mutual-aid society meetings and celebrations.
This history is documented in photos, letters, artifacts, recipes and other memorabilia donated by Italian American families with roots in Los Angeles, Gatto said. The museum will also document the struggles of early Italian immigrants, drawing parallels between immigration then and now.
"One of our exhibitions, for example, is called 'Dago,' which was a very nasty word to describe Italians back in the day," Gatto said. "If you substitute the ethnic group, it is the same stuff you see today, it's the same arguments."
Some families have contributed old enemy alien registration cards, which Italian immigrants in the U.S. were required to carry during World War II.
The war was a major reason why L.A.'s Little Italy ceased to be, Gatto said. Some Italian immigrants were displaced or interned in relocation camps by the U.S. Others felt the sting of discrimination because of their roots in a country that opposed the Allied forces.
People tried to blend in so they would not be ostracized.
"Often I think they wanted to eliminate that association with the enemy," Gatto said. "You saw Italian businesses eliminate any reference to their Italian-ness, and a lot of ethnic organizations dissolved."
As families and businesses dispersed, the once thriving Little Italy community faded.
These days, even new Italian immigrants to Los Angeles don't know about Little Italy. Francesca Guerrini, who arrived here just a few years ago from New York, was among them.
"I didn't even have a clue about Italians in L.A," Guerrini said. "It was kind of a strange and exotic concept for me."
Guerrini joined the effort to develop the museum after meeting Gatto. Guerrini said she's learned a great deal about Los Angeles since then, as well as the role that Italians played in its growth.
"We are so used to this idea of Los Angeles as the future, the cool stuff, when instead it has a really rich, complex past that we need to understand," Guerrini said.
She's forged a connection with several long-time L.A. Italian American families, like the Bozzanis, and shares the hope that the renovation of Italian Hall and creation of the museum will spark a revival of the community.
Bob Bozzani said the future museum is making a difference in bringing together Italian Americans. He and his family have attended some of the museum fundraisers, where they've connected with other Angelenos who share Italian roots.
"I think it's already brought back an interest in the Italian community, to remember our heritage," said Bozzani. His family's old photographs will be among those displayed when the museum opens. 
Among them will be one of his father's old bike shop.
Do you have memories of L.A.'s Little Italy? Tell us in the comments below, tweet them out with the hashtag #LittleItalyLA or post a memory on KPCC's Facebook page.