New details emerged Thursday on the relationship between San Bernardino shooting suspect Syed Rizwan Farook and his neighbor and friend Enrique Marquez, who investigators say supplied the guns the two assailants used in the attack. Records show the two were related through marriage. A senator with knowledge of the investigation said the two may have plotted an attack together three years ago. Authorities were also searching a lake for evidence connected to the case.
This post is no longer being updated. For the latest information, see our full coverage. 
Update 3:33 p.m. 22nd victim of attack; FBI and ATF search San Bernardino for clues
In a brief press conference Thursday afternoon, an FBI official announced another victim of last Wednesday's terror attack had checked herself into a hospital after the incident. 
David Bowdich, assistant director of the agency's Los Angeles office, said law enforcement have been scouring areas throughout San Bernardino for clues into the terrorist attack that claimed 14 lives last Wednesday.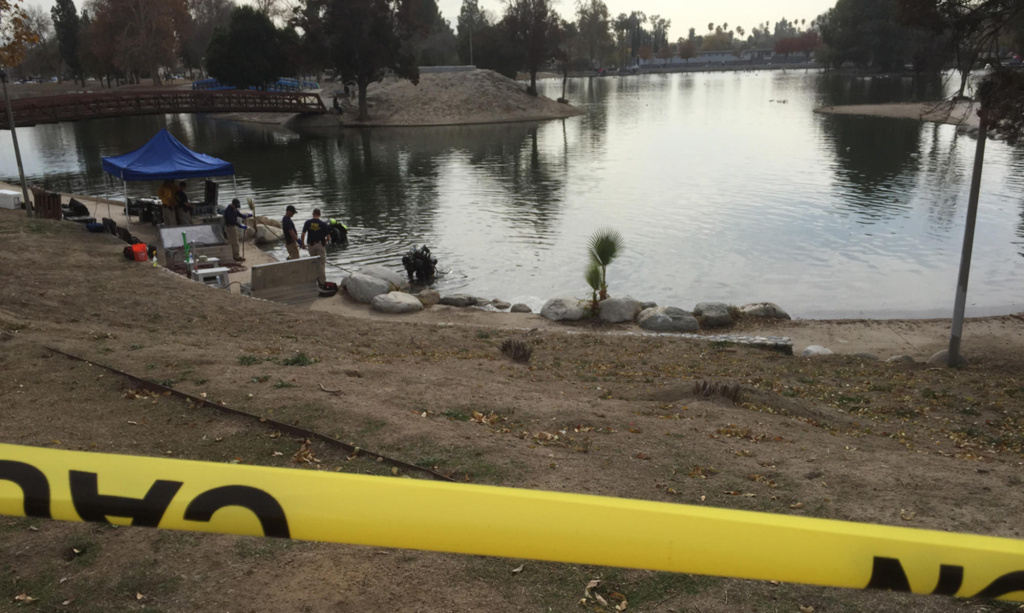 Bowdich said officials were searching Seccombe Lake Park — only a couple miles from where the attack took place — based on information that one of the shooters was seen in the area before the shooting. A dive team was put into the lake seeking evidence, specialists in underwater evidence retrieval, but Bowdich wouldn't say what they were specifically looking for, though he noted that there was nothing dangerous in the park.
"We think this search will last for days," Bowdich said. "We've already searched the area pretty extensively. The lake is a much more tedious task, and that takes specialists."
Bowdich also said that they may end up coming up with nothing. He said Wednesday was the first day the scene was being assessed, while Thursday was the first day of searching.
Bowdich added that investigators had interviewed willing family members of those who were killed or injured, and that the San Bernardino area "has been invaded by ATF and FBI agents." 
"It would not be uncommon for us to do neighborhood canvases at a later date," he said.
Bowdich said residents shouldn't worry about seeing FBI agents on teh street.
Bowdich declined to say exactly what information investigators were looking for, but said that "it is incredibly important" that they be methodical in their efforts. He said prosecution in this case could take place two years from now, so they have to think through what they tell the press.
Bowdich said that there was a 2012 terror plot that resulted in four arrests in the Riverside area, with those people ultimately be convicted of providing material support to terrorists, but said that contrary to some reports, they weren't planning an attack in the U.S. They were planning to go overseas to train in a Taliban training camp, Bowdich said, but that there was no credible threat to the U.S. Bowdich said they were watched for months.
Bowdich said that it would be irresponsible not to look into potential connections between Enrique Marquez, Syed Rizwan Farook and those terrorists, saying that there may be connections that involve multiple degrees of separation, but Bowdich did not say there were any connections. Bowdich said he wouldn't address anything to do with Marquez at this point.
When asked about what Farook's family knew in advance of the attacks, Bowdich said that responding to that would involve speculation.
Authorities met with family members of the dead and injured who agreed to meet with them, Bowdich said. He also asked that their privacy be respected, saying that family members had emotional and physical scars that would take them years to get over, if ever.
— KPCC staff
Update 11:00 a.m. Links to gunman, gun buyer
The gunman who killed his co-workers in San Bernardino and the friend who bought the assault rifles used in the shooting were related through marriage and may have plotted an attack together three years ago.
New revelations from officials and public records show a much deeper connection between Syed Rizwan Farook and Enrique Marquez than previously was disclosed. Marquez has not been charged with a crime.
Marquez purchased high-powered weapons at least three years ago that Farook and his wife used to open fire on a holiday gathering of Farook's fellow health inspectors Dec. 2, killing 14 people. The FBI has said that Farook's wife declared her allegiance to the Islamic State group in a Facebook posting shortly before the attack.
Farook, 28, and his wife, Tashfeen Malik, 29, were killed hours later in a shootout with police, leaving behind a 6-month-old daughter.
FBI Director James Comey told the Senate Judiciary Committee on Wednesday that the two shooters were radicalized well before Malik came to the U.S. on a fiancée visa and they had discussed jihad and martyrdom as early as 2013.
Marquez and Farook "were plotting an actual attack" that year, including buying weapons, but became apprehensive and shelved the plan because of law enforcement activity and arrests in the area, said Idaho Sen. Jim Risch, a Republican who sits on the Senate Select Committee on Intelligence.
Marquez, 24, spoke with federal authorities after they raided his mother's Riverside house over the weekend. He and Farook were friends for years and became family last year with a sister-in-law in common.
The two men were listed as witnesses on the marriage license when Farook's brother, Raheel, wed a Russian woman in 2011.
Three years later, Raheel Farook and his wife, Tatiana, were witnesses to Marquez's marriage to her sister, Mariya Chernykh, according to Riverside County records.
The ceremony took place at the Islamic Society of Corona-Norco, according to the marriage license, though the mosque's facility manager denied it occurred there.
Azmi Hasan said Wednesday that he understood Marquez had converted to Islam but said he was not a member of that mosque. Marquez had only worshipped there three to four times over seven years, said Hasan, who had not seen him in about four years.
Marquez had a security guard license in California for several years, but it expired last year. He had worked at Wal-Mart since May but has since been fired, spokesman Brian Nick said.
He spoke of wanting to join the military, Viviana Ramirez, 23, a fellow student at Riverside Community College told the Los Angeles Times. His brother-in-law, Raheel Farook, is a Navy veteran who served from 2003 to 2007 and earned the Global War on Terrorism Expeditionary Medal and the Global War on Terrorism Service Medal, among other awards.
Marquez rarely spoke about his family or his marriage, Ramirez said.
Tommy Lopez, who said he became friends with Marquez after meeting at a punk rock show seven months ago, said he never talked about his wife and was not religious.
He last saw Marquez in the past month or so when Marquez fell asleep at a friend's house and they stacked beer cans on his body.
"When he woke up, he just started laughing," Lopez said. "He was a pretty laidback guy."
Right after the shooting, Marquez called his mother to say he was safe but that he wouldn't be coming home, neighbor Lorena Aguirre said. He later checked into a mental health facility. It's unclear where he is now.
Marquez and his wife listed their address on their marriage license at the same Corona home where Raheel and Tatiana Farook live.
The FBI has not tied any Farook family members to the San Bernardino attack.
Comey described Farook and Malik as examples of homegrown violent extremists who appear to have radicalized "in place," drawing a distinction between the California attack and the one last month in Paris that officials suspect involved planning and training in Syria.
He said the FBI did not yet know if Farook and Malik's marriage was arranged by a foreign extremist organization.
Malik's father, reached in Jiddah, Saudi Arabia, condemned his daughter's actions and said he is "very, very sad. ... I am in such pain that I cannot even describe it."
The father, Gulzar Ahmed Malik, has been a resident in the kingdom since the early 1980s, the Saudi Interior Ministry says. His daughter was from Pakistan but traveled to Saudi Arabia.
Contributing to this report were AP reporters Eric Tucker, Alicia A. Caldwell and Tami Abdollah in Washington, Asif Shahzad in Islamabad, Michael R. Blood and Amanda Lee Myers in Los Angeles, and Brian Skoloff in San Bernardino.
— AP
This story has been updated.