The San Bernardino County coroner released the names of 14 people killed at a holiday gathering at a center for the developmentally disabled Wednesday, Dec. 2. Twenty-one who were wounded were taken to local hospitals. 
Victims killed in the attack
The victims who perished have been officially identified by the San Bernardino Sheriff's Department:
Robert Adams, 40, from Yucaipa
 Married with a toddler daughter, Robert Adams worked for the San Bernardino County Department of Environmental Health for more than a decade, according to Jenni Kosse, a county receptionist who worked in that department for more than 25 years. Kosse knew many of the victims.
Kosse said Adams was ecstatic when he and his wife Summer had a baby two years ago. The couple had been together since they were teenagers.
 
"He wanted a family so bad and then they finally got pregnant, he ran up to me and hugged me and said, 'we did it, we did it, we're pregnant,'" she said." He loves that little girl so much."
 Kosse said he would often post Facebook videos of himself with his little girl, Savannah. Kosse has spoken to Adam's wife, who is not speaking publicly about her husband yet.
 
The couple bought a house last year.
 
"He was on tope of the world," Kosse said. "He would say that all the time."
Adams family has set up an online fund and are calling for donations to help the family. As of Friday morning, it has raised more than $28,000.
— KPCC's Elizabeth Aguilera
Harry Bowman, 46, from Upland
The lover of the outdoors worked as a statistical analyst for the San Bernardino County Department of Public Health, his family said.
The Upland resident is remembered as a loving father to his two daughters. The dedicated member of the Roman Catholic Church, who was raised in Pennsylvania, frequently taught religious classes. He also spent much of his free time hiking.
"This is a tragic loss for our family, much like it is for all families around the world who have experienced this kind of violence," the family said in a statement. "There are no words that express our sadness in losing such a special person."
Pennsylvania Gov. Tom Wolf also released a statement offering his condolences to Bowman's family after the "senseless violence."
--AP
Shannon Johnson, 45, from Los Angeles 
Shannon Johnson lived in the heart of Koreatown. Deirdre Butchko is a property manager at the building where Johnson lived. She said he'd lived in the Koreatown apartment building, where he rented a large studio, for several years.
"Why do all the good people get taken away from us?" she said Thursday, shortly after learning of his death.
Butchko described Johnson as an old fashioned gentleman — someone who was incredibly polite and professional.
"The information sort of bleeds into me," she said, recalling how news of the mass shooting trickled into her day on Wednesday. "It's incredibly sad but when somebody you know… it touches you much closer and you realize that it could be right next door."
Butchko said Johnson had rented the studio to downsize — to free up more money for travel. 
"He was just really outstanding," she said, contemplating the news. "It hurts."
Jenni Kosse, a receptionist who worked in the Department of Environmental Health, called Johnson "smart and funny."
 
"Once you know him you can talk to him about anything," she said.
Rev. Ed Bacon, a relative of the victim, said he felt as though Johnson lived a life rooted in love rather than fear.
"The only way you can get to healing and wholeness and forgiveness is by accessing what I consider to be always available to us: the power of love," Bacon said. 
At a corner convenience store near his apartment called Dick's Liquor the manager Jeen Kim remembered Johnson as a local regular for the last five to six years. A KPCC reporter showed Kim Johnson's photo.
"That's a surprise," Kim said. "I can't believe it."
Kim said he would stop by the store once a week and he would often strike up a conversation. Kim called him one of the "kindest" customers he ever had.
"It's really sad, he was a very nice gentleman, always friendly, always polite, a real local nice guy," said Kim. He "always had a smile never in a bad mood."
Johnson's girlfriend, Mandy Pfifer, is a longtime member of Los Angeles mayor Eric Garcetti's Crisis Response Team. In a statement he issued this evening, the mayor said, "We have learned that one of our own, 45-year-old Shannon Johnson, is among those who lost their lives ... We offer our full support to Mandy in this unimaginably difficult time, and I send my deepest condolences to Shannon's family and all who are grieving loved ones in the aftermath of this senseless tragedy."
— KPCC's Elizabeth Aguilera & Mary Plummer
Bennetta Bet-Badal, 46, from Rialto
A 46-year-old health inspector, Bennetta Bet-Badal was an excellent cook who would often bring her neighbor Victoria Naranjo meals, Naranjo told KPCC.
"I cry for the loss of my friend next door," Naranjo said. "I wept and was sad because of what happened. It just makes me sick. But anyone who knew Benetta knew she loved the lord, and I know she's at home with the Lord. I believe that."
Bet-Badal leaves behind a husband and three children. Naranjo says they connected because of their shared Christian faith and would celebrate the holiday together. 
"She was delightful," Naranjo said. "Usually at Christmas time, she and I would melt a little bit and dance and it was so cute."
According to a fundraising page set up by family friends, Bet-Badal fled Iran at age 18 following the Iranian revolution. 
Jenni Kosse, a San Bernardino County receptionist worked in the Environmental Health Department and knew many of the victims including Bet-Badal.
"She has three kids that she would do anything for," Kosse said. "Her husband would do anything for her and vice versa. She was a wonderful inspector, a great friend."
Bet-Badal's husband Arlen Verdehyou told KPCC she grew up a Christian in a Muslim country — Iran — and felt like a "second-class citizen." He said she emigrated to the U.S. 20 years ago.
— KPCC's Priska Neely & Elizabeth Aguilera
Tin Nyugen, 31, from Santa Ana
Jenni Kosse, a receptionist who worked in the Department of Environmental Health, knew many of the victims who lost their lives.
 
Kosse said Tin Nyugen was engaged to be married.
 
"Last time I saw her she hopped up, ran over and gave me a hug and showed me her engagement ring," Kosse said.
— KPCC's Elizabeth Aguilera
Isaac Amanios, 60, from Fontana
Jenni Kosse, a receptionist who worked in the Department of Environmental Health, knew many of the victims.
Police officials identified Isaac Amanios as one of the victims. Kosse said the last name he used was Gabrielasi – a name he chose when he became a citizen years ago. He was from Ethiopia, she said, and came to the U.S. in the mid-80s.
 Kosse said Amanios worked hard to save money to bring his children to the U.S. and when he became a citizen he was able to bring his wife home.
 
"He was so proud of his kids," Kosse said.  "I asked him about them the last time I saw him in October. And his whole face lit up and he took out pictures. He was such a proud dad. And just was an amazing guy."
— KPCC's Elizabeth Aguilera
Juan Espinoza, 50, from Highland
Jenni Kosse,  a receptionist who worked in the Department of Environmental Health, knew many of the victims.
 
She recalled Juan Espinoza as a friendly man who grew grapes and made his own wine.
 
Espinoza was married and a father of two daughters and a son.
 
Kosse has a piece of pottery in her home that Espinoza brought her from one of his many trips to Latin America. And when their office was remodeled and the team was told they could only have one personal item on their desk Espinoza took home some of the plants Kosse had to find homes for.
 
"Juan took some home and his wife nursed them and they still have them," Kosse said. "Every time I see him he says 'they are still going strong.'"
— KPCC's Elizabeth Aguilera
Yvette Velasco, 27, from Fontana
An environmental specialist, Yvette was an intelligent, motivated, and beautiful young woman, who was full of life and loved by all who knew her, Yvette's uncle George Velasco told KPCC.
Yvette is survived by her parents, Robert and Marie Velasco, and her three sisters, Adriana, Erica, and Genevieve. 
— KPCC's Brian Watt
Sierra Clayborn, 27, from Moreno Valley 
Tributes are pouring in to Sierra Clayborn's Facebook page. Her sister Tamishia identified Sierra as one of the victims of Wednesday's mass shooting.
Sierra Clayborn's LinkedIn profile identifies her as an Environmental Health Specialist for the County of San Bernardino, which would make her a co-worker of Syed Rizwan Farook, who police have identified as one of the two shooters.
Timothy Lee, a documentary filmmaker who met Sierra at UC Riverside in a dance class, learned about her death from another friend who was at the Clayborn family home.
Lee said Clayborn was one of his biggest supporters.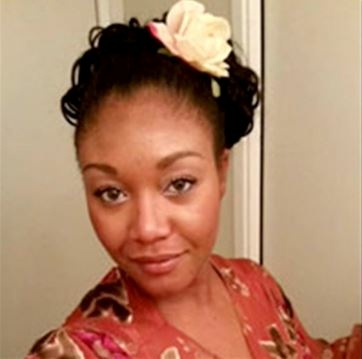 "She was always an encourager for me, it's not going to be the same without her definitely," said Lee. "She was always a bright spot that went the extra mile, she definitely had a gift for that."
Jenni Kosse,  a receptionist who worked in the Department of Environmental Health, remembered Clayborn as a hard worker and a caring woman.
 
"She was very smart, she knew the answers, if she didn't she'd get back to you with it. she didn't brush people off or anything," Kosse said. "she was very easy to work with. Very caring. "
— KPCC's Elizabeth Aguilera
Michael Wetzel, 37, from Lake Arrowhead
Michael Wetzel, 37, of Lake Arrowhead perished in Wednesday's shooting. 
KPCC reached Wetzel's pastor, Rod Akins, at Church of the Woods in Lake Arrowhead. He knew Wetzel, who worked for the San Bernardino County Department of Public Health, for years. Akins said Wetzel and five of his children took part in a seasonal candle lighting ceremony just last Sunday. Wetzel told the congregation he was lighting the candle for hope.
"He was an exceptional guy, really he was," Akins said. "I mean, a lot of people tend to highlight people once they've passed, but Michael was one of the most caring and generous guys."
Akins said next Sunday's candle will be lit for peace. Michael Wetzel leaves behind six children. The church has organized donations for his family. 
— KPCC's Jed Kim
Nicholas Thalasinos, 52, from Colton
Thalasinos was a county environmental specialist who was described by his wife as having a "very strong faith."
As a Messianic Jew, Thalasinos believed in Jesus Christ but followed the Torah and laws of Leviticus.
 In this clip, Thalasino's wife said she believes her husband was targeted:
"He had a huge heart and an amazing faith and he wanted to bring as many people as he could to the Lord," Nicholas's wife Jennifer Thalasinos told KPCC. "That was his goal in life."
 — KPCC's Josie Huang
Larry Daniel Kaufman, 42, from Rialto
Ryan Reyes was Larry Daniel Kaufman's boyfriend. The two were together for three years.
Kaufman, who went by his middle name, grew up in and attended high school in Pasadena, Reyes told KPCC.
Reyes said Daniel was an incredibly friendly person, highly involved in his community, and told KPCC he could make friends with anyone:
"Literally, he could be friends with anybody," Reyes said. "He would have thirty-minute conversations with the checkout person at the grocery store. And I would have to pull him away. Like, 'OK, they don't want to talk about your cats anymore. There's a line. They're at work!'"
The two men were big gamers, and Reyes said he's received condolences and memories from many in the gamer community.
Reyes said he originally had heard erroneous reports that Kaufman had survived and was horrified to learn he had been killed. But he's been overwhelmed by the number of people who knew and loved Kaufman.
"I knew he was well loved, I knew he was liked by so many people," Reyes said. "But at this point, as I'm finding out more information, even I'm stunned."
— KPCC's Erika Aguilar & Rina Palta
Aurora Godoy, 26, from San Jacinto
Aurora Godoy loved it when her family got together. She was the first to offer her support, first to wish a happy birthday to those she knew on Facebook, and was always available to get a party ready.
Such is the picture coming into focus of the 26-year-old Godoy, the youngest victim of Wednesday's mass shooting in San Bernardino.
Her brother-in-law, Luis Godoy, said the family is trying to cope with its huge loss.
"She loved making everyone happy," he said by email. "She was a very caring person who put her all into everything she did."
She and Luis Godoy's brother, James, met in high school in junior ROTC. The family saw more of her than her husband in recent years because of his job as a gym membership counselor.
She was a "huge" Green Bay Packers fan, her brother-in-law said, as well as a fan of the Yankees and MMA. He remembers that she laughed at all of his jokes, no matter how corny.
The family is planning a funeral for Aurora. No date has been set, but it will be sometime between Dec. 14 and 18. She leaves behind her husband and their infant son, Alexander.
Godoy worked on and off with the San Bernardino County Elections Office between 2012 and 2014. Her former co-worker Daisy Franco offered this remembrance:
San Bernardino County Registrar of Voters Michael J. Scarpello offered this remembrance:
Her aunt, Rebecca Godoy, posted on Facebook about her niece's death in a post that linked to Godoy's own page, according to the Associated Press.
"Yesterday in the shootings in San Bernardino many families were affected. Ours was one of them," Rebecca Godoy wrote. "We will keep her flame alive so that her young son does not forget his special mother."
Damian Meins, 58, from Riverside
He was passionate about serving his community, a message he took from the priests at his Catholic high school in Riverside and carried throughout his life, Associated Press reported.
Environmental Health Department Director Steve Van Stockum was a colleague and very close friend of Meins. They'd known each other since they were 9 years old. "We've lost a great man. My best friend," he told KPCC.
 
Meins never strayed far from his church or its teachings, said Walter Hackett, who met Meins some 40 years ago in high school, according to AP.
"Service to others, helping others. He very much took that to heart," Hackett said.
Hackett called his friend "a good, good guy."
"Funny and smart and tall. A real quick smile, very friendly and outgoing," he said. "It's a real hard hit for all of us who knew him."
Meins married his high school sweetheart, now a Catholic school principal, and they raised two daughters, one a teacher. 
In addition to his public health work, Meins was a PE teacher, provided after-school care and played Santa at St. Catherine of Alexandria school in Riverside, Transportation/Land Management Agency director Juan Perez said in a statement. 
Meins' Facebook page, where he can be seen smiling with his family in front of the Golden Gate Bridge in San Francisco, says he studied business administration at the University of Redlands starting in 1991. In 1979, he graduated from UC Riverside. 
"We lost a good man through senseless violence. He was a loving and caring husband, father, and friend. He is irreplaceable," colleague Ray Smith told KPCC. 
Meins spent 23 years in the Riverside County Environmental Health Department and three years as assistant director in the Planning Department before retiring in 2010, according to Smith. He started working for Riverside County in June 1984.
Smith also told KPCC:
It was always a pleasure to work with him, even on difficult projects. I don't recall him ever being impatient, and he always was willing to help. Damian was devoted to his wife and two grown daughters and he had a great sense of humor. He wanted to experience everything life had to offer. He loved to travel and he kept in contact with many employees from the Environmental Health Department after he retired.
In addition to working in the public health department in San Bernardino, Meins was an extended care coordinator at St. Catherine of Alexandria School in Riverside, where he also helped kids create Christmas art projects and religious murals, Hackett said.
Meins received a community award for his work in Riverside, which was based on "compassion, courage, forgiveness, generosity, humility, inclusiveness, integrity, kindness, respect and service."
A statement issued by Meins's family described him as the consummate family man:
"His family was the most important thing in his life, his raison d'etre, and as such, he was an amazing husband, son and brother, and the perfect father. He was extremely selfless, extremely intelligent, and had an awesome sense of humor. He loved unconditionally, and was calm, creative, humble, tolerant, patient and kind. He did not believe in intolerance­ he possessed no hatred or ill­ will towards anyone. He loved to read, to learn, to travel, to paint, to garden, and to sit by his pond. He was creative and talented, hard-­working, and generous with his time and talent. Throughout his life, he painted many murals, he traveled to Europe, Asia, and all throughout the United States. He played basketball, he coached his daughters' soccer teams, and he worked as part of the "chain gang" for the Notre Dame High School football team. He enjoyed working on cars, and always had a "fixer-­upper" in the garage."
The statement went on to say:
"We ask, as a family, that people fight hatred with love, and that they seek to perform small acts of kindness for others, as Damian always did. 'Many small people who in many small places do many small things that can alter the face of the world.' Please choose love, compassion, and kindness."
Meins is survived by his wife, Trenna, his daughters, Tina and Tawnya, his sisters, Marie, Christine and Patrice as well as numerous nieces, nephews, family members and friends.
A living Rosary for the Meins family was held Thursday.
— AP and Monica Bushman
This story has been updated.