EVENTS
'The Trials of Muhammad Ali'
Thursday, March 6, 2014, 7:00pm - 9:00pm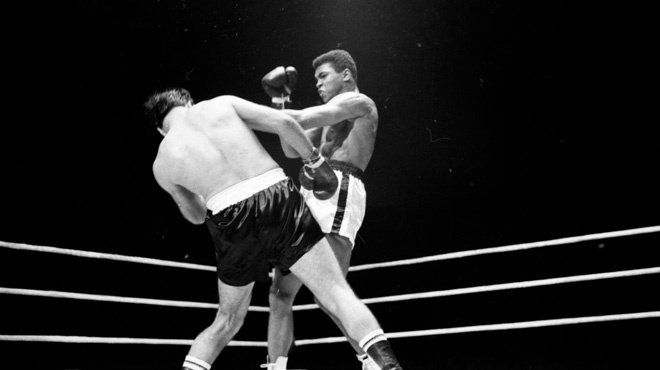 Today, people are likely to be introduced to former heavyweight boxer Muhammad Ali via footage of him lighting the Olympic torch in 1996, or receiving the Presidential Medal of Freedom in 2005. "The Trials of Muhammad Ali" zeroes in on the years between 1967 and 1970, covering Ali's toughest fight: his struggle to overturn a five-year prison sentence for refusing U.S. military service. 
The full-length documentary Trials traced a formative period in the life of a man whose legacy extends beyond the boxing ring and ​into the realm of civil rights, religion, and wartime dissent. As we follow Ali's struggle for justice through its final round in the Supreme Court, the film explored his political, spiritual, and cultural dimensions from his hometown of Louisville, Kentucky, to the far corners of the earth, enabling audiences to consider the full resonance of Ali for all time.

This event included "From Cassius Clay to Muhammad Ali - Contentious Objector," an interactive exhibit curated by 1619 Exhibits curator and director Larry Earl.
@KPCCforum
@CommunityCinema
@PBSSoCal
@MuhammadAliDoc
---
---