It has escaped the average filmgoer's notice, but Eastern Europe has been in the midst of a cinematic renaissance for quite a while now. A few individual titles and filmmakers have bubbled to the surface in U.S. cinemas, including Danis Toanovic's Serbian antiwar satire "No Man's Land," which won an Oscar in 2001, and Cristian Mungiu's Romanian abortion drama "4 Months, 3 Weeks, and 2 Days," which nabbed the Palme d'Or at Cannes 2007.
Those are both great movies, but they are also the small tip of a very large iceberg. This year, Estonian filmmaker Zaza Urushadze's "Tangerines" — a humanist drama about the Georgian civil war of 1992 — is a leading contender for a foreign film Oscar.
As of now, its main competitor for the trophy would seem to be the Polish film "Ida" by Pawel Pawlikowski, which has taken most of the top critics prizes for foreign film this awards season. And who has heard of Radu Jude, the witty Romanian director of "The Happiest Girl in the World," or Kamen Kalev, Bulgaria's great hope for the cinematic future? Among so many others.
A sort of "Waiting for Guffman" with a Croat twist, the delightful Croatian Oscar entry "Cowboys (Kauboji)" isn't in the same league as the best Eastern Europe has to offer, and in an odd way this is one of its strengths.
Tomislav Mrisic's film utterly lacks pretension, which is not to say that it has no point to make. If there's an Eastern European precedent for "Cowboys'" assured mix of satire, drama and farce, it's probably the "Loves of a Blonde"-era Milos Forman.
Mrisic shares with Forman an acute eye for the foibles of small town bureaucracy and a soft humanism that simultaneously allows "Cowboys" to embrace its rag-tag ensemble of eccentrics and to spoof them mercilessly.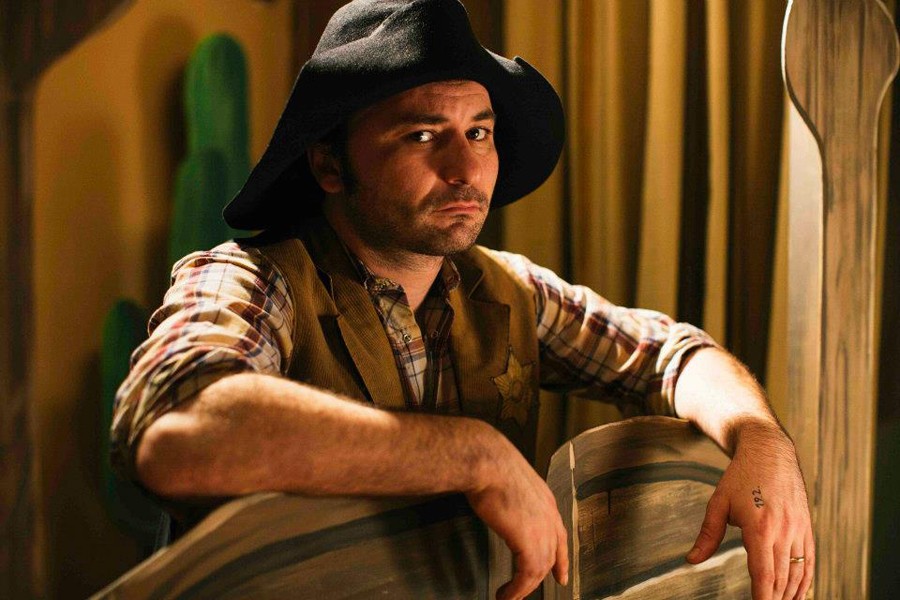 (A screen shot from Croation Oscar entry "Cowboys (Kauboji)")
The plot sees Sasa (Sasa Anlokovic), a failed and hangdog theater director with health problems, returning to his small and economically desolate Croatian town, where he is enlisted by an old friend-turned-local-bureaucrat to bring Big City "culture" to the sticks.
Aware that his lung cancer may have fallen out of remission and that time may be running out for him, Sasa sets about the task of creating what may be his last opus with the clay available to hand: a half dozen unskilled, uneducated and, in most cases, un-hygienic misfits, culled from the dregs of the town. They decide to create a Western stageplay based on their shared love of "Stagecoach," "High Noon" and John Wayne. Something decidedly unlike "Stagecoach" is the result.
There are titters and belly laughs abounding in "Cowboys" — a film that may actually be even funnier to an American audience than it is in Croatia, given Mrisic's deft mangling of the worn-out genre cliches of old school horse opera.
The performances are all solid and specific: This is no undifferentiated cluster of cliche yahoos, but rather a broadly drawn ensemble, in which each character has a specific logic and an unspoken need he or she is trying to fill.
WATCH the "Cowboys" trailer in the original Croatian
Mrisic finds much to mock in his small town provincials, but also much to celebrate. "Cowboys" is a smart film that still sees goodness everywhere it looks, which makes it a refreshing change not just from the American school of rote affirmation comedy but also from the relentless bleakness we associate with so much European fare.
For all the farce on hand, "Cowboys" is in the end a covertly passionate defense of the creative act: Its imperishability and its importance for its own sake, excluding aesthetic considerations. It is also a plea for that hoary old chestnut, the healing power of laughter. While that may read like a cliche, with "Cowboys," Mrisic's point is made.
Off-Ramp contributor R.H. Greene is covering the 26th Annual Palm Springs International Film Festival and will be posting regularly from there.