Off-Ramp commentator Marc Haefele reviews "Josef Koudelka: Nationality Doubtful," at the Getty Center through March 22. The exhibit was organized by the J. Paul Getty Museum, the Art Institute of Chicago and Fundación MAPFRE.
"I became what I am from how I was born, but also what photography made from me. Other people ask me, 'Are you still Czech or are you French?" I don't know who I am — people who see me might say who I am. I am the product of all this continuous traveling, but I know where I come from."  ( Josef Koudelka, New York Times, 2013)
Master photographer Josef Koudelka is a bouncy, 76-year-old elf with a sketchy remainder of fluffy white hair who got along for many years with neither a nationality nor a fixed address. He lived out of a backpack with a couple of cameras, moving all over Europe, Africa and the Middle East, often sleeping outdoors.
Even his friends the gypsies, whose lives he chronicled for much of his career, saw him as an outsider. Lacking a passport, he carried only transit papers that called his Czech nationality "Doubtful."  So "Nationality Doubtful" is the name of his first U.S. retrospective show at the Getty Center.  It is appropriate, since he is as true a cosmopolitan as ever lived.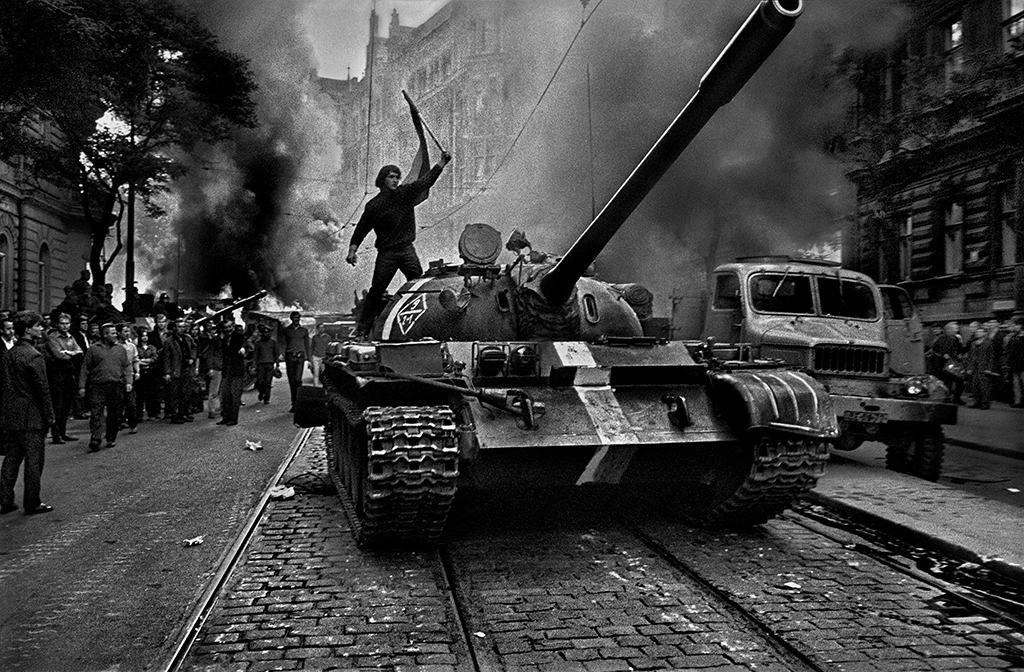 (Prague, 1968. Photo courtesy Art Institute of Chicago, promised gift of private collector. © Josef Koudelka/Magnum Photos)
The survey includes nearly 60 years of his output. Those who recall the 1968 Soviet invasion of Czechoslovakia will remember his most famous photos, those he made in danger of his own life, snapping the Soviet-bloc war machines as they mangled the streets of a peaceful, non-resisting Prague.
MEANTIME: At the Huntington, two Americans who took the best photos of Britain
The pictures went viral, anonymously — they became the face of the U.S.S.R.'s crime against humanity in Czechoslovakia. And now they are a key part of the history of the 20th century, displayed all over the world.  
"Good pictures are those you can look at for a long time," Koudelka says. The world has been looking at his pictures of the people on the street confronting the blank-faced men on their tanks for 46 years.
They were even shown in Russia three years ago, he said. Referring to all that has happened since then under Vladimir Putin, Koudelka added, ''they wouldn't let them be shown there now." But they are there at the Getty retrospective, as heart-wrenchingly real as ever.
MORE FROM OFF-RAMP: Go inside the living, breathing Disney Hall Organ
Koudelka's show begins with landscapes and high-contrast darkroom-engendered prints that sometimes resemble late Picasso drawings. And then he burst forth into the youthful world of Czech theater of the 1960s, an era of sardonic wit that tilted at that nation's hidebound Communist bureaucracy and official culture. 
Koudelka invented techniques that put him right among the players on the stage as they flung at their audience the radical works of Beckett, Jarry, Ionesco and Czechoslovakia's own great playwright — and future president — Vaclav Havel. With their dark, shadowy contrasts, Koudelka's pictures of this period — using a wide-angle 25 millimeter lens — often more resemble drawn impressionist images than photographs. Their subjects loom, they threaten — and then they seem to beg for mercy.
When he wasn't at the center of the 1960s Czech intellectual whirlwind, Koudelka was off in the far distant countryside, taking pictures of his beloved Roma — or gypsies — then and now Europe's wandering people of color.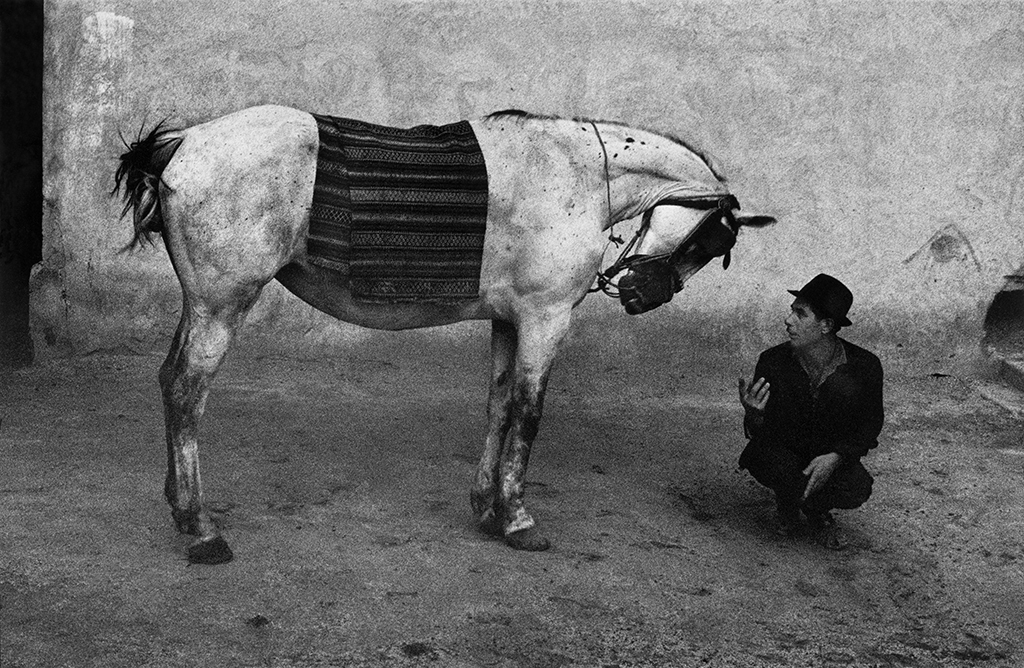 (Romania, 1968. Image courtesy Art Institute of Chicago, promised gift of Robin & Sandy Stuart. © Josef Koudelka/Magnum Photos)
Over close to 10 years, he took thousands of pictures, of which only 22 survive, all on display here. They range from the everyday event to the tragedy of death of children and forcible exile.
In something of a separate category are the photos of gypsies playing saxophones, accordions and fiddles (turned sideways, tucked under their chins); anecdotal portraits of silent, sorrowful music. They are his most famous work, his calling card.
"Gypsies" became his first full book of photographs. His next book, "Exiles," which took many more years to compile, appeared in 1988. It included elements of his own exile — a rough outdoor lunch, his own feet, articles of his own clothing photographed as precise still lifes.
And variously estranged people from all over the compass. A few months after the book appeared, just 25 years ago this week, Czechoslovakia had its 1989 Velvet Revolution and Koudelka's forced exile from his homeland was over.
But a new form of rejection informed his later work. 'Where are the people?" admirer Henri Cartier-Bresson asked him. Omnipresent in his previous work, people disappeared from Koudelka's new photographs, nearly all of which were vast panoramas of landscapes created, devastated or otherwise transformed by mankind — from Roman ruins in North Africa to once-verdant farmlands on the Czech-German border devastated by mining and industry.  
With this phase, Koudelka says, "Finally [I have] escaped from categories." If his Roma photographs showed us people without a country, his panoramas show countries abandoned by people — filled only with accidental human leavings.
Like acres of fallen marble columns, or a field full of scrapped railroad crossing warnings presided over by a single stop sign. Or plumes of black and gray industrial smoke, shrouding the horizon. He demonstrates Vaclav Havel's admonition: "Man is not an omniscient master of this planet, with which he can do whatever he likes."
(Koudelka in Sicily, 1987. Wikipedia Commons)
Koudelka finally settled down and started a family in the late 1980s. Then he became intensely concerned with the devastation of the world by its peoples. It's what he's still doing now. The results of this climactic phase of his amazing career are the most exhilarating and depressing works in this very considerable show.