Commentator Marc Haefele writes about arts and culture for Off-Ramp. Here, he attends a reading of Frank O'Hara's "Lunch Poems" and muses on the connections.
I drove down to Silver Lake and parked almost directly in front of  Stories Books. I have associated this area for so long with lunching with a particular old friend, now in his 90s, that I failed to notice how young the rest of the neighborhood was getting. But Stories Books is full of first editions, Hollywood-angled but not exclusively. Pastries and coffee in the back. If I lived near here, I'd hang out here all the time. 
Marc Haefele on the Huntington's new "whippersnapper" American galleries
This is a special night, though. In the back, outside, a lot of people are reading Frank O'Hara's "Lunch Poems" out loud. All of them doing it pretty well.
If I rest for a moment near The Equestrian
pausing for a liver sausage sandwich in the Mayflower Shoppe,
that angel seems to be leading the horse into Bergdorf's
and I am naked as a table cloth, my nerves humming.
There is a sedate, low-profile back-up band: bass, guitars and drums. Which is OK — except, for the period of the poems, a sax and maybe a trumpet would be mandatory. But my old friend Paul Newman, who set up this event, did a perfect job otherwise of re-creating a 1964 coffee house poetry reading event... minus only young women in tights and black sweaters serving espresso.
It is 50 years since "Lunch Poems" was published by Lawrence Ferlingetti's City Lights Books, and this reading was its birthday party.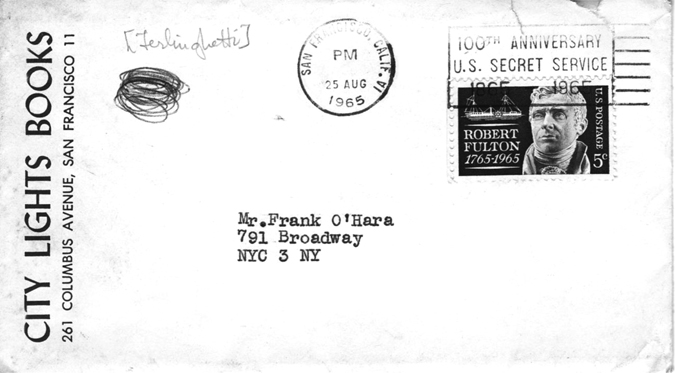 It's been in print ever since and it's easy to see why:
LANA TURNER HAS COLLAPSED!
there is no snow in Hollywood
there is no rain in California
I have been to lots of parties
and acted perfectly disgraceful
but I have never collapsed
oh Lana Turner we love you get up
Sitting there, listening with Paul and his family, I felt myself slipping into a decade between the 1956 Suez crisis and the early anti-Vietnam War demonstrations. I remember the 5th Ave Public Olivetti, that stone age laptop, a Lettera 22 typewriter, on which many passers-by diddled but on which only O'Hara, so far as I know, wrote real poetry. (Writer Donald Barthelme wrote about it, but I don't know if he ever touched it.)
("Seventeen" stylist Toni Kosover typing on the 5th Ave Public Olivetti.  Image: Michael Rougier/Elizabeth Thomsen blog)
I remembered the transition from props to jets, when travel to Europe seemed, compared to now, almost 19th century in complexity and duration. And I read aloud to the crowd O'Hara's little travel diary poem about loving France and the huge storms of Biarritz.
    Wending our way through the gambas, argulas,
    the merluzas that taste like the Sea Post on Sunday
    And the great quantities of huevos they take off
    Spanish Naval officers' uniforms and put on plates...
I wanted so to follow O'Hara to France but couldn't do so until the year after he died, after the crucial decade mentioned above, that really ended with Frank's pointlessly accidental death at 40 (he was run over by a dune buggy on Fire Island in 1966). Then all that was left was O'Hara's sensuality... throbbing, moist and of course promiscuous in a wantonly sentimental way. If everybody didn't love him, you'd never know it from reading his poems.
I was more aware of him, the Keats of the Beats, as a presence rather than as a poet.  As in that gorgeous standing nude by Larry Rivers. I  would come to know him as an art curator who loved lunch and let that favorite meal provide themes and inspiration for this collection of 40 or so poems.
But that, like France, was after Frank was gone.
Having a Coke with You

is even more fun than going to San Sebastian, Irún, Hendaye, Biarritz, Bayonne
or being sick to my stomach on the Travesera de Gracia in Barcelona
partly because in your orange shirt you look like a better happier St. Sebastian
partly because of my love for you, partly because of your love for yoghurt
partly because of the fluorescent orange tulips around the birches
partly because of the secrecy our smiles take on before people and statuary
it is hard to believe when I'm with you that there can be anything as still
as solemn as unpleasantly definitive as statuary when right in front of it
in the warm New York 4 o'clock light we are drifting back and forth
between each other like a tree breathing through its spectacles

and the portrait show seems to have no faces in it at all, just paint
you suddenly wonder why in the world anyone ever did them
And so I sat and listened for another hour and more after I did my reading. And I drove home just too late to pick up some dinner, and so had a small tomato for supper, which tasted very good, incredible, in fact, because I was tasting it with Frank O'Hara's tongue.