Here's another in my long series of screeds on the importance of engaging with your customers -- no matter what field you're in.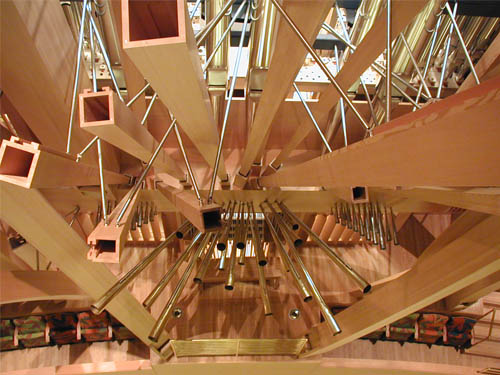 (The Disney Hall Organ. Scott Youngren Post Production)
Last night, we went to Walt Disney Disney Hall for the annual Holiday Organ Spectacular, which featured David Higgs on the Disney Hall organ, with soprano Lisa Christine Thelen and Thomas Hooten, the L.A. Philharmonic's principal trumpeter.
They played a range of music, from a Bach sinfonia to the lovely "In the Bleak Midwinter," to the finale of a Widor organ symphony. They also led the big crowd in singing a few Christmas carols, assigning parts to the various sections of the audience.
Higgs' playing was "immaculate," in the words of one onlooker, while Thelen's voice soared, and Hooten trumpeted like an archangel. But that goes without saying at Disney Hall. What mattered last night was the way all three — notably Higgs, as the leader — interacted with the audience. Higgs was our host for the evening, and he made sure it was a party.
He gave a 20-minute tour of the massive organ, literally pulling out all the stops. He took questions from the audience, the best being "What's your favorite key?" shouted by a kid. The answer: D. He doesn't know why; he just likes it.
Before playing an 1867 piece by French organist Lefebure-Wely, Higgs explained how the composer sought to evoke a pastoral scene, complete with a thunderstorm and nightingales, and helped us hear how an organ in an old French church would have sounded in the mid 19th Century.
Some conductors and soloists will walk onto stage, bow curtly, play, then walk off, as if to say, "The music speaks for itself." Listen, honey, if the music spoke for itself, the L.A. Phil wouldn't need to advertise concerts or soloists or print a program. We wouldn't need critics.
But people need a little help both to get the music and to help dispel the notion that classical music is powdered wigs and ladies in furs. New flash: Just like in jazz or rock, classical musicians really dig what they're doing, and they have been getting down since the days of the sackbutts.
Speaking into a wireless mike (something I'd build into every soloist's contract if I were the boss), Higgs engaged with the audience. But he wasn't just explaining the music. What Higgs was doing was making sure we spread the word about this concert and how wonderful the Disney Hall experience is. He was selling tickets to next week's concerts, and next year's. He was ensuring that kids will see that classical music is vital, and fun, and emotional, and that they'll buy tickets themselves 10 or 20 years from now. He was making sure that not only will we have classical music to enjoy in decades to come, but also that he and his friends will have jobs in decades to come.
In sales, if you don't connect with your customers, help them understand your product — whether it's cars or cuckoo clocks — you're sunk. In radio, if I don't connect with listeners, my bosses will find someone who can. And it can't be any different in classical music. 
John Rabe is the host of Off-Ramp, heard Saturday at noon and Sunday at 6pm on 89.3-KPCC. If you agree, or think he's full of it, leave a comment below.