California has been named one of least affordable places to live in the country, according to a report released this week by the National Low Income Housing Coalition.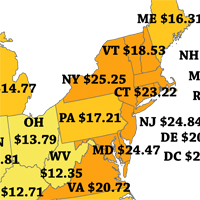 In real world action, the figures in the study take the following unpleasant shape — renting a two-bedroom apartment in California, while making minimum wage, would require an individual to work nearly 130 hours per week.
Perhaps some cold comfort for sunny CA is that, according to the recent Out of Reach analysis, "in no state can a minimum wage worker afford a two bedroom unit at Fair Market Rent, working a standard 40-hour work week, without paying more than 30% of their income."
In California, the "fair market rent" for a two-bedroom apartment has been calculated as $1,341, and minimum wage is $8.00 per hour. To afford a two-bedroom apartment while earning minimum wage:
1 person would have to work —

129 hours per week
52 weeks per year
OR
3.2 people could work —

40 hours per week 
52 weeks per year
More sadmaking study stats here.